Instacart, Amazon and the Revenge of IRL
Driven by consumer necessity during COVID, which isn't done, online shopping and food delivery grew massively in 2020 and for much of 2021. But now that people are returning to stores e-commerce and food delivery are slowing. Amazon suffered its worst quarter in years on weaker-than-expected results and plans to cut jobs and capacity. Grocery delivery company Instacart, which had seen "explosive growth," is now searching for a way forward after slashing its valuation by 40% last year. The company reportedly tried to sell itself to Uber and DoorDash in 2021. Current Instacart CEO Fidji Simo, a former Facebook executive, is trying to turn Instacart into a platform providing technology tools, ads and analytics to grocery stores. It's not clear how much demand there is.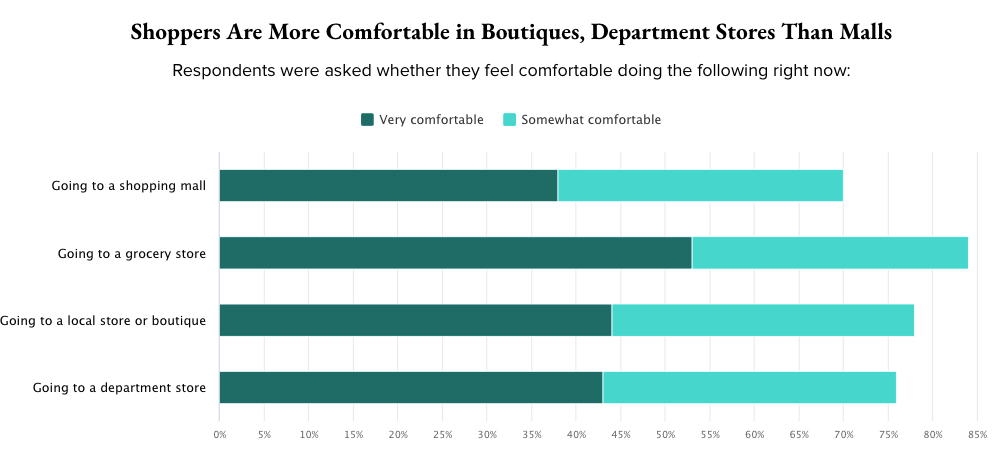 Our take:
In Q1, 2022 e-commerce spending declined sequentially and now stands at about 13% of total US retail.
Growth will return but analysts strongly overestimated the degree to which e-commerce would kill in-store shopping.  
Multi-channel will prevail: e.g., Macy's online sales were 3X better in markets with stores than those without.
SMB Week/Weak: Where Do Things Stand?
This week is national Small Business Week in the US. Officially, there are just under 32 million SMBs (1 - 499 headcount). This represents more than 99% of all businesses. Most are concentrated in the <10 employees category. COVID drove an unprecedented spike in new business applications, the pace of which has now declined somewhat. A pre-pandemic (2017) US Chamber of Commerce SMB survey found that more than 80% of SMBs are using at least one digital platform to communicate with customers, as well as to show products/services and market themselves. COVID pushed SMBs further in that direction. While a majority of SMBs now say that COVID is no longer significantly impacting them, pre-pandemic norms have not completely returned. However, COVID has now been replaced by inflation as the biggest obstacle to recovery for SMBs.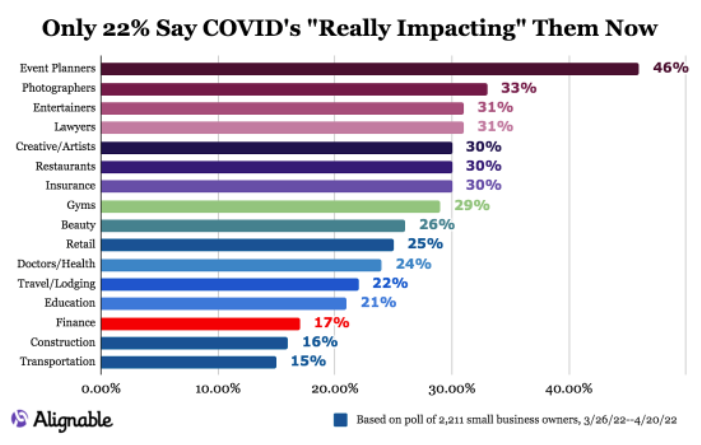 Our take:
Per a CallRail 2021 survey: social media, websites and email are the top three SMB channels. Yet 51% said they didn't have a website.
About half of SMBs are DIY digital marketers (20 hours per week) and don't work with consultants or agencies; 74% would rather not DIY.
Consumers are emotionally/intellectually committed to buying from SMBs but often don't. What consumers say and do are different things.
Localogy Buys Street Fight
Trade association Localogy has acquired publisher StreetFight. While terms were not disclosed the price was likely modest. StreetFight was founded by Laura Rich and David Hirschman in 2011 to focus on "hyper-local" publishers, applications and marketers. It quickly expanded into conferences, holding its first well-received Summit in late 2011 (recap). In the interim, "hyper-local" as a category declined and substantially gave way to "SMB SaaS." (Competition in local also declined as major consumer platforms consolidated power.) In 2017, StreetFight was bought by Brandify, partly to counter Yext's GeoMarketing blog. The site struggled under Brandify to develop a sustainable model, especially after COVID killed in-person events. SOCi bought Brandify in 2021 and with it StreetFight. StreetFight editor Joe Zappa and lead writer Stephanie Miles will remain with the publication under Localogy.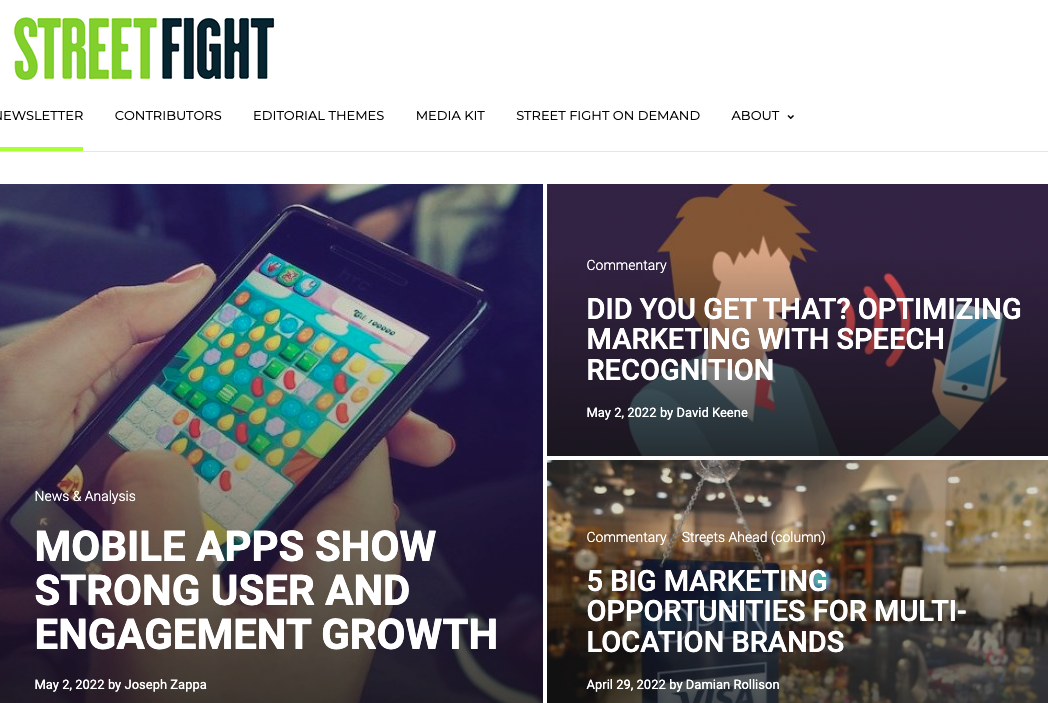 Our take:
StreetFight diversified coverage away from local to a degree, addressing general digital marketing – reflecting broader industry shifts.
Arguably the "StreetFight" brand is more widely known than "Localogy." It will be interesting to see management of the two brands going forward.
Localogy gains a meaningful email list (with some overlap) and a potential new promotional channel for its conferences and members.
Recent Analysis
Short Takes
Listen to our latest podcast.

How can we make this better? Email us with suggestions and recommendations.