New Twitter CEO Is a 'WEF'
Twitter's new CEO is Linda Yaccarino. Until this week, she was chair of global advertising at NBCU. She appears to be a highly regarded executive whom Musk is bringing in to help restore advertiser confidence amid declining revenues and increased competition. According to a Musk tweet (below), she "will focus primarily on business operations," while he continues to control "product design & new technology." Given Musk's turn to the right, Twitter has devolved into a kind of Truth Social lite. Now right-wing Twitter is freaking out because of Yaccarino's position as Executive Chair of the World Economic Forum's Taskforce on the Future of Work. She also appears to hold mainstream views on a range of issues: women's rights, vaccines, hate speech and climate change. This move doesn't come soon enough for Tesla investors who believe that Musk's Twitter dalliance has been a major distraction and hurt Tesla's performance.  
Our take:
In terms of advertiser confidence, Yaccarino is a great choice. I assume she'll also take a stronger position on moderation (read: brand safety).
The key to Yaccarino's success will be Musk's ability to let her truly lead and not meddle too much. But he will probably remain shadow CEO.
Twitter is increasingly vulnerable to user defections and Yaccarino has a chance to stop the bleeding and restore (mainstream) credibility.
Google Adding 'Perspectives' to SERP
One of the announcements that didn't receive tons of attention at Google I/O is "Perspectives," a search feature that has been around since last year under "top stories" and is now taking on greater importance. It's a dynamic filter that will bring people into an area that looks more like a social feed than a SERP. It will present social posts, short videos and online discussions (e.g., Reddit). Google says this will appear "when you search for something that might benefit from the experiences of others," which is arguably most of the time. Perspectives is part of Google's larger Helpful Content push and tries to address two immediate challenges at once. It wants to keep (younger) users from defecting to TikTok, Instagram and other social sites. Recall Google's internal statement about a new commitment to "serving young people globally." Simultaneously, Perspectives will provide more "authentic" information vs. AI-generated content (coming soon) and "SEO chum" in traditional search. Google adds that Perspectives helps bring "more diverse voices into Search."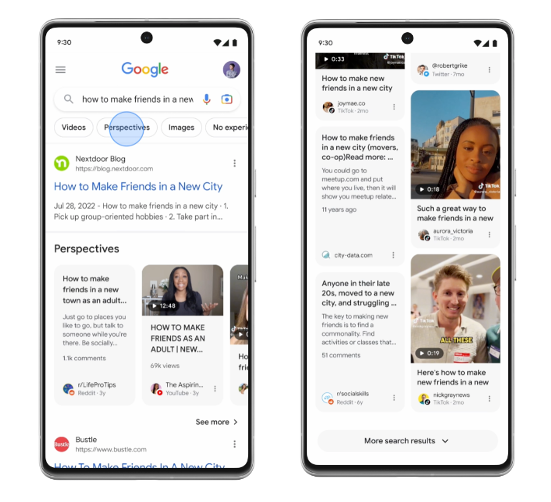 Our take:
As the screenshot above indicates, Perspectives will also have a prominent place (carousel) at the top of the SERP.
There's a debate about social influence on rankings. Regardless, Perspectives means new importance for social in SERP visibility.
And of course, Perspectives becomes another Google "surface" for ads.
SMBs Want Better Websites
Last month Adobe released results from its annual survey on SMBs and website design (n=466 SMBs). A slight majority (53%) said they were planning to "revamp" their websites in 2023. However, it's not clear what "revamp" means; it could include everything from tweaks to full redesigns. These businesses have an average budget of $2,400 to do so – not a lot. The survey focused largely on aesthetics and some UX features. Yet the top outcome that respondents were hoping to improve (48%) is SEO. The more vague "marketing" was next. The SEO finding is interesting because most SMB surveys reflect SEO as a low priority (see also). Generally speaking, social media is much more widely embraced by local businesses. Nearly half (49%) added they would use their revamped websites to "improve content marketing." It's also not clear what that means to them.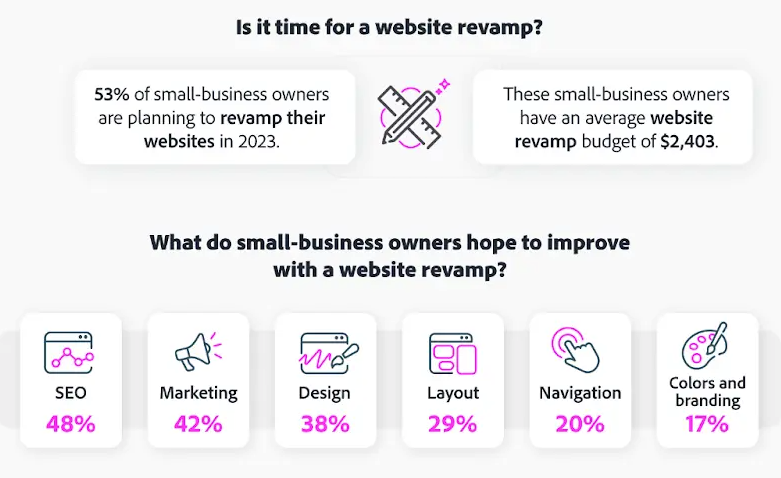 Our take:
The top three SMB channels have been: social, email, websites. These are areas where they have a greater sense of control.
SMBs are likely to assume a "better website" will automatically take care of SEO and content marketing, which is myopic.
We can infer that many SMBs see SEO as a mechanical process that can be set and forgotten, rather than requiring ongoing effort.
Recent Analysis
Short Takes
Listen to our latest podcast.

How can we make this better? Email us with suggestions and recommendations.