Social Beating SEO for B2B
The top B2B marketing challenges, according to a new US-based survey (form) from WPromote and Ascend2, are: 1) improving CX, 2) proving digital marketing ROI, 3) quality lead-gen, 4) quality content creation, 5) aligning sales and marketing. There's also more focus now on retention (vs. acquisition) and profitability (vs. growth). Roughly 34% of B2B respondents said they already deliver excellent CX (doubt it). The rest see improving CX as a holistic byproduct of multiple strategies; investing in retention, content and team alignment were the top three. Digital marketing investments were spread across multiple channels. Social media and content marketing (which isn't a channel) were the top two, also seen as the biggest revenue generators. Paid and organic search ranked near the bottom. Social was seen as most effective for top and bottom of the funnel campaigns. Email was #2 for both. Paid search was #7 for TOFU and #3 for BOFU; SEO was #12 for TOFU and #13 for BOFU – out of 14.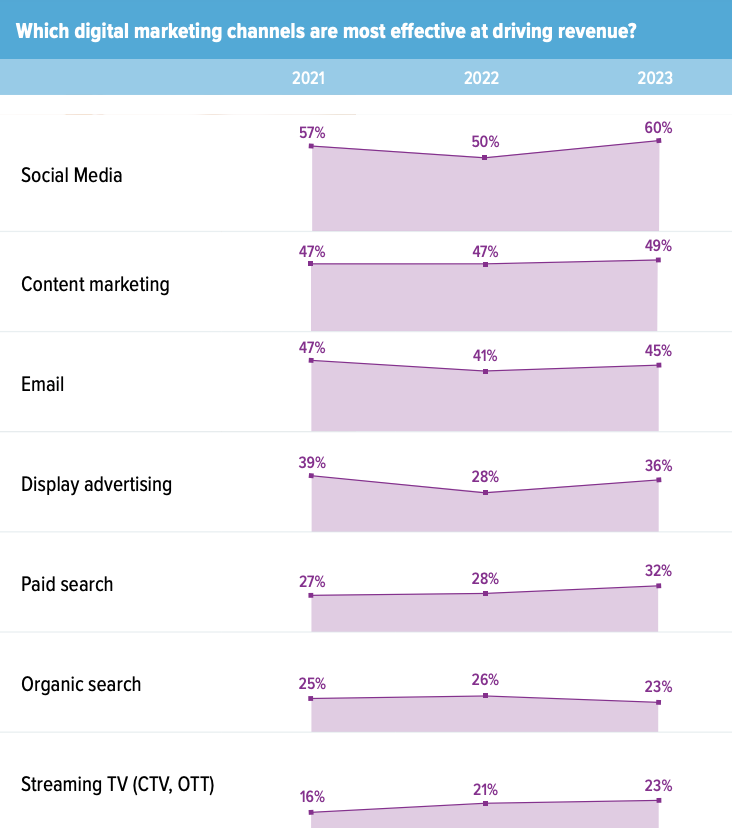 Our take:
The specific social platforms weren't identified or the tactics. My guess is multiple networks were used but LinkedIn is the main one.
Even as marketers expressed high confidence in social media, 85% were also "struggling" to connect their marketing to business outcomes.
The poor showing of search, especially organic, indicates a basic lack of customer understanding and/or frustration with an inability to rank.
ChatGPT Lawyer Gets Spanked
You could see this one coming: a lawyer representing a client in New York federal court (Mata v. Avianca, Inc.) submitted a brief that was partly written by ChatGPT and contained citations to multiple cases that the bot had simply made up. When opposing counsel, representing the defendant, told the judge they couldn't find these cases, the court ordered the plaintiff's lawyer to produce copies of the opinions. Of course the lawyer could not, admitted he had used ChatGPT, apologized that he never intended to deceive the court and said he believed the cases were real. Now the lawyer faces potential court sanctions for violating various duties and ethics rules. The lawyer's 30+ year career may effectively be over because of the negative publicity and professional humiliation. Separately, a federal judge in Texas is now asking all lawyers to certify that no AI tool was used in legal filings or, if so, that all content was checked by a human for accuracy.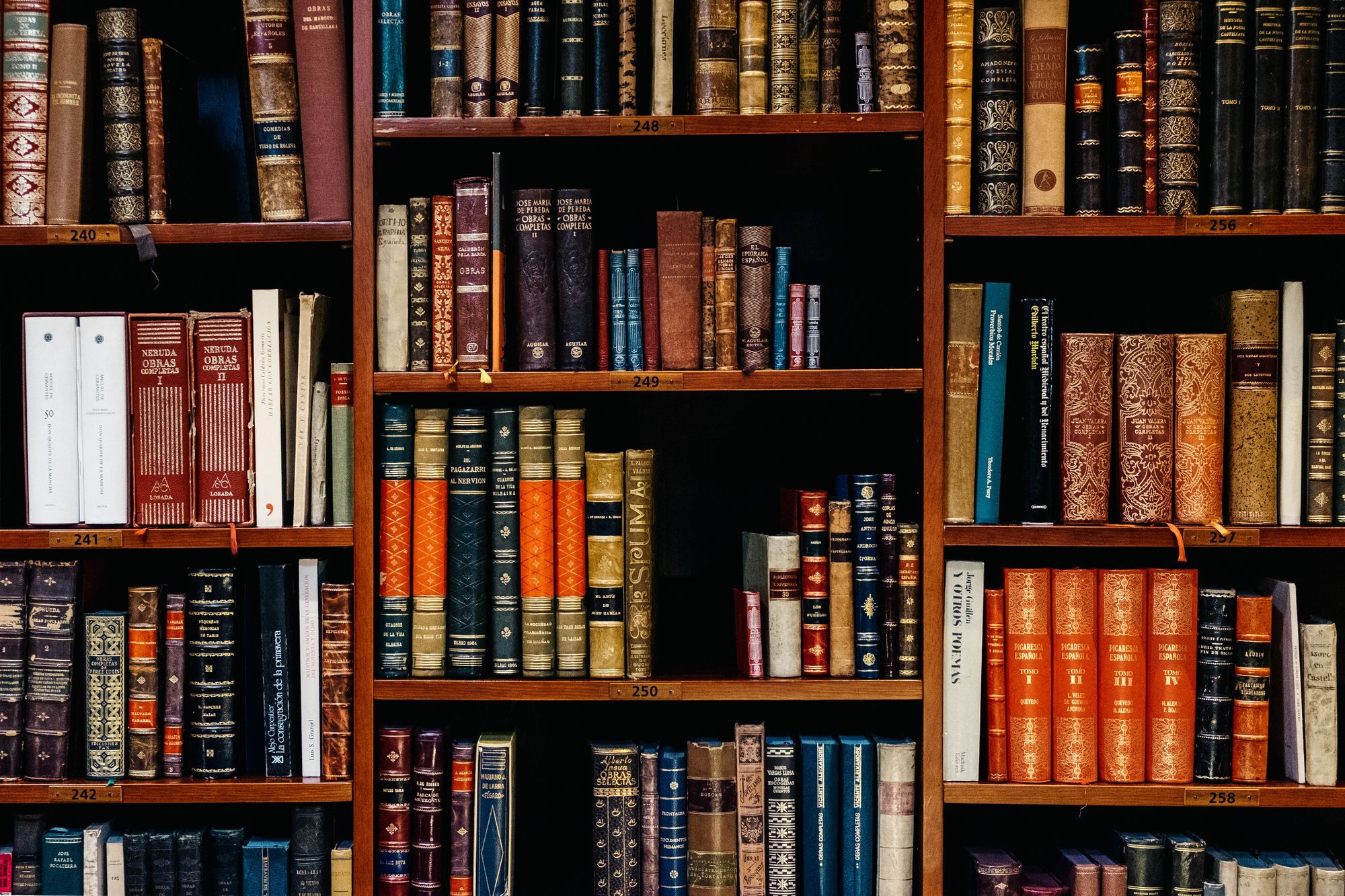 Our take:
Goldman Sachs and Deloitte have separately estimated that roughly 40% of legal jobs could be automated or replaced by AI.
The profession hopes to reduce costs with AI. But any rules limiting AI use/mandating disclosures could slow adoption.
Sophisticated clients will also be wary of paying big fees to firms that rely heavily on AI. Legal malpractice is a lurking issue as well.
SMBs and AI Adoption
Survey firm Bredin is out with data about small business (SMB) adoption of AI. (Here, SMB means up to 500 employees.) The survey of 500 SMB decision makers found that AI applications topped the list of intended software purchases for firms of more than 20 people. Marketing and e-commerce applications were the main focus SMBs <20 people. Indeed, AI wasn't on the intended list for the <20 group and 40% said they weren't interested at all. Yet all groups said they were already using AI to varying degrees. Most common uses were: business analytics, customer service/support, IT and data security and "virtual assistant." The survey found most of the AI applications in use were developed and implemented by third parties with some customization. Top challenges in using AI (below) vary by firm size. For the <20 group, lack of strategy, cost, disappointment and employee training are the biggest challenges. For the 100 - 500 headcount firms, data quality/problems, customization and technical issues were the top challenges.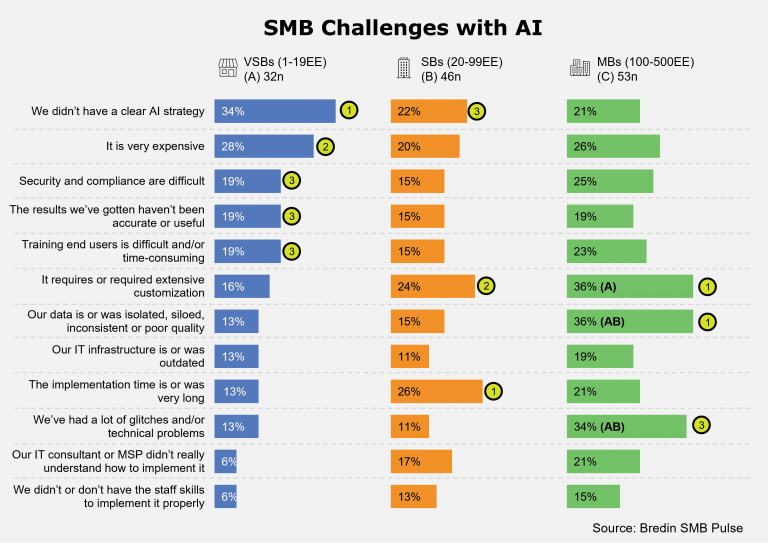 Our take:
Every software vendor uses "AI" in its collateral, so anybody using SaaS tools thinks they're using AI – and some probably are.
Three observations: 1) larger SMBs caught up in the hype, 2) big % of smaller SMBs not interested, 3) challenges/disappointment surprising.
We don't really know what "AI" stands for here (they could be critiquing their SaaS applications). Yet the SMB-AI adoption path is through SaaS vendors rather than customized applications or developers.  
Recent Analysis
Short Takes
Listen to our latest podcast.

How can we make this better? Email us with suggestions and recommendations.