Content Farms: The Next Generation
NewsGuard, a site that rates the credibility of information websites, found a range of publications (49) in multiple languages producing content "entirely or mostly generated by artificial intelligence." The main purpose of these sites appears to be generating ad revenue from programmatic ad networks. NewsGuard says the sites, which don't disclose their ownership, publish across domains: "politics, health, entertainment, finance, and technology." In some cases they're producing hundreds of articles daily. Some of the content also "advances false narratives" and some of it is fabricated, according to NewsGuard. Most if not all the articles have generic bylines ("editors," "admin") and in some cases the articles are simply summaries of content from other websites, such as CNN. A number of these publications also maintain social media pages that have a considerable following. Behold the new content farm.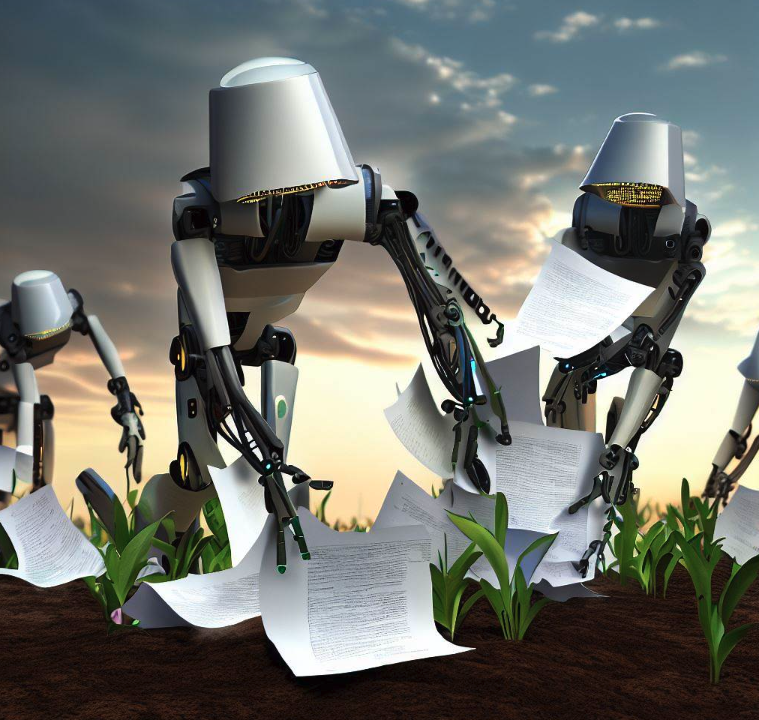 Our take:
In 2011 Google killed content farms (see Demand Media) with its Panda algorithm update.
Google needs to do something similar now and zap all unedited AI content. Otherwise, AI-spam could take over.
Because AI will be so integrated into content creation, it will be more difficult for Google to root out other than the most obvious cases.
Store Location Clicks Up 27%
A new benchmarking report from Tinuiti (form) shows that "clicks from Google Maps on the location details of brick-and-mortar stores were up by 27% in Q1 2023." That's compared to 2019, before the pandemic. It also compares favorably to 8% growth in Q1 2022. People are back in the online-to-offline behavior pattern that has prevailed for most of the last 20 years. However, today there's a more nuanced "hybrid" consumer pattern benefitting omnichannel merchants that can fulfill online, offline and with click and collect. This is the lone local nugget in the Tinuiti report, which predominantly looks at ad spending and click volumes across categories, including video, display and search. Generally CPCs and other prices have fallen since last year (though not to pre-pandemic levels) and growth has returned to most platforms. One interesting finding: Google Performance Max and Shopping campaigns have a comparable ROAS, "with standard Shopping campaigns coming out on top by a hair."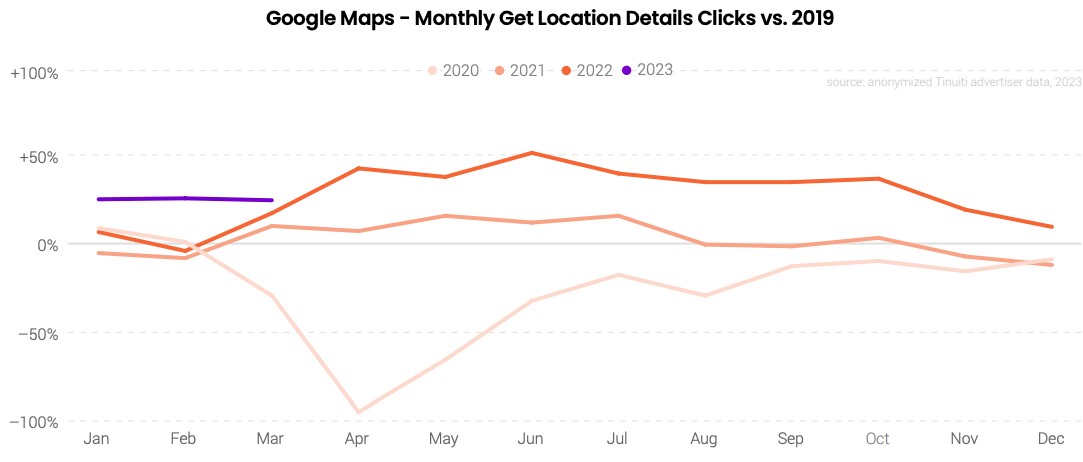 Our take:
The Tinuiti data is based on ad-tracking; it probably doesn't reflect the totality of local click growth accordingly.
Why are local clicks up so much? Is it the novelty of going back into stores, or the more trusted nature of physical store brands?
In an unrelated Tinuiti privacy survey, after clearing cookies, the most common action taken by consumers is turning off location sharing (51%).
Consumers Prefer Automated CS
Humans vs. machines will be the theme of the decade. In a customer service (CS) context, people appear to prefer automated solutions, although satisfaction is somewhat higher with live agents. That's according to a late 2022 Amazon survey (sample size unreported) that found 84% of people want multiple CS options and 74% value being able to resolve issues without talking to a live agent. In eight different CS scenarios, people preferred machines to a live agent in all but one: "to report identity theft/fraud." In other circumstances (e.g., request refund, check order), automated channels were seen as faster and more efficient. Moreover, messaging and chatbots were preferred to IVR systems by 74% of respondents although there were criticisms, including comprehension and response accuracy. By contrast, the Q1 2023 Piper Sandler survey of more than 5K US teens found that by a wide margin they preferred phone-based human customer service to other channels; SMS was second (see chart).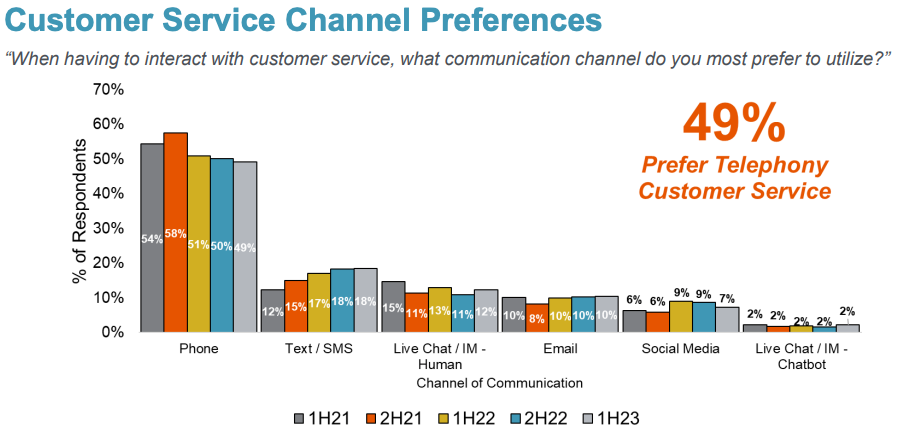 Our take:
Most companies still see call centers as cost centers, not a marketing expense. Therefore most use "call avoidance" strategies to reduce costs.
They create friction, which makes reaching a human over the phone more difficult/unpleasant ("experiencing unusually high call volume").
Automation (the good version) can probably address a majority of customer questions, leaving agents to handle more complex problems.
Recent Analysis
Short Takes
Listen to our latest podcast.

How can we make this better? Email us with suggestions and recommendations.