Social Traffic Mislabeled "Direct"
A new study by SparkToro concludes that a considerable percentage of website traffic coming from social media sites is often mischaracterized as "direct" in Google Analytics. The study looked at more than 1,000 visits from 11 social networks, using blind URLs on mobile and desktop. The networks tested included TikTok, Facebook, Instagram, Twitter, LinkedIn, Reddit and others. Below is a chart showing accurate and inaccurate attribution from the test. The study found, among other things, "100% of all visits from TikTok, Slack, Discord, Mastodon, and WhatsApp were marked as 'direct' and contained no other referral information." SparkToro's Rand Fishkin thus argues that marketers who are relying on Google Analytics (or similar) at face value are "almost certainly undercounting the impact of social media marketing, social referrals, and word-of-mouth on social networks."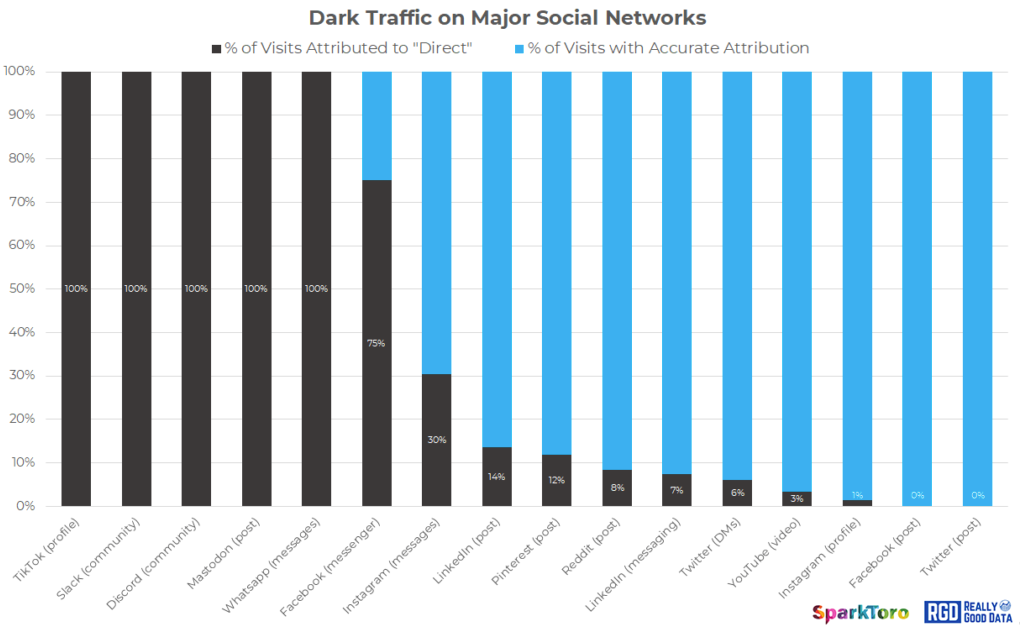 Our take:
Any analytics reporting is going to be directional. Marketing attribution is and has always been incomplete at best.
Perhaps most concerning is the opacity regarding TikTok, which is now a major platform for marketers. The other "dark social" sites are smaller.
Pressure is growing on marketers to prove value/ROI, but privacy and cookie deprecation will make it increasingly difficult, even with AI.  
70% of SMBs Lack Content Strategy
While 77% of SMBs say content marketing is important, 70% have no program or strategy. That's according to a late 2022 survey of 508 SMBs in the US, conducted by YouGov (for HawkStar Press). Small business is defined here as having up to 500 employees, though most are much smaller. Roughly 28% of respondents said they had a content marketing program. However more than half (55%) of that group "allocate[ed] less than 10% of their marketing budget to it." Despite this, 77% (of the 28%) said their content marketing was "successful" (not defined). Most SMB content marketers appear to be outsourcing (60%) though some had between 1 and 20 employees working on it in house. Reasons for not having a content marketing program included "no time" (46%) and "don't know where to start" (41%). The top content types being produced were: 1) social media, 2) video, 3) reviews and 4) blogging. ROI perceptions followed that order.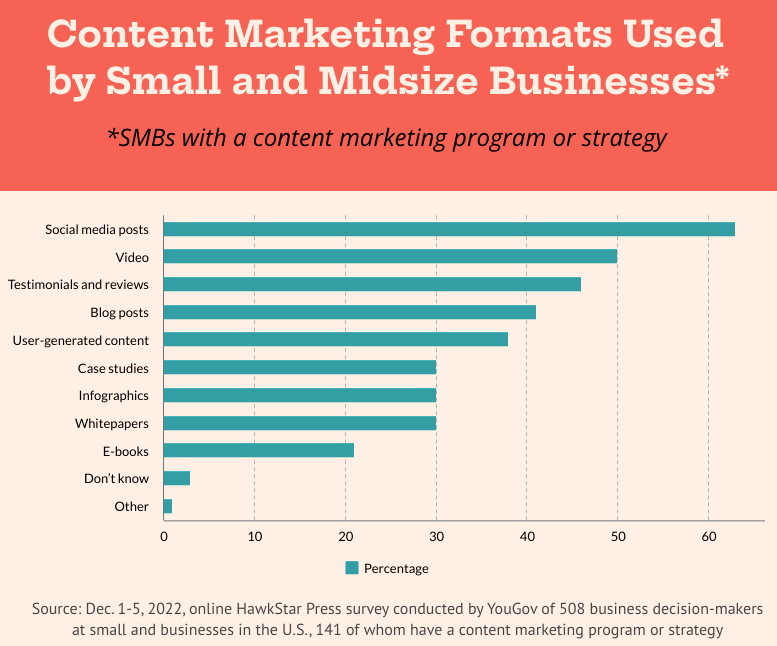 Our take:
The survey is a bit sloppy and it's unclear whether the 70% create some content but just don't consider it a "program" or "strategy."
The percentage of SMBs with a content strategy was, surprisingly, the same among those with fewer and more than 100 employees.
SMBs without a content program were more likely to have direct sales and pay for ads. Barriers for SMBs are education and resources.
Amazon Ad Revenue Up 21%
This week was full of tech earnings, including Google, Microsoft, Meta, Snap, Pinterest and Amazon. Google, Microsoft, Meta and Amazon all beat analyst expectations. However, there were mixed results and softness all around. Snap and Pinterest saw user growth but flat or declining revenue. Google's search revenue grew a modest ~2% to $40.4 billion on the strength of travel and retail. However, Google's retail rival Amazon saw ad growth of 21%. Amazon reported $9.5 billion in ad revenue, up from $7.9 billion a year ago. Total Amazon advertising proceeds for 2022 were ~$38 billion. That's well behind Google and Meta, but ahead of Microsoft's 2022 total of just over $12 billion. Outside of its main e-commerce sales (flat YoY), Amazon's largest revenue sources are: 1) third party seller fees, 2) AWS, 3) consumer subscriptions (Prime, etc.) and 4) ads. Pulling up the rear, Amazon's physical stores (mostly grocery) generated $4.9 billion in Q1 (up 7%).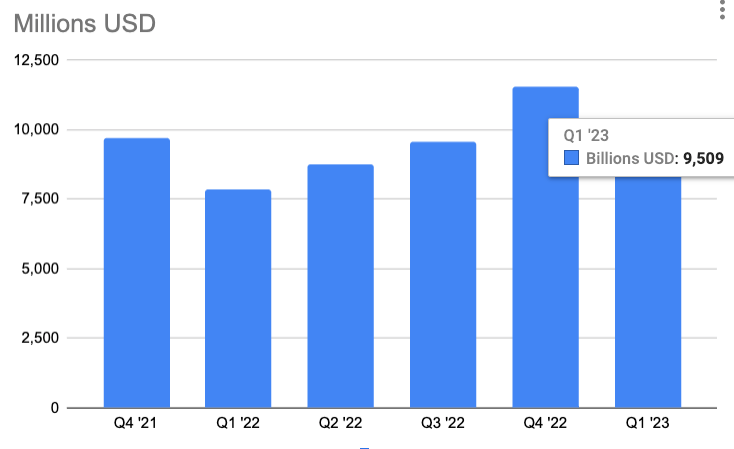 Our take:
Amazon's e-commerce and cloud businesses will see slower growth going forward. AWS in particular is facing intensifying competition.
Amazon has backed away from physical retail; it's not making a ton of headway in grocery: modest growth, tiny market share. Prime is also flat.
Ad revenue (and seller fees) can generate more growth – ads in particular. Expect more of Amazon results to be ads accordingly.
Short Takes
Listen to our latest podcast.

How can we make this better? Email us with suggestions and recommendations.