Does Google Challenger Neeva Have a Chance?
I was given early access to Neeva, the new search engine created by former Google ad boss Sridhar Ramaswamy, who became disenchanted with the advertising business model. I pledged not to write about it. But others have. Forbes reports that Neeva's total funding is now $77.5 million at a valuation of $300 million. Beyond using privacy and a monthly ($5 - $10) subscription model, Neeva is planning to differentiate with features. However, it will be months before it's available to the public.
Our take:
Neeva has almost no chance to seriously challenge Google, despite growing concern about ads, tracking and privacy.
Only a small minority are likely to pay the monthly subscription fee but 10 million users paying $5 per month would generate $50 million in revenue.
The likely near-term endgame for Neeva is an acquisition, potentially by someone like Apple.
Stores: E-commerce Secret Weapon
Though it may be counterintuitive, physical stores helped traditional retailers in 2020 succeed at e-commerce. People have been talking about "omnichannel" retailing for years but it's finally here. Data from multiple retailers show how e-commerce growth was fueled by stores. Most major retailers saw double-digital e-commerce gains and used stores to fulfill many, if not most, online orders. Target fulfilled an astonishing 95% of e-commerce orders through stores. Curbside pickup/BOPIS was also a top innovation during COVID implemented by 100K brands around the globe, according to Shopify data.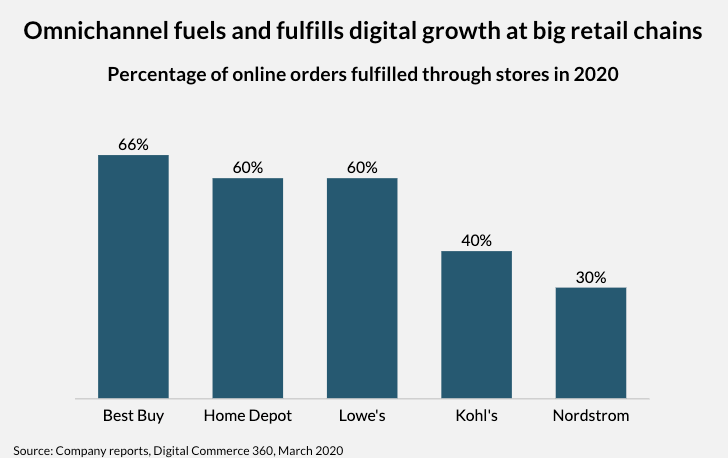 Our take:
Under economic pressure, many retailers are shrinking their footprints. This needs to be done; there's also danger in closing stores.
There's divergence between retailers investing in stores (e.g., Target, Sephora) and closing stores (Topshop, Disney, Gap). We'll see how this all plays out.
Data show consumers buy more from brands online in markets with corresponding stores, less when stores disappear.  
Roaring 20s: Offline Economy Set to Boom
There are numerous indications that the economy will come roaring out of hibernation after vaccinations reach critical mass. Business and investor optimism is up. Another potential harbinger of a robust economic recovery is Chinese movie ticket sales, which have set new records. The data suggest a strong consumer desire to return to "normal life." The US also exhibits signs of pent-up demand for an "offline" return to restaurants, retail stores and movie theaters. And a new Yelp report tracks the 2020 impact on SMBs, which wasn't as bad as feared: ~500K new business starts.  
Our take:
The assumption that the future is entirely online is simply wrong. We now are firmly in a hybrid, O2O world.
There will clearly be more e-commerce and behavior changes based on new pandemic behaviors (e.g., WFH, home workouts, grocery delivery)
Omnichannel companies, including DTC, that integrate online and offline will be best positioned to "win the future."
Short Takes

Please let us know what you think. Email gsterling@nearmedia.co with suggestions and recommendations.