Study: 66% of Traffic in 2020 from Mobile
A new data analysis looks at 2020 search trends. Many desktop apologists touted the return of the PC in 2020 but study author Semrush points out that's probably temporary. Among the top 1,000 domains, 66% of traffic came from mobile. And these top sites doubled their global traffic share, between 2018 and 2020 (10% to 20%). Time on site for PC users was 40% longer than mobile but attention is shrinking and bounce rates are growing. Search rankings for mobile and PC were very different: "only 11% [of pages] maintained the same rankings across both." Finally, SERP features on mobile were also often different (graphic below), though the local pack appeared consistently across platforms.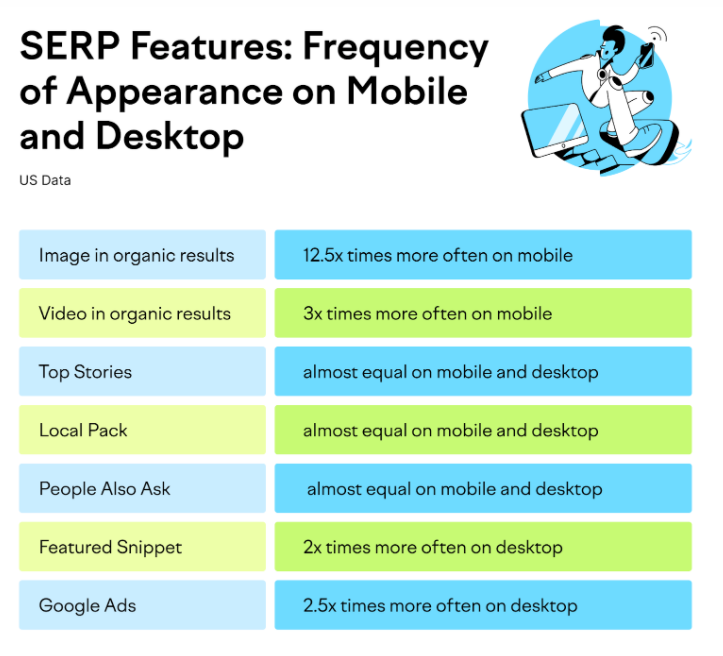 Our take:
The 66% mobile traffic number is higher than previous figures from Hitwise. It sounds about right.
Dominant sites are capturing more attention and mindshare. But attention is shrinking and it's becoming harder to break through.
What's my ICP? Regardless of your vertical or category, it's an increasingly impatient mobile user.
DTC Is the Future of Retail
Taking page from rival Nike, Adidas said that it wants its direct-to-consumer (DTC) business to constitute 50% of global sales within four years. The company has plans to open more than 200 branded stores during that time frame. They will include a mix of large format concept stores in selected locations, smaller "local" stores and factory outlets. Adidas will continue to sell through third party retailers and department stores. But it's clear DTC is the future for the company. Adidas also plans to double e-commerce sales and said will focus more on women.
Our take:
Most department stores are struggling and closing locations. In part Adidas' move comes out of this necessity.
The company's brand will benefit from more DTC marketing, as well as more branded locations.
This DTC playbook will be emulated by others who want to control their own destinies and provide more integrated omnichannel experiences.
Texting Is Consumers' Favorite Channel
According to a report from Zipwhip, 83% of consumers received a text from a business in 2020. Most of that was push; only 34% of consumers texted first. Yet a majority (58%) of consumers prefer texting as a means of communicating with businesses, compared with phone (21%) or email (21%). Appointment reminders and delivery status updates were the most valued texts. Businesses are bullish on texting, with 70% reporting using it in 2020. But 53% said they've sent unsolicited texts to customers who hadn't previously opted-in -- in violation of the law. Oops.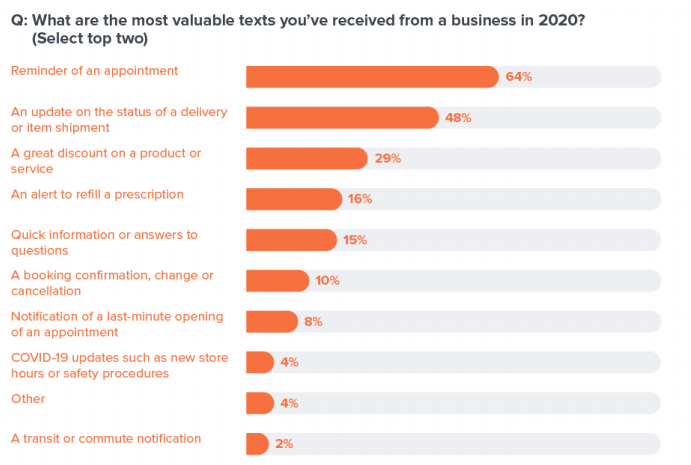 Our take:
Many people, especially younger ones, prefer SMS. The phone still got a lot of use in 2020 as people called to confirm hours, product availability.
Messaging is probably the most effective channel, and is already familiar to everyone. Yet it's not optimized by most businesses.
Just as companies built email lists, they now need to build opt-in text lists and develop overall SMS strategies.  
Short Takes

Please let us know what you think. Email gsterling@nearmedia.co with suggestions and recommendations.