Survey: We Don't Care That Google Has Our Data
There's a gap between how many Americans feel about the tech companies that rule their lives and what they're actually doing about it: almost nothing. People often express concern in surveys but continue to use big platforms unabated. This lack of change is sometimes cited as evidence of consumer approval – it's not. A new survey from seoClarity is the latest to expose this "ambivalence gap." The US-based survey was conducted in late 2020. It explored content policing, privacy and regulation. In terms of trust rankings, it was: Google, Amazon, MSFT and Apple. Facebook was number eight and TikTok was 10.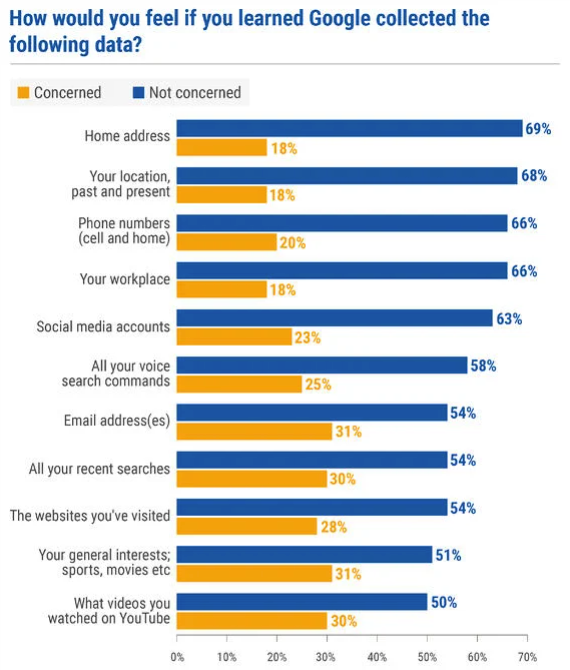 Our take:
It's surprising that Google is trusted more than Apple, for example.
Brand trust translated into wide acceptance of Google capturing personal data: address, location, mobile numbers, interests, etc.
This is one survey but it shows Google's brand has weathered numerous controversies much better than Facebook's.
Stores Fuel Target's Massive Digital Growth
Increasingly markets are bifurcated between winner-take-all brands and those struggling for survival or failing. The middle is disappearing, as it is in politics and economics in America generally. Target is a clear winner in retail; JCPenney (among others) is a loser. Target's full-year 2020 digital sales grew by $10 billion, exceeding $16.5 billion. Stores were a huge part of that. The company said it would invest $4 billion in stores over the next several years. Curbside pickup grew more than 600% YoY; 95% of online sales were fulfilled by stores.
Our take:
Most retailers are trying to shrink their footprints right now (e.g., BestBuy). Half of all US malls may go under.
Target's performance is omnichannel retail at its current best, combined with brand strength and consumer trust.
Go-forward execution is a major challenge for retailers. But clearly, stores are a huge strategic asset if they're properly managed.
Volvo EV Sedan to Be Sold Exclusively Online
Volvo's new C40 EV sedan will be sold exclusively online. For nearly two decades people have increasingly shopped for cars online but still bought them in person. Online car buying gained momentum with Telsa and COVID. However, the C40 is reflective of a coming sea change in car buying. Analysts estimate roughly 825K cars were sold online in 2019 (global). In 2020, about 74 million cars were sold in total. In other words, just over 1% of car sales happen online. That percentage will get much larger over the next decade.
Our take:
Other than real estate, cars represent a purchase category few thought would take off online, though it hasn't quite yet.
Younger buyers, better online tools, fast financing decisions and buyer protections will translate into more car purchases entirely online.
The internet is the top marketing medium for auto dealers already. Online buying will: 1) intensify spending competition, 2) disrupt dealers bigtime.
Short Takes

Please let us know what you think. Email gsterling@nearmedia.co with suggestions and recommendations.