Women Are Better Leaders, Only 37 CEOs in Fortune 500
If you look at the data, there's no argument: women make better leaders than men. Women consistently outperform men on various leadership measures, especially during crises. However, men tend to give themselves higher effectiveness ratings than women. Among the reasons women are typically judged better leaders are superior communication skills and greater empathy. Sadly, there are only 37 female CEOs among the Fortune 500. And a new report estimates it won't be until 2032 that corporate boards reach gender parity.
Our take:
Tripadvisor Plus: Amazon Prime for Travel
Tripadvisor has launched a new subscription program called Tripadvisor Plus. It's effectively Amazon Prime for travel. Consumers pay $99 per year for "insider savings, personal service, benefits and perks" from hotels. Participating hotels receive greater visibility on Tripadvisor and pay zero commission fees to the site, which can normally be up to 30% of booking rates. Subscriber fees compensate for these "lost revenues." The company tested the program in December and decided to roll it out nationally, with other markets to follow.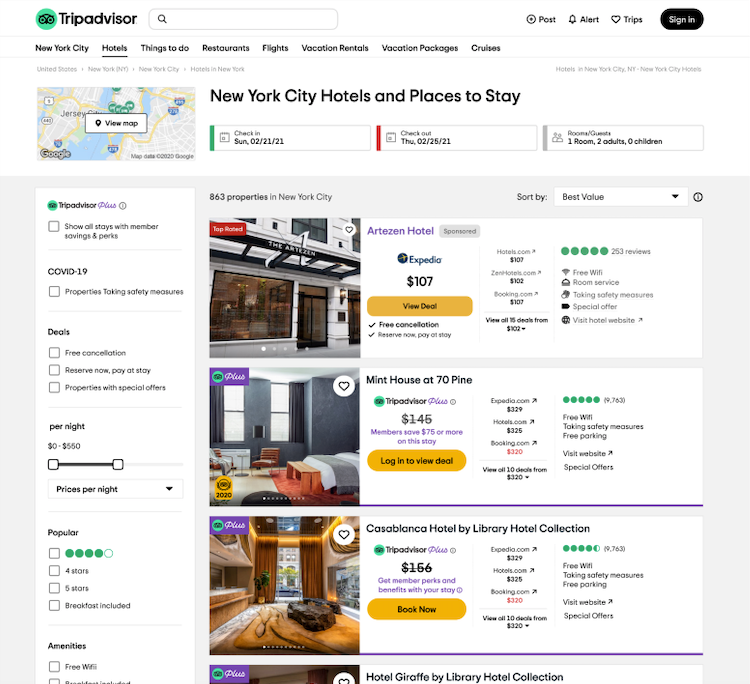 Our take:
Tripadvisor Plus will be most attractive to business travelers, but might also be popular among frequent leisure travelers.
Hotels will likely embrace it because it saves them significant money on bookings and offers greater prominence on Tripadvisor.
A smart move, this will boost Tripadvisor's brand and loyalty.  
Google Inserts Vaccine Appointments into Profiles
Spotted first by Krystal Taing, Google now appears to be inserting vaccine-appointment information into relevant business profiles (see image). This isn't a COVID Post and isn't being provided by the business, at least at the Google My Business profile level. The data are sourced from third parties. "We're working with partners like VaccineFinder.org ... and other authoritative sources, such as government agencies and retail pharmacies," Google explains.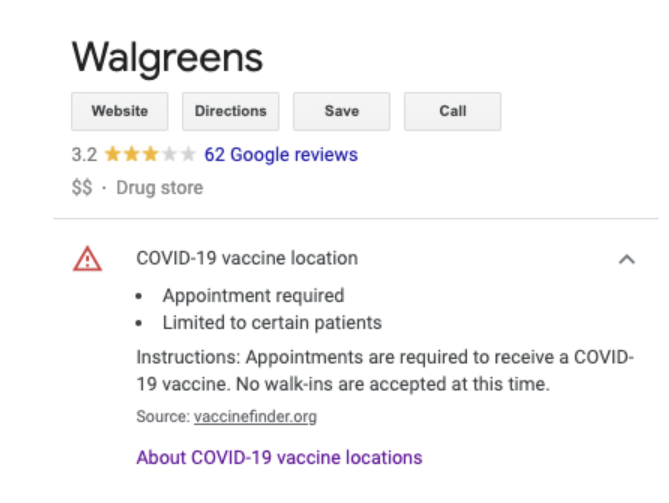 Our take:
This update reflects Google's ongoing commitment to COVID updates, and its ability to rapidly assemble trusted information.
Google can move very fast when necessary to deliver updates on matters it considers important.
It also begs the question: why doesn't Google apply the same level of effort and diligence to all categories of information?
Short Takes

Please let us know what you think. Email gsterling@nearmedia.co with suggestions and recommendations.