Near-Me Search Hits 'All Time High' in 2020, Says Google
Near-Me search hit an all-time high in 2020 according to Google. That's one of several trends the company discusses in a recent post on "permanent" COVID-inspired behaviors. Among others, Google talks the blending of digital and physical retail (awkwardly called "phygital" in the post) and the focus on local. It said, "searches for 'support local businesses' grew globally by over 20,000% year over year." At the same time e-commerce grew 42% in 2020; growth has remained high (34%) so far this year according to Adobe. Google also says the perception of product "value" is increasingly being tied to personal "values."
Our take:
It's early to declare trends permanent. We need to see what happens when stores reopen, though e-commerce will remain a larger % of retail.
The deeper integration of online and offline shopping (real-time inventory, BOPIS) is very real and will continue to evolve.
How the seemingly contradictory growth of e-commerce and near-me search play out will be one of the more interesting "local" stores of 2021.
California Tries to Block CCPA "Dark Patterns"
CA Attorney General Xavier Becerra announced new regulations under the California Consumer Privacy Act (CCPA) that attempt to prevent publisher "dark patterns," avoiding CCPA opt-outs. The new regs "prohibit companies from burdening consumers with confusing language or unnecessary steps." There's also a new (optional) "Privacy Options" icon. Although the AG's office says there's been meaningful compliance, CCPA has been mostly ineffective because sites make it difficult to opt out. Nearly 90% of consumers previously indicated they would opt out, but the actual opt-out rate is 5% or below. CPRA, which amends CCPA, takes effect in 2023.
Our take:
To date, CCPA is essentially a failure; consumers mostly click "accept" or "got it" to access desired content.
Low opt-out rates support the false industry narrative that consumers don't really mind tracking or want personalized ads.  
Only an opt-in framework, such as Apple is imposing under iOS 14.5, will truly empower consumers and reflect their true intentions.
Tech Employees: Our Employers Are Too Powerful
A new survey of 1,500 tech employees nationally finds a high level of concern about the power of major tech companies, their employers. Nearly 80% said that the industry is too powerful. There was a comparable finding when asked specifically about the power of Google, Facebook, Apple and Amazon. Tech workers also believe that Section 230 of the Communications Decency Act should be reformed, though most want to preserve the liability exemption for content on their sites. Nearly three-fourths of respondents (73%) also believe government should regulate AI. And 40% don't want their employers or the industry to work with law enforcement.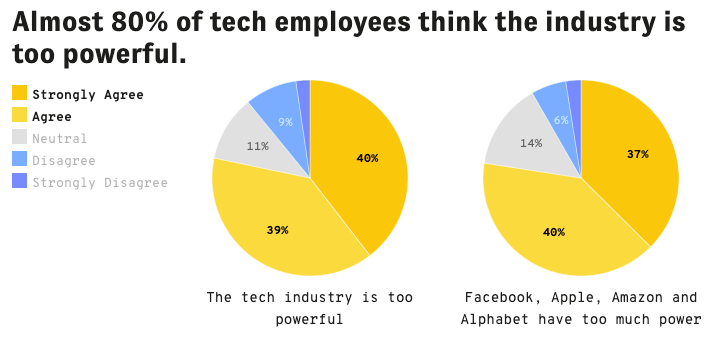 Our take:
There's been increasing activism among the employees of major tech firms, alarmed by policies or actions taken by their employers.
Google workers formed a union in January to influence corporate behavior rather than to negotiate for better pay or working conditions.
Tech companies are in a tricky balancing act between doing what employees want and institutional investors hungry for revenue growth.
Deconstructing Google's Local Guides Post
Last week Google posted a Maps multi-part press release: "Three new ways anyone can update Google Maps." Like all Google releases it generated adoring coverage but we wanted to take a minute to cast our "Kreminologist's" eye on the content and deconstruct its many details. Read more.
Short Takes

Please let us know what you think. Email gsterling@nearmedia.co with suggestions and recommendations.