The Marketing Lesson of COVID: CX
A year later, there are many answers to the question, "what did we learn from COVID-19?" We could discuss policy, social or economic impacts. But through the narrow lens of marketing the answer has to be "focus on the customer experience." Even though that's something of a cliche, it's true. A new study from Verint Systems validates what the folks at ACSI have always said: better CSAT scores foreshadow business outcomes. In the Verint study Amazon and Costco are the two retail leaders, followed by Apple, Publix and Target. Interestingly, CX expectations may vary by company and aren't uniform, as the chart below shows.

Our take:
Better CSAT/NPS customers have higher online and in-store purchase intent and are more likely to recommend (word of mouth).
The report doesn't tackle the relationship between CSAT and positive reviews or intent to review, but it's there too.  
Many talk but few companies pull off great CX because it's very challenging but also because they don't truly have customer empathy.
Cashiers Will Gradually Disappear
Grocery store cashiers were considered essential workers in 2020. They're also among the lowest-paid in retail. There are nearly 10 million cashiers in the US. How many of those jobs will disappear over the next decade? This BBC story about "staff-free" convenience stores in rural Sweden prompted the question. In the US, Amazon launched its cashierless Go convenience store concept in Seattle in 2018 (now 26 stores in four cities). And last year it opened the much larger format Amazon Go Grocery, with no cashiers. Beyond Amazon, multiple companies are developing checkout-free technologies for retail.  
Our take:
Speaking of CX, checkout is often the low point of the grocery or retail experience. Expect checkout free to grow.
Consumers will mostly like it; retailers will embrace for cost savings. But they should redeploy the budget to in-store sales/service people.
The wildcard is consumer privacy concerns, but objections can be overcome by a trusted brand relationship.
Who's Listening to Podcasts in America?
More than 116 million Americans over 12 listened to a podcast last month. That's according to new data and estimates from Edison research (.pdf). On average people are listening to between 5 and 8 podcasts a week. Over the past three years the audience has become less white (now 57%), with demographics starting to resemble the overall US population. The largest age category is 12 - 34 (50%), followed by 35 - 54 (29%). The strongest growth is among younger listeners and then among those over 55. Males represent 51% of the audience. The Joe Rogan Experience on Spotify is the top podcast in the US.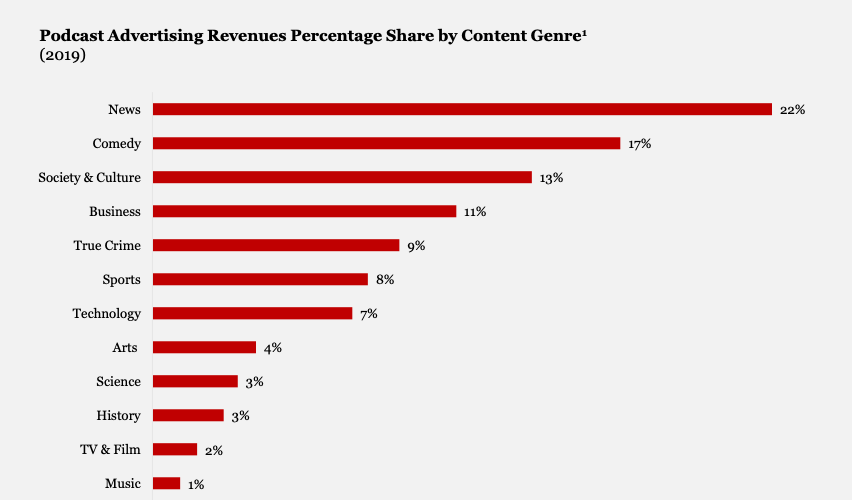 Our take:
Built on the radio interviews and live talk models, podcasting has become a powerful channel with $1B in 2020 ad revenue (per IAB).
In 2019, and a bit of a surprise, direct response ads were 54% and branding was 45% of those revenues.
We've probably yet to hit peak podcast but there are too many – especially digital marketing podcasts – already. Ours (15 mins) is here.
Short Takes
View-through: Why Facebook is so upset about Apple's IDFA changes.
How Facebook's AI-driven algorithm has fueled misinformation.
Google testing "estimated prices" box for local services queries.
Google advising publishers to develop first-party data going forward.
Brands start delivering samples via curbside pickup (@Walmart).
Household shopping for Walmart products in a 3D environment.
Gig workers recognized as employees in Spain. EU coming.
UK to exit GDPR, though any new privacy standards may be similar.  

Please let us know what you think. Email gsterling@nearmedia.co with suggestions and recommendations.