Google Building Search to Sale Local Experiences
Google is making it easier for local business owners to input their content directly from SERPs and Maps, after a search on the business name or "my business." Google is also asking businesses to provide more detail about services they offer. The company encouraged setting up online booking through the GMB profile, provided the business is signed up with a "Reserve with Google" partner. For restaurants with takeout, the company wants to set up online ordering, using Google's infrastructure or one of Google's partners. Finally the company is inviting eligible small retailers to get their product inventory online with Pointy, which Google acquired in early 2020. The service will be free through September 30 this year.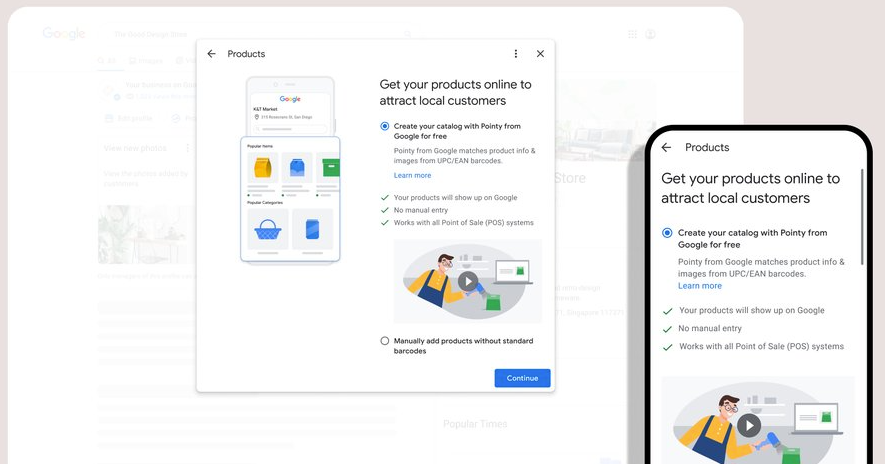 Our take:
The more local data Google has, the deeper local SERPs become. More data also enable multiple "graphs" Google's building.
Booking and online ordering is part of Google's larger "get things done" strategy to inject direct transactions/conversions into local results.
The combination of local data, ordering infrastructure and customer information (location, credit cards) enables a "magical" CX – and loyalty.
Trust Gap: SMBs and Their SaaS Overlords  
There's a trust gap between SMB business owners and the mostly SaaS enterprises serving them. A new Accenture survey of 1,000 enterprises and SMBs found the large majority (83%) of enterprises believe their SMB customers trust them. Enterprises also say they care about SMB success. But about half of SMB respondents don't trust their SaaS providers or believe they truly care. There are similar gaps when it comes to understanding SMB challenges and the strength of the relationship, with SaaS companies overestimating relationship strength. There's also a widespread perception among SMBs that enterprises care more about selling than understanding customer needs. This lack of trust leads to churn.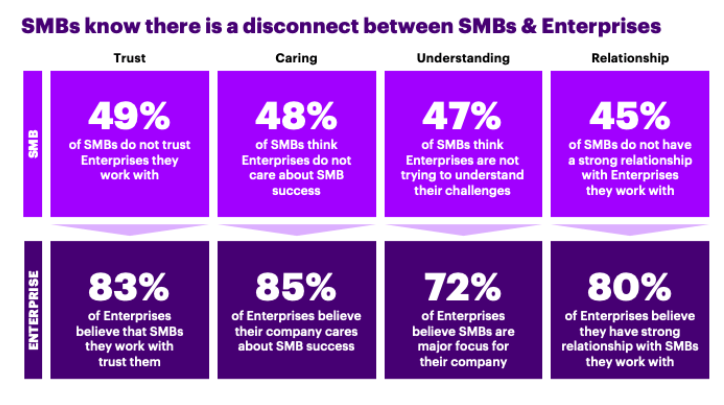 Our take:
The top two desires SMBs expressed: lower pricing and better service. Peer recommendations was a major driver of software/tool adoption.
Cost adjustments was identified as the main way SaaS companies could help SMBs and maximize retention.  
The more SMBs trust their vendor-partners, the more they spend with them and the less likely they are to churn.
Yelp: Indoor Dining Returns to Pre-COVID Levels
Restaurants were hard-hit during COVID. And many still face labor shortages as they reopen for indoor dining. But Yelp sounds an upbeat note with its latest release of local business data. In multiple cities, indoor dining demand has returned to or exceeded pre-pandemic levels – call it pent up demand. Yelp says more than 6,000 new restaurants/food businesses opened in May, "a 42% increase from May 2020 and down by only 21% from May 2019." Beyond this, almost 17,000 restaurants that were closed are now reopening. San Francisco and New York still lag May 2019 dining levels, but otherwise, almost all other metros have seen massive growth compared with 2020 and even 2019.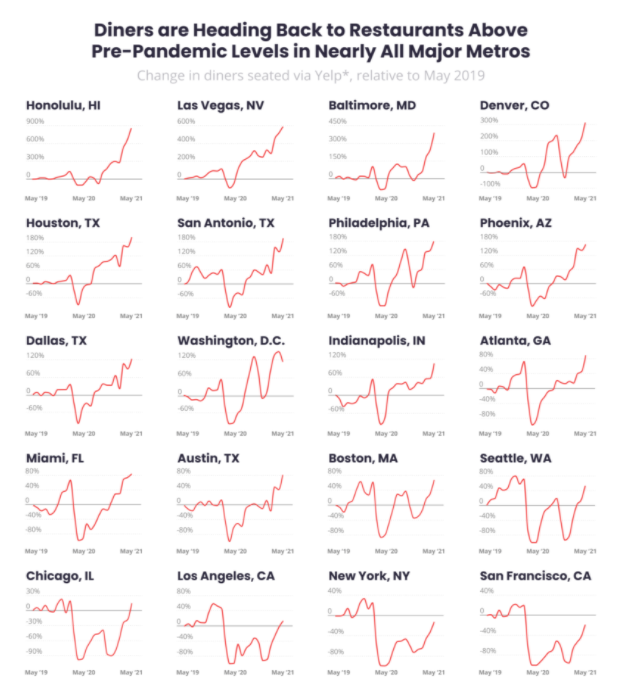 Our take:
As restaurants reopen, often short-staffed, one question is whether technology tools can compensate for missing humans. Yes, up to a point.
Will delivery/curbside pickup persist? Many restaurants will abandon COVID options in the "return to normal." But consumers still want them.
While online ordering/delivery will decline, eateries that offer more digital tools and greater convenience will win.  
Recent Analysis
Short Takes
Listen to our latest podcast.

How can we make this better? Email us with suggestions and recommendations.