Google's Antitrust Trial Set
Earlier this week, a California judge denied Google's summary judgment motion in the $5 billion Chrome "incognito" browser tracking lawsuit. This doesn't mean Google will be held liable at trial but it's a significant setback for the company. In a separate antitrust case, Google had both a setback and major victory. The DOJ and state attorneys general separately sued Google in 2020 (the cases were combined). Collectively they argue Google has a monopoly in consumer search and digital advertising. There were also other claims, among them that Google favored its own content in SERPs (e.g., Local/Maps). Ruling on Google's summary judgment motion, federal judge Amit Mehta eliminated a number of claims related to digital advertising and self-preferencing in a significant victory for the company. However those claims arguing that Google default search deals (worth billions) and pre-loaded Google apps on Android are anticompetitive will go to trial on September 12.
Our take:
Consumers click (or zero-click) at least as much on Local Pack results as organic. Thus it does disadvantage competitors as a practical matter.
Google will argue at trial that nobody is obliged to use its search engine and "competition is just a click away." In reality, the default search deals helped build and maintain Google's dominance and ad revenues.  
This is the biggest antitrust trial since Microsoft in the late 1990s, which Microsoft settled to avoid a divestiture. Google's odds are 50-50.
SMBs Have High Hopes for AI
While most consumers in the US are quite anxious about AI, small businesses (SMBs) appear to be bullish about the technology. A new survey from Constant Contact, conducted by Ascend2, trumpets the value of AI for SMBs. The headline is "91% of small businesses who are currently using AI say it has made their business more successful." However, "success" isn't defined and a closer look reveals that only 26% of respondents are actually using AI tools – that's 126 SMBs out of the 486 surveyed. Most of the survey is focused on time and cost savings from AI usage. About 90% of SMBs (113) using AI are saving an hour a week or less. Those same business expect to save $1K in the next year using AI/automation. Among those currently employing these tools, top use cases are social media (52%), content creation (44%) and email marketing (41%). Data security, cost and the learning curve are the biggest barriers to adoption according to the survey.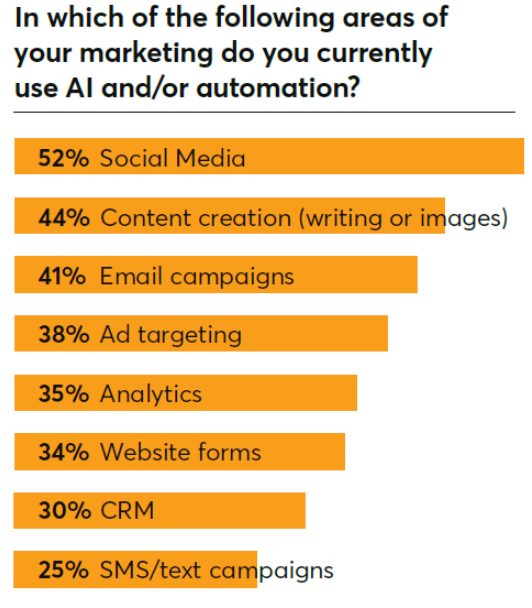 Our take:
Tools that are time and/or labor saving are especially useful to time-starved SMBs at the lower end of the headcount spectrum.
Most AI exposure SMBs have is to ChatGPT/Bard or through their software vendors, which are integrating it (e.g., Constant Contact).
AI/automation will be present in all SMB-SaaS tools. And while they can deliver efficiency and insights, they can't substitute for strategy.
Yelp Success: More Clicks, Higher CPCs
Yelp has quietly been beating Wall Street Expectations for the past several quarters. Last week it posted 13% YoY revenue growth, the same as in Q1 – also beating expectations. Revenue was $377 million, while income grew 84%. This was "the ninth consecutive quarter of double-digit growth." Yelp said that "self-serve and multi-location accounted for more than half" (51%) of ad revenue for the first time. Most of the growth is coming from higher revenue per location (increased prices/share of wallet) rather than advertiser numbers: "paying advertising locations were relatively flat, down 1%." CPCs grew 14% YoY and there were more more ad clicks. Growth came in the Services/Home Services, Restaurants and Retail categories. However Yelp said its request-a-quote submissions were down 10%, which it attributed to the economy. Yelp highlighted store visits attribution as a key to its multi-location ad growth. The company claims 6.3M "active local business" locations and 73M monthly users. Consumer traffic appears flat.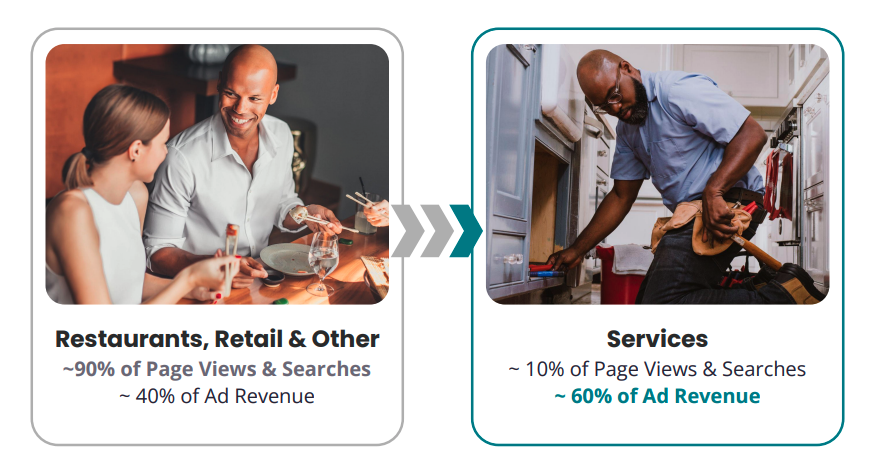 Our take:
60% of revenue is coming from 10% of searches/views (services). Seeing Yelp as a home services platform, one investor is advocating a merger with ANGI.
Yelp's brand is strong in some categories (i.e., services, restaurants) but not in others (e.g., healthcare) and it heavily depends on Google SEO.
The story is one of efficiency as Yelp extracts more money from existing customers; it's not really growing users or unique advertisers.
Recent Analysis
Short Takes
Listen to our latest podcast.

How can we make this better? Email us with suggestions and recommendations.