ChatGPT Beats Google in Blind Test
In blind testing, users appear to prefer ChatGPT search results over Google by almost 2:1. Those are the findings of the test's creator, ClickPop, which requires some caveats. Nonetheless, the outcome suggests the Google brand and familiar UI may be a bigger factor in Google's dominant search position than search quality. The test was conducted May - July this year. ClickPop built a tool that extracts the top 10 websites from ChatGPT and Google results for any query and presents them side-by-side as "Set A" and "Set B." Users then choose the results they prefer (see below). The tool randomizes which results appear as Set A or Set B. Now for the caveats. The test is global and the sample size and number of searches is very small. Users wind up picking a collection of URLs, which is impacted by the brands and publishers displayed. But the findings are the findings – and they're interesting. Try it yourself.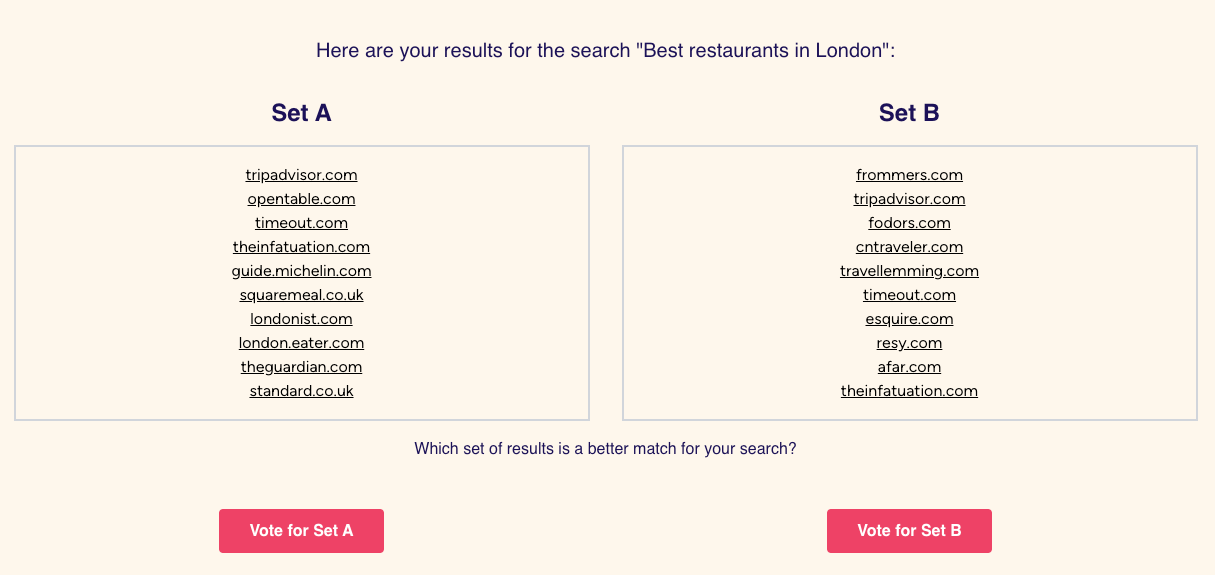 Our take:
My own experience with the tool generally mirrored the overall results. But would this hold up at 100K or 1M queries? We need a larger test.  
There's more to search UX than just URLs; the UI matters of course. But we can infer that Google loyalty has a lot to do with the UI and brand.
Bing did a similar test back in 2012. It presented two unbranded SERPs side by side and claimed that people preferred Bing 2:1.
Survey: 30% Don't Trust Google Maps
Google Maps competitor Atly published a survey (~1K US adults) that explores where people look for local restaurants and travel recommendations. The headline is: 30% don't trust Google Maps. Respondents said they had little trust (25%) or no trust at all (5%) in Google. Conversely, 69% trusted Google Maps somewhat (58%) or firmly (11%). Since this is a point in time survey we can't compare results YoY and we don't know the verbatim questions. But the survey implies people are questioning the value of local rankings on Google. More interesting perhaps is the hierarchy of sources for "restaurant and trip recommendations." It's no surprise that "friends and family" dominated (72%). Google was second (40%), followed by Facebook (30%), Yelp (22%), Instagram (19%), TikTok (13%) and others. Apple Maps is not present at all. It's not clear whether that was a choice. TikTok and Instagram score higher when the data are segmented by age cohort. Younger people also placed more emphasis on video in their decision-making.
Sources for restaurant and trip recommendations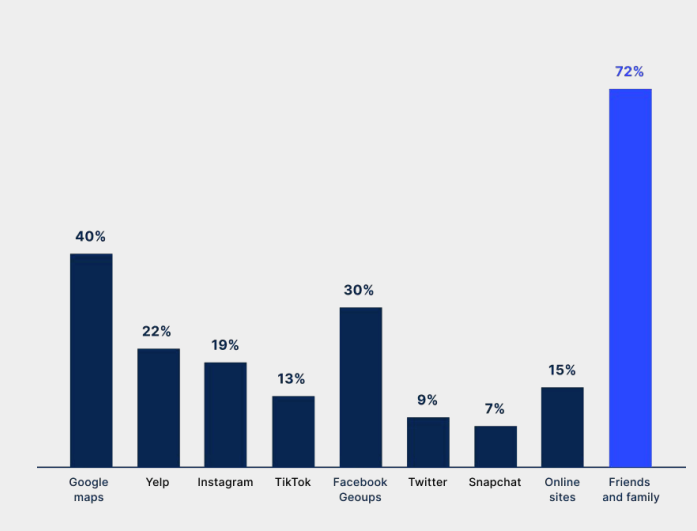 Our take:
We have to be cautious about extrapolating too much. This was a survey by a competitor seeking PR attention.
The chart above shows a variety of sources people are using for local recommendations. Google's comparatively modest usage and Facebook's relatively strong showing are surprises.
Would like to know whether Google Maps trust is declining or flat. I suspect it's declining for multiple reasons, including fake reviews.
Shoppers Want Local Inventory
According to consumer survey data from Numerator, "36% US households shopped on Prime Day 2023" (+2% YoY). Roughly 77 million households had Prime memberships in 2022. That means just under half of all Prime members in the US shopped Prime day. One element of Google's product search strategy vs. Amazon is local inventory. This is consistent with what people want. According to a survey from Digital Commerce 360 and Bizrate Insights, 68% of online shoppers "want the ability to check online for product availability at a nearby store and for buy online, pickup in store (BOPIS)," which was up 10 points YoY. But that's not exactly what the survey says; it says 68% of people actually sought local product availability online in 2023. Consumer demand for local inventory data is growing and merchants aren't keeping pace, despite the efforts of Google and third parties such as Near.st. Consumers have long been interested in local product inventory information online. But it has taken 15 years to get to where we are today.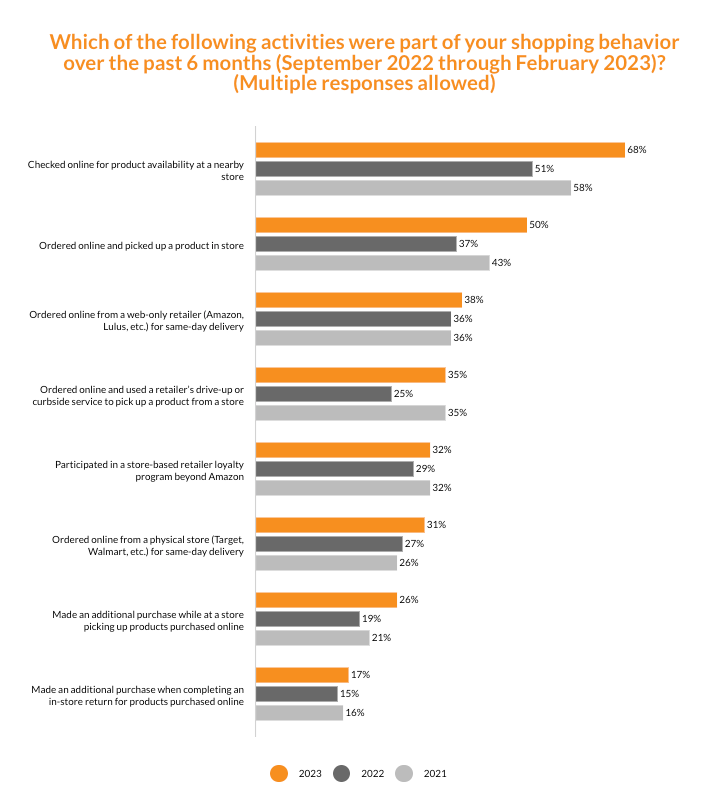 Our take:
Amazon knows that local inventory data is a threat, which is why the company is trying to emphasize and speed up same-day delivery.
Google has a network of partners, including Shopify and Near.st that help deliver local inventory feeds. Google also takes direct feeds.
Small retailers remain a challenge, one reason Google bought Pointy. However, it's unclear how many SMBs are aware of it, let alone using it.
Recent Analysis
Short Takes
Listen to our latest podcast.

How can we make this better? Email us with suggestions and recommendations.