GoLocal: Walmart's Last-Mile Delivery Service
Walmart is doing something that would have been unthinkable in a pre-Amazon world: offering its delivery infrastructure to other retailers. Announced earlier this week, the last-mile delivery service is called GoLocal. It's being provided on a white-labeled basis to any retailer regardless of size. Merchant fees haven't been disclosed. Drivers will come initially from Walmart's existing gig-worker Spark delivery service. The company has reportedly said it won't be contracting with third party delivery companies to fulfill retail orders. It may eventually involve its own employees and it will use alternative delivery methods such as drones and autonomous delivery vehicles (when available). The move is part of an expanding Walmart effort to diversify revenue; it comes on the heels of an earlier announcement to sell the company's e-commerce infrastructure to others.

Our take:
Walmart is mimicking the Amazon playbook. Beyond revenue, this could also give Walmart local delivery data (and possibly product sale data).
Merchants must integrate with an API, which may be a challenge for SMBs. However they don't need to be Walmart Marketplace sellers.
Google failed with its local delivery service. It's early and hard to predict demand. But Walmart (grocery) competitors may decline to participate.
Leadferno: 'Conversational Commerce' for SMBs
The term "conversational commerce" is a marketing buzzword. But it expresses the idea of a customer dialog or more natural engagement with consumers versus more static or "cold" consumer-business interactions. Leadferno (founded by GatherUp's Aaron Weiche)* aims to make it easy for small businesses to start discussions with site visitors -- that turn into revenue. The messaging/lead-management segment is pretty full but the simplicity of Leadferno's approach may help the company rise above the noise. Currently integrated with Facebook Messenger and SMS, the desktop-only web app (for now) offers an integrated inbox that allows humans (rather than bots) to receive and respond to questions. As a differentiator, CEO Weiche points to the company's "Leadbox" website widget, which helps initiate conversations and can display any CTA functionality (call, message, schedule, etc.).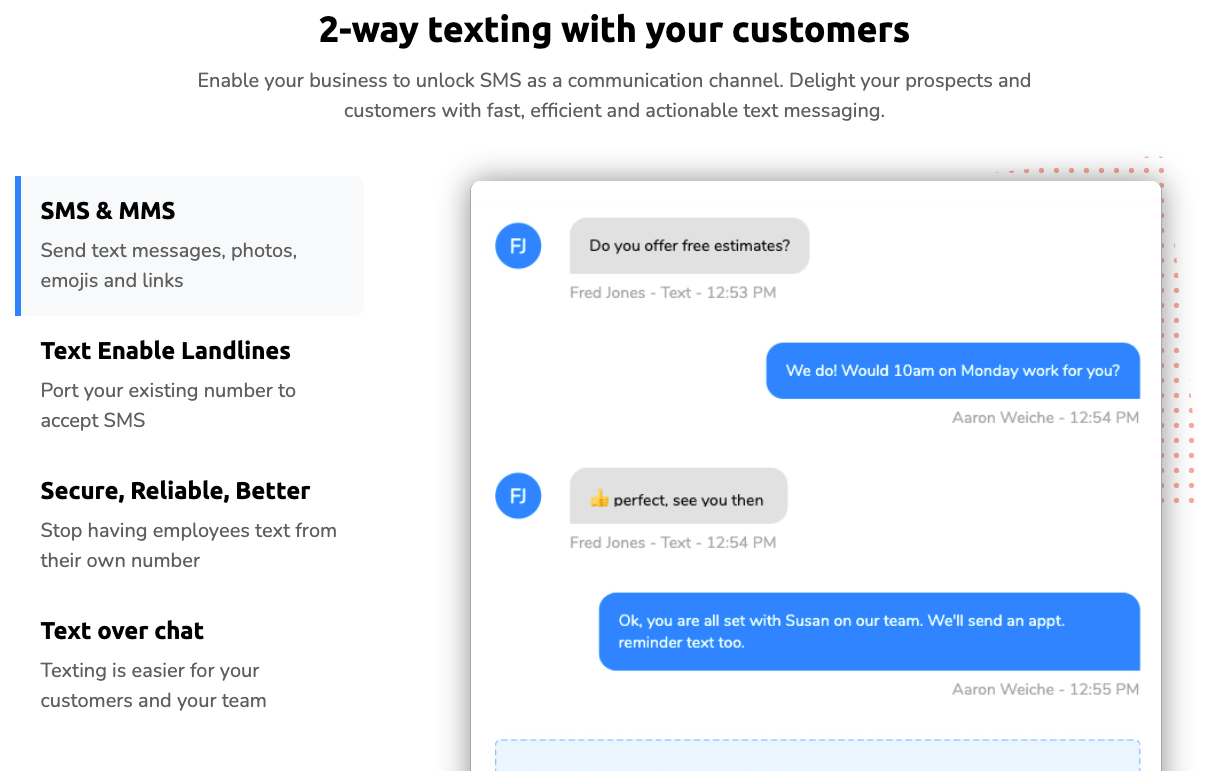 Our take:
There's no dispute about the market demand or efficacy of SMS and messaging. Text is even more effective than email as a marketing tool.
75% of US consumers (Uberall 2021 survey) said it was "very" or "somewhat important" to be able to text with businesses.
Lots of SMBs (especially in home services) now use texting for customer communication. But, as with all SMB software, adoption is the challenge.
SMB 'New Normal': Delta, Inflation, Hiring Problems
For more than a year Alignable has been surveying small businesses, tracking their financial condition and operational status. The most recent survey, of more than 5,000 North American SMBs, shows continued slow recovery but also concern about the Delta variant, inflation and hiring challenges. The expected return to pre-COVID monthly revenue has been pushed back from Q1 '22 to later in the year for many businesses, though 50% of the market will have achieved pre-COVID monthly revenue by the end of 2021. Supplies and inventory now cost more but the survey found that the majority (56%) have not been able to pass those costs along to their customers. Multiple categories of SMBs now can't find enough employees. For example, "80% of restaurants now can't find the help they need to handle their demand" and "65% [of construction firms] can't hire enough workers."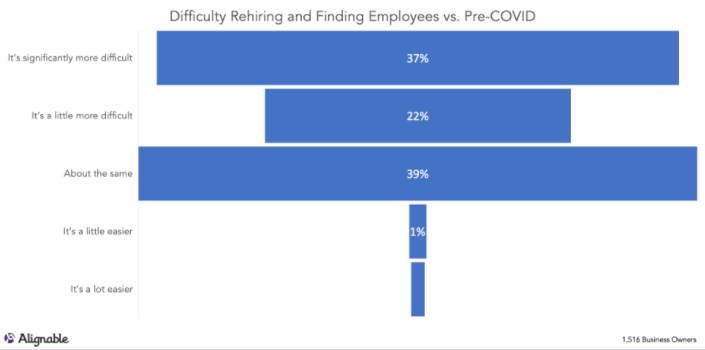 Our take:
Two more findings: 61% of SMBs are more likely to hire vaccinated employees. And 71% would like to ask the question of potential hires.
People have been using "the new normal" in various ways. This is the real new normal: employee and supply chain shortages, ongoing uncertainty.
Hiring, always an SMB problem, and the need to pay more for labor will continue as a major challenge. New solutions needed (read: technology).
Recent Analysis
Short Takes
*Near Media co-founder Mike Blumenthal is an investor and advisor to Leadferno.
Listen to our latest podcast.

How can we make this better? Email us with suggestions and recommendations.