Google: 'Content for Data' Is Over
Google held its annual Google Marketing Live event this week. There were many ads- and analytics- related announcements involving automation, simplification and reach. Several focused on local and Maps: Auto-Suggest Ads, Navigational Ads, Similar Places Ads and Local Inventory Ads (see Barry Schwartz's roundup). The larger theme was privacy and what Google is doing to compensate for the end of third party cookies. Jerry Dischler, Google's VP and GM for Ads, said the "implied contract" of data-for-content is now over, acknowledging that the industry's historically overzealous data collection had created deep consumer distrust.
Our take:
Dischler called for "bold industry action" to regain trust. He added, alternative ID solutions won't survive regulation and are effectively DOA.
Google: "We can build an ad-funded privacy safe internet together" with first party data + machine learning + FLoC.
Google, Facebook and a few others will flourish. This is the paradox: privacy rules are good for consumers but reinforce big tech's power.
Google's Commerce Strategy Focus on SMBs + Local
Google's relatively new, "open" commerce strategy is aimed squarely at Amazon, utilizing Google's various properties for product visibility. Accordingly, there were several shopping announcements at GML. Among them, partnerships with WooCommerce, GoDaddy and Square. This follows the recent Shopify announcement. SMBs and enterprises working with these platforms will be able to distribute their products on Search, Shopping, Images, Maps and YouTube – for free. In addition to SMBs, Google is placing emphasis on real-time inventory availability and offline pickup. This doesn't fully capture Google's entire shopping strategy but these dimensions are differentiated vs. Amazon.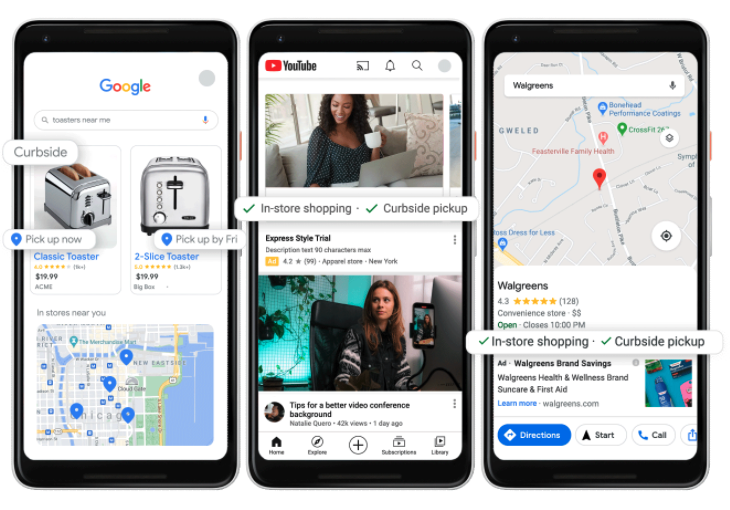 Our take:
Shopify, WooCommerce, GoDaddy and Square and similar others (e.g., Wix) are the new "SMB aggregators" supplanting traditional media.
Google is trying to build up product inventory to boost shopping search. It's also trying to remove friction from the checkout process.  
Google is still at a disadvantage vs. Amazon but SMBs, RT inventory and offline purchase/pickup options are a smart strategy that will drive gains.
E-Commerce Crosses 20% in US
Most US retailers have by now reported Q1 results. They're mostly positive – some very strong -- and show online is making up a greater share of sales. Gap topped pre-pandemic sales. American Eagle "crushed it." Dick's Sporting Goods saw 119% growth (and 110% online sales growth); Best Buy saw 37% overall sales improvement. And Kohl's reported e-commerce contributed 30% of total sales. Stepping back, e-commerce in the US crossed the 20% threshold in 2020, according to one estimate (below) that selectively excludes categories. Census Bureau Q1 e-commerce estimates (.pdf) are more conservative at 13.6%. Regardless e-commerce is accelerating but that's only part of the story.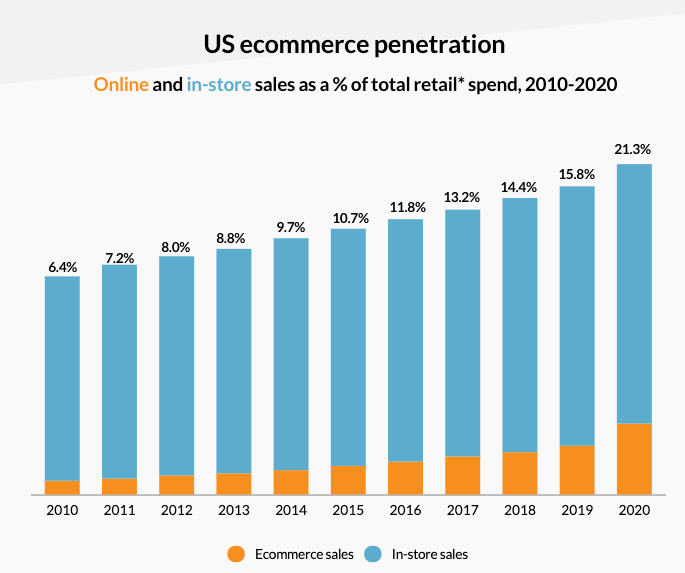 Our take:
Recent Analysis
Confessions of a Google Local Guide by Mike Blumenthal.
Near Memo Podcast, Episode 16: Yelp's problems, Google I/O announcements and Google finally opens a retail store.
Short Takes
Listen to our latest podcast.

How can we make this better? Email us with suggestions and recommendations.