Fake Review Economy Is Booming
Google is the dominant local reviews platform. It also dominates the world of fake reviews. A new investigation by the CBC discusses the problem and the fake reviews economy, which appears to be flourishing despite Google's self-reported diligence against it. In 2020, Google said it "blocked or removed 55 million policy-violating reviews and nearly 3 million fake Business Profiles," 20 million less than in 2019 according to the company. The problem is also rampant on Amazon. Fake reviews exist on virtual every major local platform – because there's a lot at stake: rankings and sales. But among the major local-review sites, it's most acute on Google, which has many more fake reviews than Tripadvisor, Facebook and Yelp. A recent Uberall consumer survey found that 67% of consumers now think fake reviews are a growing or major problem.
Our take:
The "trust gap" story below discusses how digital media are less trusted than traditional media. Fraud is one reason.
A neutered FTC has signaled a coming crackdown on review fraud.
The platforms and Google in particular have an obligation to do much more to clean up review spam and make takedowns easier.
Travel Is Back Baby
Buoyed by vaccinations, the travel recovery is accelerating. While airport volume hasn't quite returned to pre-2020 levels, it's way up compared to last year. And the number of people comfortable getting on planes has nearly doubled vs. April, although the car is still viewed as the safest transportation according to a recent Harris Poll. Hotel bookings are up. And people are planning more ambitious trips for summer than just a few months ago. An Expedia survey found that Americans intend to spend an average of $3,444 on their "next trip," while Millennials will spend $5,462. This is partly pent-up demand and partly the fact that many people saved a lot of money in 2020.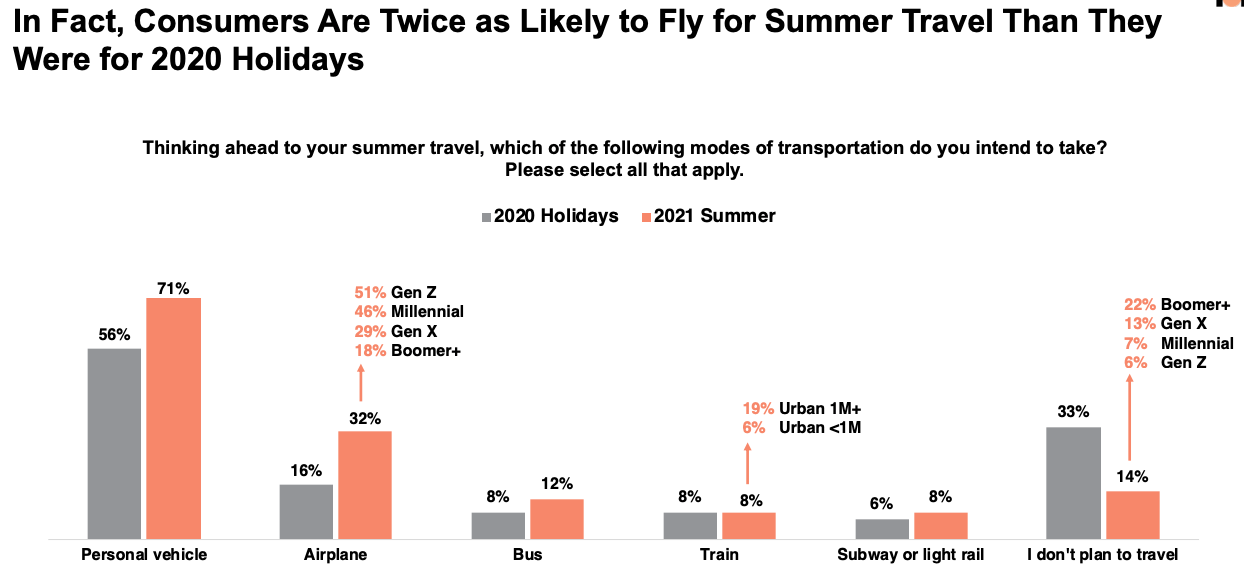 Our take:
In 2020 travel and tourism lost more than $4 trillion globally. Travel and associated industries are responsible for 10.4% of GDP worldwide.
Roughly 330 million jobs in 2019 were dependent on travel; 62 million of those were lost in 2020.
The return of travel is good news for industries like restaurants as well. But it all depends on vaccination rates and keeping the variants at bay.
Traditional vs. Digital Ads: The Trust Gap
Traditional media have long been losing ad revenue to digital. But it accelerated during COVID. This is partly based on consumer time spent with digital, which exceeds traditional media. The only problem: consumers don't trust digital media channels or ads as much as traditional media. That's according to a YouGov survey of adults in the US, UK and other international markets. TV is the most trusted advertising channel in the US, followed by print and radio. Paid search is the most trusted digital channel. Social media is least trusted.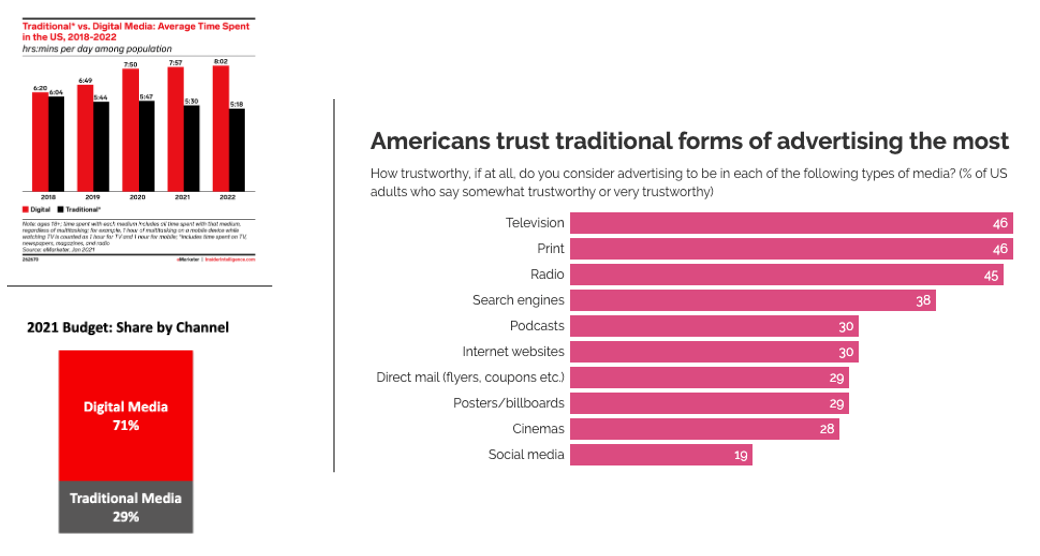 Our take:
What we have is widespread (and growing) consumer usage of digital media, but without trust – or perhaps increasing distrust.
It's analogous to the Facebook paradox: user trust is declining but few people are quitting and its audience engagement is stable.  
The platforms are aware and trying to build trust (e.g., Google's privacy/security announcements at I/O). But they can do much more.
Short Takes
Google's 80-acre new "mega-campus" wins city approval.
MailChimp adds online booking to platform.
Oregon's self-enforcement mask policy a "disaster."
Closing stores hurt Nordstrom Q1 revenues.
Rising AirBnB fees driving guests back to traditional hotels.
Google to develop healthcare algorithms using HCA patient records.
Twitter placing more emphasis on e-commerce going forward.
French social app Yubo will monetize entirely through commerce.
Amazon buying MGM for nearly $9B – to support Prime.
Antitrust: D.C. AG sues Amazon for manipulating seller prices.
Local restaurant-focused SpotOn raises $125M more.
Google partners with HelloAlice to reach its 100K SMB audience.
Facebook Marketplace (classifieds) faces EU antitrust probe.
Listen to our latest podcast.

How can we make this better? Email us with suggestions and recommendations.