Chase Buying Zagat and The Infatuation  
Banking giant JPMorgan Chase said it's buying restaurant guide The Infatuation, which owns Zagat. The latter acquired Zagat from Google in 2018 and recently relaunched it with a new design, new ratings and an emphasis on photo sharing (for mobile). It's not entirely clear what Chase has in mind. However, it may offer content and curated experiences to cardmembers as a would-be differentiator. The release says the acquisition supports "JPMorgan Chase's commitment to meeting customers where they are with exceptional benefits, useful content and one-of-a-kind experiences, at scale." It also says the properties will continue as is. Deal terms weren't disclosed.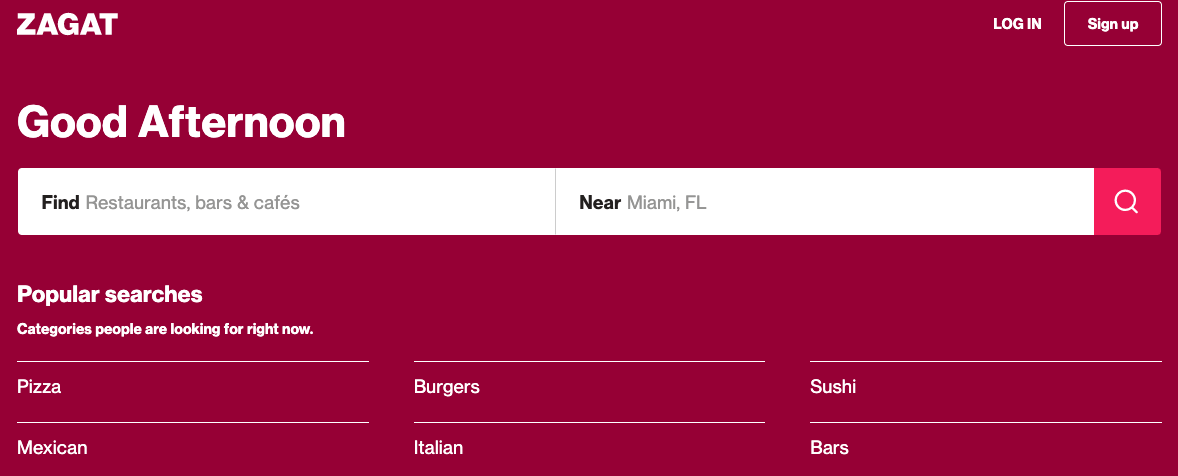 Our take:
The deal is interesting because it's unique – a bank buying a local directory/publisher. Could set a precedent, as banks face multiple disruptive pressures.
Remains to be seen how successfully Chase can exploit content and experiences for cardmembers. It has potential to succeed.
Tightrope walk: succeeding as stand alone, consumer-facing businesses while offering exclusives to Chase and its cardmembers.
Ray-Ban Stories Is Facebook's iPhone
By now you've read 15 stories about Facebook's new smart glasses collaboration with Ray-Ban parent EssilorLuxottica. Being compared to Snap Spectacles, they cost $299 and "come in 20 style combinations online and in select retail stores in the US, as well as Australia, Canada, Ireland, Italy and the UK." You can also put prescription lenses in them. There are lots of "hands-on" assessments already. The reception is basically: these glasses look and feel sort of normal – but they're made by Facebook. The latter means: suspicion, hand-wringing and fear about privacy, both for the user and those in the immediate area. And much of Facebook's own promotional material is about privacy and how "you're in control." It helps Ray-Ban is an alternative brand here. If it were only Facebook, it would be DOA.
Our take:
There are two camps of people so far: the haters and the ambivalent. I'm more ambivalent. Many would argue Facebook's brand is now toxic.
In the glasses' favor: they're normal-looking, affordable and multi-functional. Privacy is a major issue however. Major. Also social acceptance is uncertain.
This is Facebook's iPhone. It's also a way to appeal to Gen Z, which otherwise doesn't pay attention to FB. Ultimately, this points the way to something else.
Consumer Survey: Local Listings Error-Ridden
BrightLocal released data on consumer use of local directories/search engines ("Business Listings Trust Report"). As you might expect, "91% of consumers used the Google search engine for local business information." (The Google.) Much less expected, 32% said they used Instagram for local information (more than Apple Maps). It turns out consumers have different accuracy expectations for different channels. Business websites are expected to be most accurate (by 73%), but voice assistants are expected to be accurate by only 16%. People report seeing lots of inaccuracy online: incomplete information, wrong information, conflicting information, discrepancies between online and offline information. There's more. But the overall message is: accurate listings are important; inaccurate data results in a loss of trust and revenue.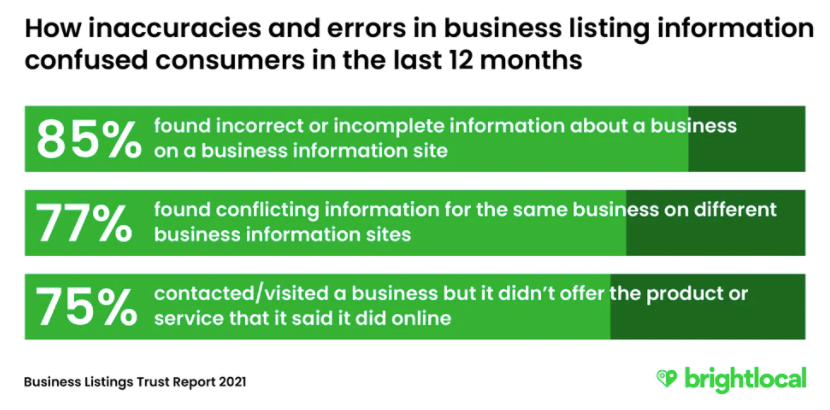 Our take:
Would love to know more about the 32% of Instagram users. Nextdoor wasn't a choice apparently. And, remarkably, 12% are still using Mapquest.
Surveys are typically about perception, which may exaggerate experience. At that level, this says: consumers increasingly distrust online information.
This is a relatively simple problem that can be solved either through manual attention to the most important sites or through a SaaS tool/platform.
Short Takes
Listen to our latest podcast.

How can we make this better? Email us with suggestions and recommendations.