Shopify CAC, Marketing Benchmarks for SMBs
Marketers are always looking for good benchmarking data. Shopify offers some (based on a survey) that reflect SMB customer acquisition (CAC) and marketing costs by industry. Survey respondents were small e-commerce companies and/or small businesses that sell online (less than four employees). These small firms spent approximately $9K on average on marketing annually. Average CAC was just under $60, but it varied widely by industry (see graphic). The highest CAC was in the category "business and industrial" at $533; the lowest was "arts and entertainment" at $21. The three most effective channels for acquisition were: 1) social, 2) outdoor and 3) SEO. The three channels that most contributed to revenue were: 1) social, 2) paid social and 3) email.

Our take:
Survey after survey shows social media has won the SMB market. It's the most-used channel in every case. SEO is typically lower down on the list.
Neither the marketing spend nor CAC data above strike me as surprising or outrageous. But some additional context is missing.
Shopify doesn't reflect churn. Retention and LTV data would give us more insight into whether the CAC data are high or reasonable.
Facebook: SMBs Sell Us Your Invoices  
As part of Small Business Week, Facebook announced a new program called Facebook Invoice Fast Track program. It will buy (some) existing SMB customer invoices and pay them in few days, taking a 1% fee. The program is open to diverse businesses run by minorities, women, veterans, disabled, LGBTQ. Eligible invoices are those with "corporate or government customers that have an investment-grade rating." In its latest global State of Small Business report Facebook found that 83% of American SMBs had challenges paying expenses. Overall, SMBs are still struggling to recover and most are underperforming pre-pandemic levels, though many are doing better than last year. Digital "tools" adoption since Q1 of this year has increased most for marketing and e-commerce. Facebook also found that almost half (48%) of global SMBs "could continue operating under current conditions for 12 months or more." The number goes up to 60% if six months is the relevant time frame.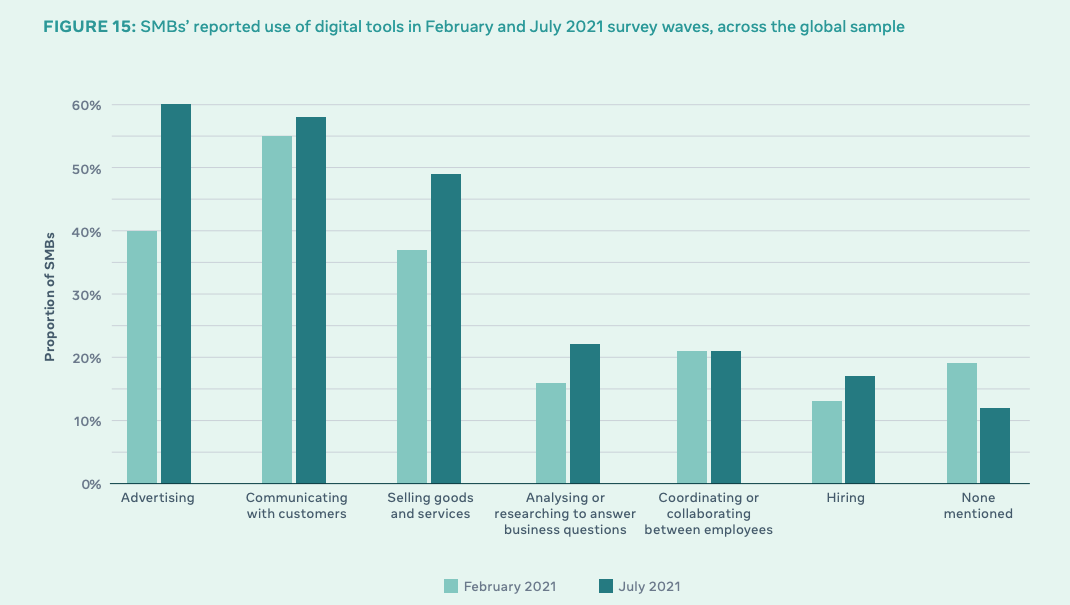 Our take:
The top two business challenges identified were lack of customer demand (a marketing challenge in many cases) and cash flow.
A separate Goldman Sachs survey was less upbeat: 44% of US SMBs have 3 months cash or less on hand.
Many SMB vendors (e.g., Square) offer financing and loans. Facebook is taking a baby step, but access to capital will increase SMB loyalty.
Why the FTC Will Probably Lose vs. Facebook
The FTCs initial antitrust complaint against Facebook was dismissed for failing to allege facts showing Facebook was a monopoly. The amended complaint apparently uses time-spent metrics, among others, to argue market dominance. According to Bloomberg, "From September 2012 through December 2020, Facebook's share of time spent by users of social media apps in the U.S. has averaged 92% per month ... The combined shares of other apps, including Snapchat, Google+, MeWe and Friendster, didn't exceed 18% in any month." This is a more accurate and perhaps more successful way of presenting Facebook's dominance. However, it's still unlikely to yield a win for the FTC. AppAnnie's latest report illustrates the challenge: in the US and UK, TikTok has overtaken YouTube's monthly average watch time. This kind of stat will pose problems for the FTC's case. There are multiple other problems too.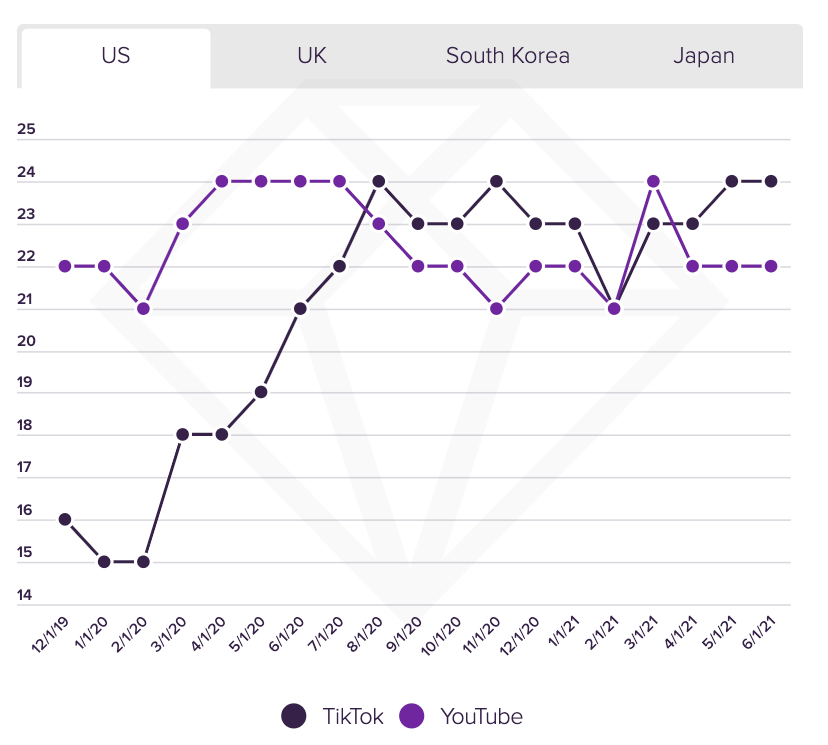 Our take:
Lots of people are rooting for the FTC, and Facebook is blameworthy for many things. But TikTok and this type of data (and YouTube's strength) will likely mean no monopoly finding.  
Arguably, the WhatsApp and Instagram acquisitions shouldn't have been approved, but they were. This is another major obstacle for the FTC.
The US will need alternative mechanisms to rein in Facebook's excesses (e.g., privacy regulation) rather than relying on antitrust.
Recent Analysis
Short Takes
Listen to our latest podcast.

How can we make this better? Email us with suggestions and recommendations.