Apple Boosting Search with iOS 15
Apple has been slowly and incrementally improving its Spotlight Search feature on the iPhone over time. With iOS 15,  there are new upgrades and enhancements, as captured by MacRumors. There are now deeper and richer search results for a range of categories and topics: "contacts, actors, musicians, movies, and TV shows." Image search has also been expanded considerably. Apps can be directly installed from search results rather than going into the App Store. MacRumors also points out that if you search for a local business that uses Apple's App Clips (i.e., chains) you'll be offered action buttons: reserve, order, etc.  Apps Clips is part of an expanded array of tools in Apple's new local Places/Business Register.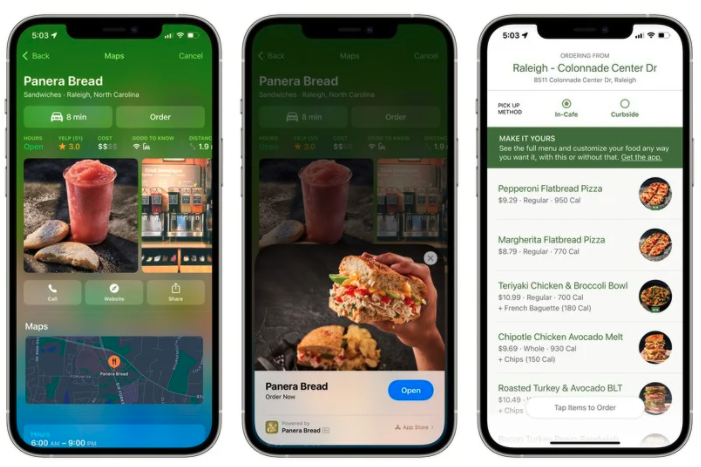 Our take:
There are no public usage numbers for Apple Search. Since I use it, I would imagine so do others. Results have no Google branding.
Google remains the default search provider for Apple. Apple reportedly collects billions annually for that privilege from Google.
If Apple were to seriously invest in search it could ultimately capture a non-trivial share of mobile usage on the iPhone from Google.
Do More with Less: Marketing Budgets Decline
According to Gartner's latest CMO Spend and Strategy Survey, marketing budgets have declined as percentage of company revenue, from 11% in 2020 to 6.4% in 2021. This is "their lowest point in the history of Gartner's CMO Spend Survey." No surprise, digital channels captured almost three-fourths of marketing budgets on average. Brand/awareness channels (TV, OOH) are now competing with performance media (search, social) for a slice of a smaller budget pie. The survey was conducted in Q1 and had 400 respondents in the US, UK, Canada, France and Germany. They represented a range of industries and most came from companies with at least $1B in annual revenue.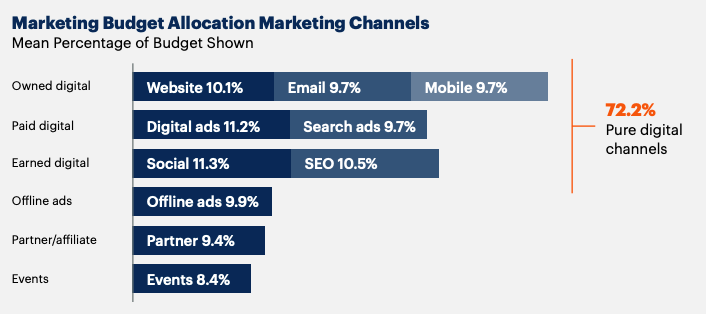 Our take:
Marketers are being asked to "do more with less," an attitude carried over from 2020 despite the generally strong economic recovery.
Reduced budgets are being concentrated in digital media, part of a long-term trend, because digital is perceived to be a better growth driver.
Yet digital ad-price inflation and tracking/attribution challenges may mean that digital channels are less efficient than believed.
Does Marketing Effectiveness Hinge on Trust?
Last year we heard a lot about customer empathy, but much of that sentiment is seemingly gone. If not empathy, at least understanding should be at the center of B2C/B2B marketing. Marketing should be about building relationships. Yet too often it's only about driving quarterly leads or sales. Marketers tend to think about channel efficacy (e.g., email, SEO, social, mobile) but less about how brand perception impacts that efficacy. Multiple studies, from Edelman, Deloitte and others highlight the erosion of trust in our society. That impacts marketing: think about consumer willingness to provide personal data or allow tracking (Apple IDFA). A report from dotdigital reinforces the importance of "responsible marketing." It's about personal data security but it indirectly makes an important point: trust may be the key to all successful marketing going forward.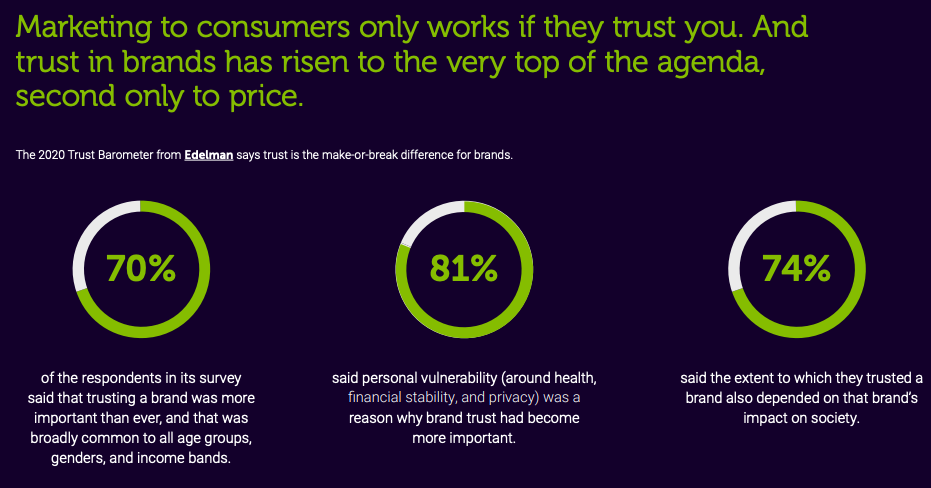 Our take:
Simply sending out email blasts or writing better ad copy won't work. Companies need to establish ethical relationships with customers.  
This is challenging in practice. It involves taking a long-term view and a willingness to sometimes abandon what might be called the "KPI mindset."
Facebook is the ultimate example of a thriving business impervious to trust issues -- right? Yet its hardware businesses are DOA/compromised because of a lack of trust.
Recent Analysis
Short Takes
Listen to our latest podcast.

How can we make this better? Email us with suggestions and recommendations.