Ghost Kitchens: The Future of Restaurants?
There may already be as many as 100,000 cloud or ghost kitchens in the US. They're part of a growing trend: meals consumed away from restaurant premises. This is also, reportedly, the only growth segment of the market. According to analysts, virtual kitchens and associated food delivery could become a $1 trillion industry within a decade. While this estimate is likely inflated, it reflects the explosion of the sector. But are cloud kitchens good or bad for consumers and the industry as a whole?  
Our take:
Ghost kitchens will attract a lot of investment because the opportunity is great and financial risk is lower than opening conventional restaurants.
COVID has done for ghost kitchens what it did for e-commerce: dramatically accelerated an existing, disruptive trend.
Virtual restaurants will likely threaten mediocre QSR and fast-casual chains more than SMB, neighborhood dining establishments.
Consumers Look to Google for Local Reviews
Half of consumers are now reading reviews to "validate local business safety practices," according to Podium's State of Online Reviews report. Based on two surveys, the document says a lot of what you'd expect: reviews are important. But there are some interesting findings. Google is the dominant review site (wide margin), Yelp is second. Review consumption is overwhelmingly mobile and consumers prefer review solicitation by text. Good and bad encounters with employees drive reviews. SMBs respond to positive reviews more often than negative ones, and responses impact consumer SMB perceptions.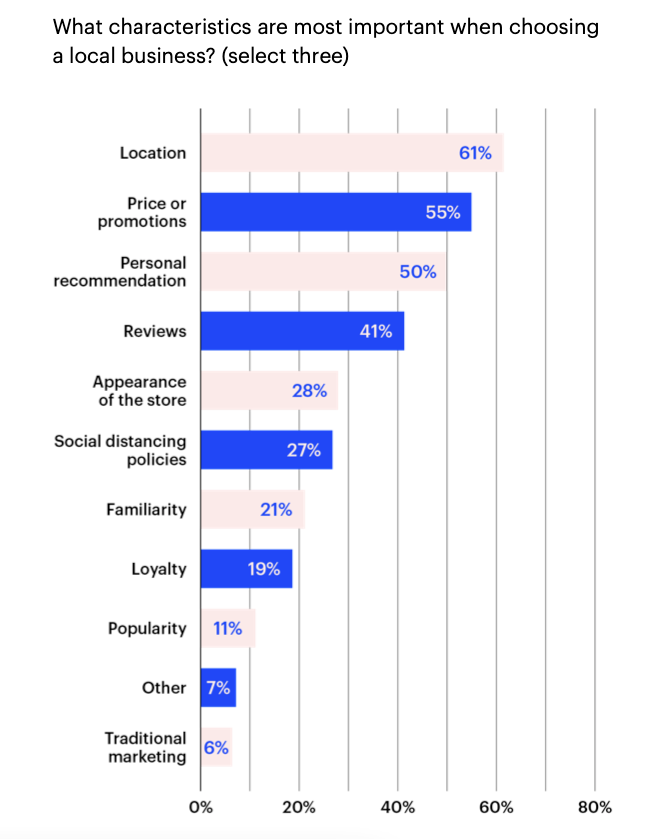 Our take:
The report reveals businesses feel increasing review pressure, leading 35% to offer incentives (a no-no) for reviews.  
The report doesn't segment the data by age, which would undoubtedly impact some findings (e.g., text vs. email review solicitation).
It also doesn't address the question of review fraud, which is growing, and mostly coming from business owners feeling review pressure.
Bad Australian Law vs. Bad Company
The debate over Facebook's decision to ban Australian publishers and online news sharing is raging online, with some commentators praising Facebook for standing up to a badly crafted law – and criticizing Google for "caving." Others show disdain for all parties because of Facebook's past bad behavior. And still others say the Australian News Media Bargaining Code (NMBC) will ultimately harm those it intends to help: it will make media publishers even more dependent on big tech companies.
Our take:
Your POV on the issue likely turns on what you think of Google and Facebook.
It's in the public interest for governments to try to sustain journalism.
As other countries eye NMBC, there are better ways to do this. But G + F also shouldn't be seen as victims, unfairly targeted.
Short Takes

Please let us know what you think. Email gsterling@nearmedia.co with suggestions and recommendations.