E-commerce in 2020 Was 14% (or 20%) of US Retail
US e-commerce in 2020 was nearly $800 billion, compared with about $600 billion in 2019. Year-over-year growth came in at 32% (.pdf). That's also what it was in Q4, off its Q2 high of 44.5%. Excluding automotive and restaurants, e-commerce represented roughly 20% of total US retail last year. According to Mailchimp, the company's 14 million (mostly SMB) customers generated $61.3 billion in 2020 e-commerce sales.
Our take:
Total US retail spending in 2020 was close to $5.7 trillion, making the $800 billion a larger but still relatively small piece of the pie.
Whatever figure you choose (14% or 20%) 2020 was a dramatic year for e-commerce, but perhaps not as much as expected.  
COVID has changed shopping patterns, but people have clearly not abandoned traditional in-store shopping.
With News Disappeared, Facebook Users Go Direct
The Australian Broadcasting Corporation's mobile app went to the top of Apple's most downloaded chart in that country, following Facebook's news blackout last week. For a brief time, the app was number one, ahead of Facebook and Instagram. While this didn't happen automatically – the company had a banner on its site prompting people to download its app – it's an interesting example of what might happen across categories without Google and Facebook.
Our take:
Facebook's news ban in Australia is a kind of experiment, which may hold lessons for other markets and competition regulators.
While familiar news brands may see more direct traffic and downloads, smaller publishers probably will not. This is also something to watch.
Is Google and Facebook usage just consumer laziness; would eliminating Google's universal results drive more direct traffic across the board?  
Google Local Pack: Being No. 2 Is Better
A new study from MomentFeed (reg. req'd) found that it's better to rank second or even third in the Local Pack. The data come from analysis of 25,000 store locations for 350 brands. Some categories benefit more than others from Local Pack ranking. Lower consideration categories (e.g., restaurants) drive the most engagement, higher-consideration categories (e.g., medical) generate less because they're more research intensive. MomentFeed argues more clicks from positions two and three indicate factors such as proximity, reviews and brand familiarity drive click decisions.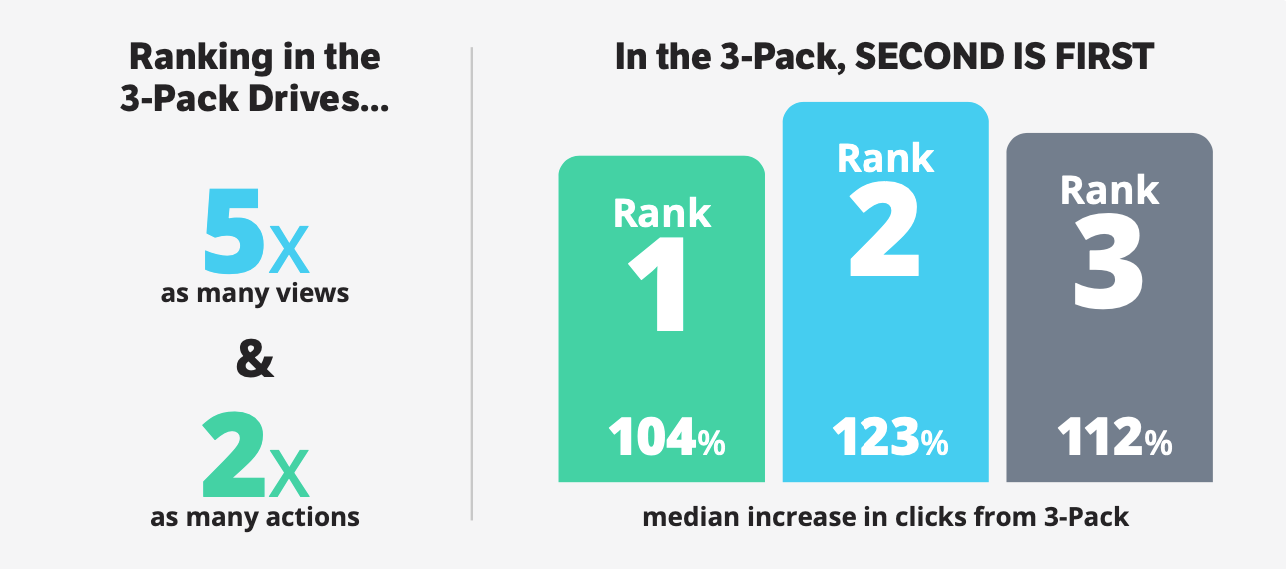 Our take:
Local Pack engagement is distinct from traditional SEO where the top position drives the most clicks, declining from there.
Consumers are less focused on position than ratings in the Local Pack.
Brand familiarity was second to proximity in consumer decision-making (based on survey responses). This has clear implications for marketers.
Short Takes

Please let us know what you think. Email gsterling@nearmedia.co with suggestions and recommendations.