What's My Business: WhatsApp's 'Yellow Pages'
Earlier this week we wrote about Twitter's relatively new "About Module" on its professional profiles for local businesses. David Mihm cleverly called it "Twitter My Business." Now, WhatsApp has done something similar but much more ambitious and potentially successful. Reuters reported that WhatsApp has introduced a searchable local business directory in Brazil. Facebook's Matt Idema is quoted, saying, "This could be ... the primary way that people start a commerce process in WhatsApp." Facebook partly sees WhatsApp business profiles as Facebook Pages for the parts of the world where Facebook adoption is weak. WhatsApp has roughly two billion monthly active users around the world. I was not able to determine a current figure for business accounts.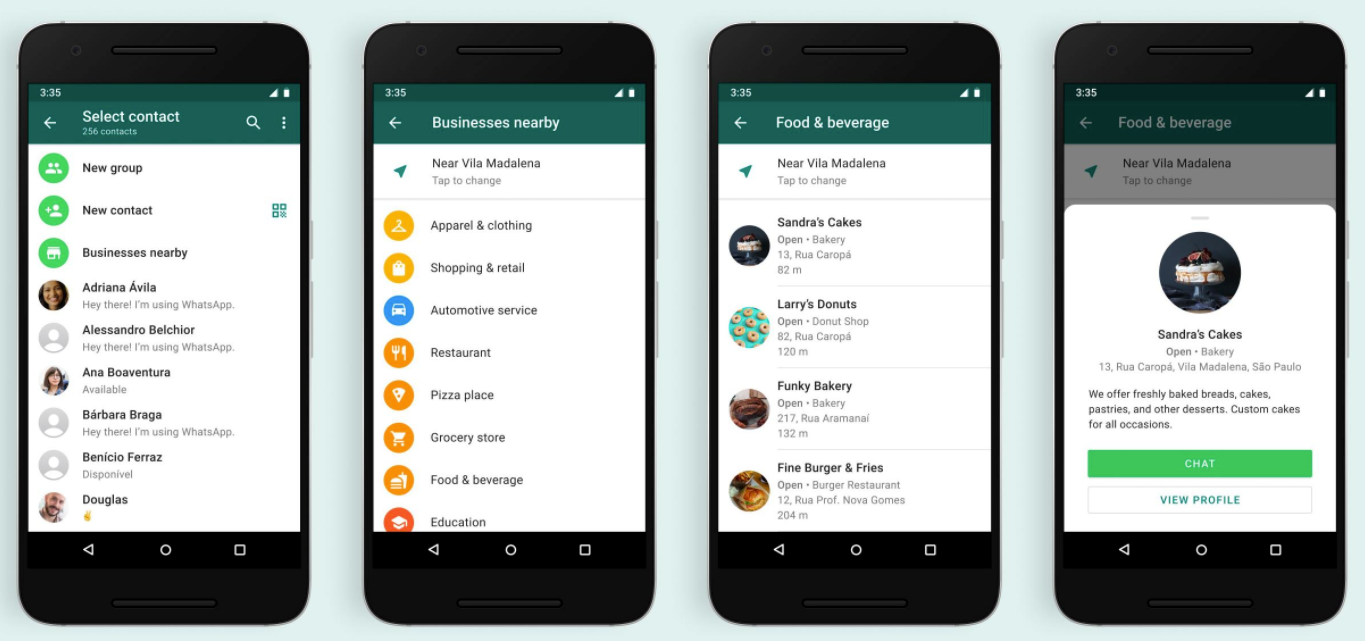 Our take:
Twitter's vague local business strategy will fail. WhatsApp could have a major impact where it has strength – almost everywhere outside the US.
I haven't used the directory and can't speak to its utility/usability. But it has great potential. And WhatsApp facilitates immediate connections between consumers and businesses.
Facebook has millions of SMB advertisers but no satisfactory "local search" experience. WhatsApp Directory may be a second chance.
Privacy Perils of 'Open-Source (Location) Intelligence'
It goes without saying that location data is highly valuable -- and revealing. Mobile location can reveal where people live, their jobs, politics, brand affinities and more. Recognizing this, police are increasingly seeking so-called "geofence warrants." But, as the WSJ points out, law enforcement are also gaining access to this same data sans warrants through "open-source intelligence." They're simply buying it as any entity might from a data broker. Then they can do the same analysis, but without the pesky warrant. Data vendors "have created products that cater to the law-enforcement, homeland-security and national-security markets. Their troves of data ... have increasingly been used to screen airline passengers, find and track criminal suspects, and enforce immigration and counterterrorism laws," observes the WSJ.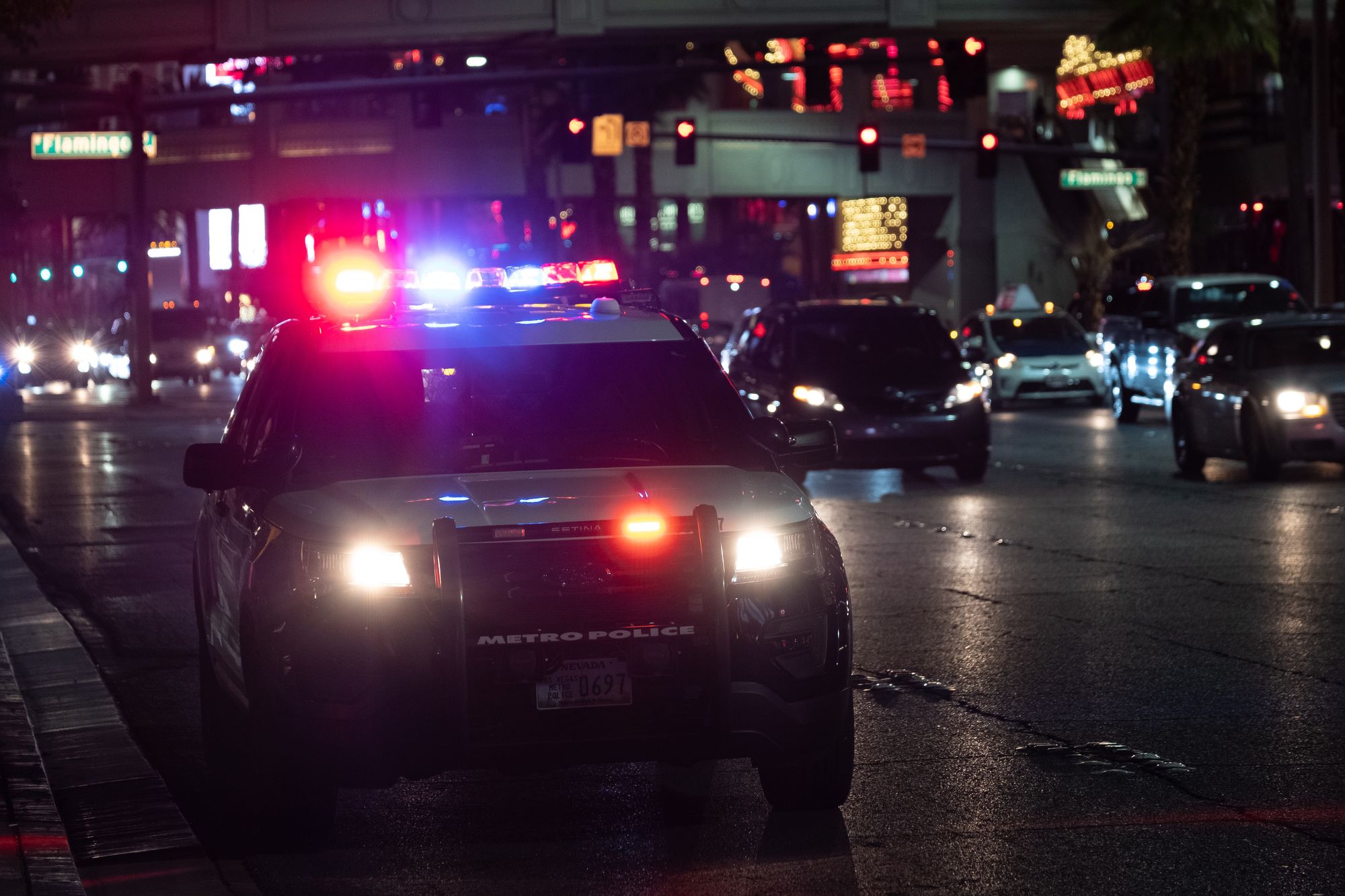 Our take:
There is a bill pending in the Senate that would compel law enforcement to get a warrant before obtaining commercially available location data.
However this wouldn't stop third parties, unconstrained by the Fourth Amendment, from getting the identical data and handing it over to police.
The proliferation of data about individuals, location in particular, makes this a high priority privacy issue that should be addressed.
Amazon vs. Walmart vs. Everyone Else
Consumers tend to shop at the same stores online and off. However their reasons for shopping in each channel are distinct. A new survey from Jungle Scout finds that nearly 60% of US consumers shop in stores to "get out of their homes." (The survey was fielded in Q2 this year.) Top motivations for online buying are: 1) lower prices, 2) convenience, 3) price comparison capabilities, 4) free/low-cost shipping, 5) fast shipping (COVID safety was number 10). The amounts of money people are spending online are relatively modest; 85% spend less than $500 a quarter. Just over half of respondents (51%) make purchases on Amazon at least once a week. The top reason for Amazon shopping is Prime membership, followed by a couple of different versions of "low prices." Those who don't shop at Amazon prefer shopping in stores and aren't Prime members. Finally, 58% of consumers describe themselves as brand loyal, an increase since their previous survey.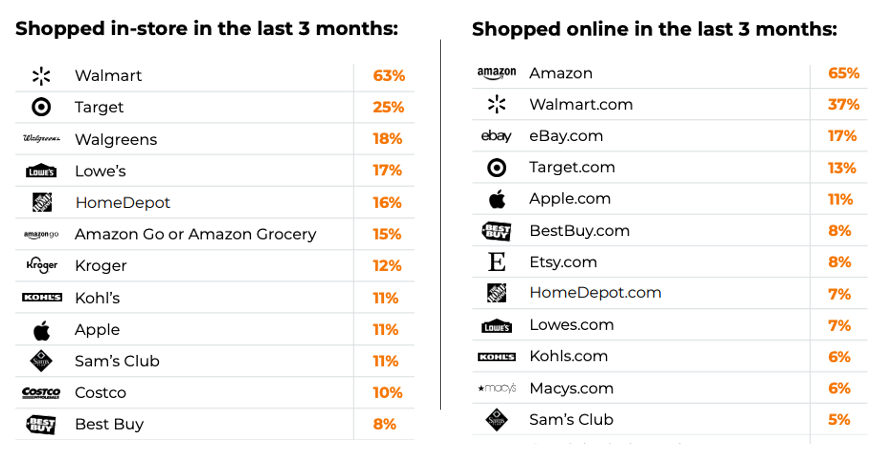 Our take:
Several recent studies emphasize the importance of the store in consumer retail spending. In this report, among the top 20 online shopping sites, 70% are also traditional retailers with stores.  
Where do people start shopping? In order: Amazon, Google, Walmart, Facebook, YouTube, Instagram. Amazon was 18 points ahead of Google.
Perhaps most interesting: the overall number of stores consumers shop at appears to be declining. In other words, more of their shopping is being concentrated in fewer places – online and off.  
Recent Analysis
Short Takes
Listen to our latest podcast.

How can we make this better? Email us with suggestions and recommendations.