Holiday: Big Retailers Sweat, SMBs Cocky
Holiday shopping this year is shaping up to be pretty unpredictable. Driven by early promotions, data show many consumers have already started, which could impact revenues for Black Friday/Cyber Monday. Major retailers have inventory surpluses and are reportedly nervous about inflation's impact on spending. Shopper loyalty is also a wildcard. However, SMBs appear surprisingly more confident than their big box counterparts. A majority (63%) expect higher profits this year according to a Capterra survey. In addition, 85% of small retailers plan to increase online marketing, much of which is focused on social media (61%). Only 30% will be search (organic, PPC). In other words, SMBs are 2X more interested in social than search as a channel. A metaphor for the unpredictability is the contrast between Target, which missed in Q3 and issued weak guidance and Walmart, which beat Wall Street and raised guidance.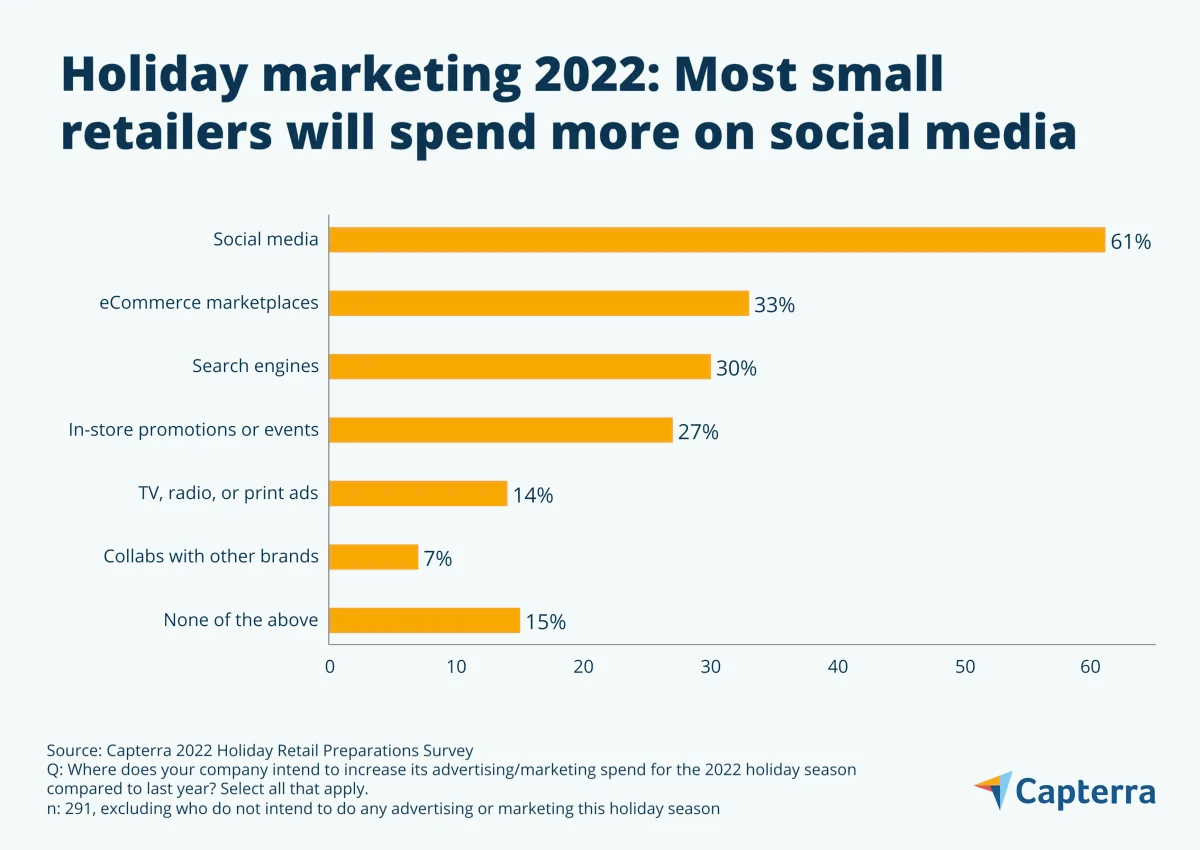 Our take:
E-commerce growth will be down YoY but still healthy. In-store spending could see a major jump vs. the past few years.
Just as rivals pull back, TikTok is making a push into commerce. It will also benefit from retailer ad spending. The outlook for Google is unclear.
Retailers must be nimble and work multiple channels for success. Social media is a must now, but SEO remains critical too.
B2B Content: What's Working
Events and LinkedIn are the most effective B2B content channels, according to the 13th B2B Content Marketing benchmarks report from the Content Marketing Institute. The survey of roughly 1,000 content marketers and publishers asked numerous questions, including about content strategy and budgets. The majority of respondents (83%) agreed content quality was the primary success factor and differentiator, followed by content uniqueness. Blog posts, videos and case studies were the top asset types being produced. However, events and webinars "produced the best results" ("results" was not defined). LinkedIn was the most effective organic distribution channel: 96% said they used it, only 9% use TikTok. Among social media sites, Facebook was seen as least effective. Social PPC was the top paid channel; paid-search was number two. SEO wasn't really discussed in the report except as an analytics tool.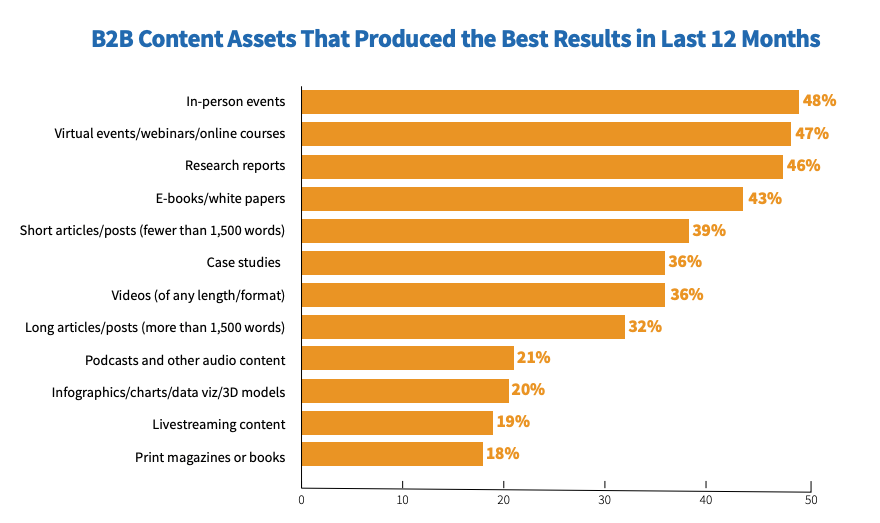 Our take:
Conversions and lead quality were the top success metrics. Yet "brand awareness" was the top content objective. Sales was for only 42%.
81% said they measure content performance. Site traffic and email engagement were the top methods; 59% used search rankings as well.  
Only 13% strongly agreed, "our organization measures content performance accurately." Events will see budget increases for 2023.
Local Ads Flat, SMBs Shrink
Local ad revenues are flat. That's according to Borrell Associates' latest report, which encompasses both traditional and digital spending. The firm projects almost no growth in 2023, estimating that local ads will reach $121.5 billion (up from $120.7 billion this year). By comparison, according to Magna, total US ad spending in 2022 will be $323 billion. In 2023, Borrell estimates that TV and other traditional media will shrink by 6.5%, though digital will grow 5.2%. None of that is controversial. What's more interesting is Borrell's assertion that the number of local businesses with more than 25 employees meaningfully declined over the past two years while the number of those with fewer than 10 employees "nearly doubled." These findings are either extrapolated from survey samples or based on government data. Millions of businesses have formed since 2020.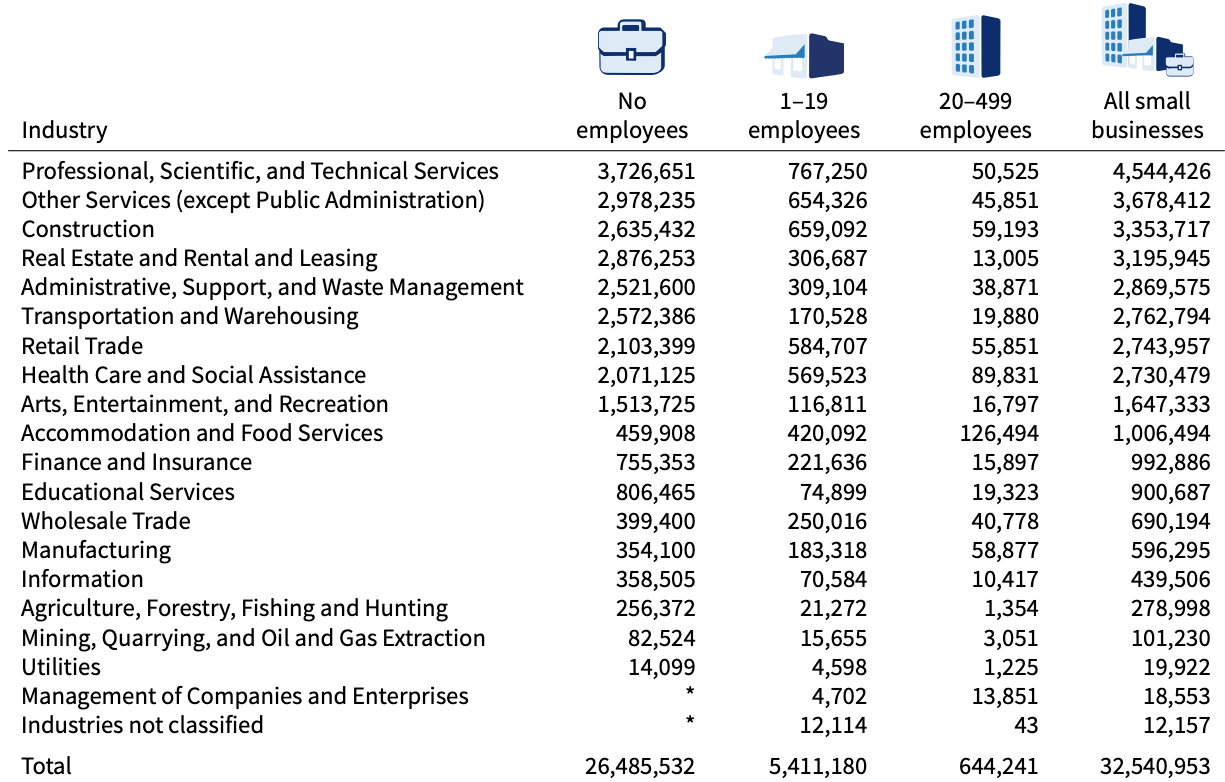 Our take:
Newer businesses are less stable, with less revenue by definition. Thus their needs and spending are very different than established SMBs.
SMBs (up to 499) represent more than 99% of all US firms; 81% have no employees, 19% have employees. Fewer still have 10+ employees.
Assuming Borrell is right about the drop in 25+ SMBs, there are marketing, GTM and TAM implications for SaaS vendors.
Recent Analysis
Short Takes
Listen to our latest podcast.

How can we make this better? Email us with suggestions and recommendations.