Big Tech Hearings: Likely 230 Reform but How Much?
The CEOs of Google, Facebook and Twitter testified before Congress yesterday by video. They were asked about whether they bore any responsibility for promoting the  conspiracies and disinformation that lead to the January 6 Capitol riots. They were questioned broadly about their responsibility for content on their platforms. Jack Dorsey of Twitter acknowledged some responsibility, Sundar Pichai of Google and Mark Zuckerberg bobbed and weaved and did not. Republicans continued to press on the notion that the platforms censor conservatives. The liability protections of Section 230 of the Communications Decency Act was one targets of both sides in the questioning.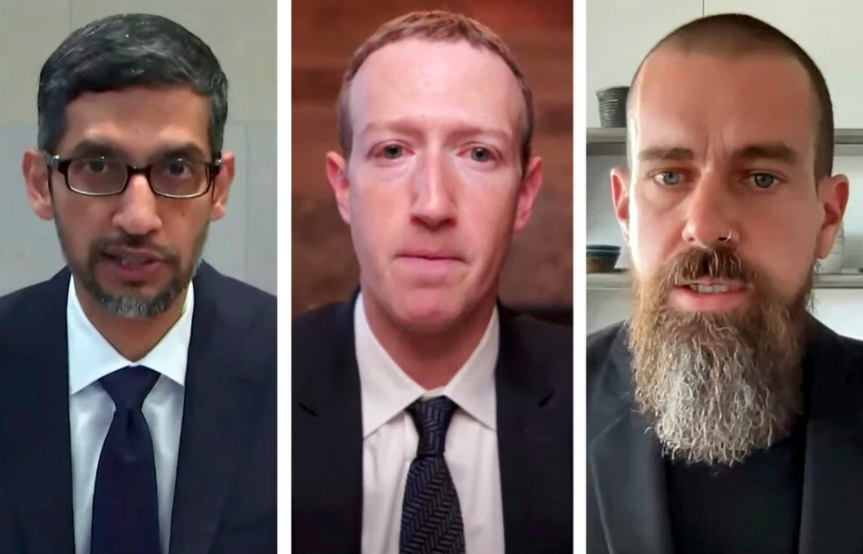 Our take:
Near universal frustration and anger in Washington toward big tech represents a kind of dubious consensus. Something will happen.
Facebook has offered proposed reforms for Section 230 but they fall short of what critics want.
Expect Section 230 reform, but can Washington successfully balance enforcement challenges and speech with improved content moderation?  
9 of the Top 10 E-commerce Companies Aren't
According to a new forecast, Amazon will continue to dominate e-commerce in 2021. No surprise there; the company was arguably the biggest beneficiary of COVID-19 (runner up is Zoom). According to the forecast, Amazon will capture 40.4% of US online sales this year. The next largest e-commerce company, Walmart, has about 18% of Amazon's online sales. But look at the list below – the top 10 e-commerce sellers – what's striking is that 9 of 10 are all omnichannel retailers; only eBay is an online pure play. Yes, Amazon is now an omnichannel retailer, with nearly 600 physical stores (500 are Whole Foods).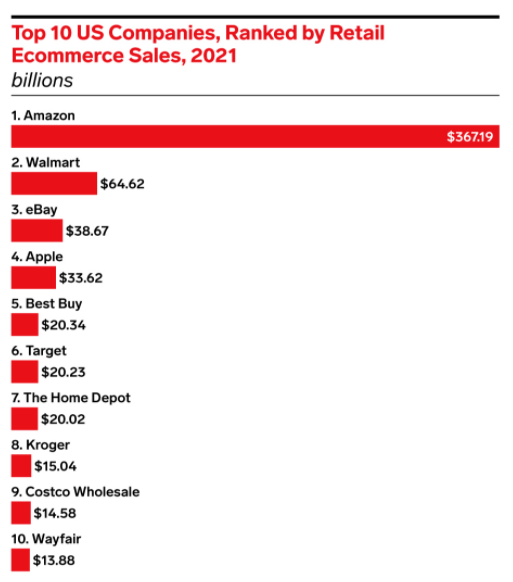 Our take:
The challenge will continue to be how to more effectively compete with Amazon. Amazon is the default shopping channel for millions.
Stores offer a competitive advantage with local returns (which Amazon partly has), real-time inventory, BOPIS and ability to touch and feel products.
The future of e-commerce is about the marriage of online and offline. (eBay is the Craigslist of online shopping, why does it still exist?)
Google Finder and Maps Rankings 20% Different
Despite nearly identical appearances, Google's "Local Finder" and Google Maps are different, including in their local rankings. That was recently chronicled by Moz's Miriam Ellis, who compared 10 queries in 10 cites to determine any differences in the results. She found that, "While many keyword/location combos showed 0% difference between the two platforms, others featured degrees of difference of 20%, 30%, 50%, 70%, and even 100%." She observed, the average difference between Finder vs. Maps results was nearly 20% (18.2%) "Nearly one-fifth of the results on the two platforms didn't match."
Our take:
Geographic areas in the Finder and Maps are different. Maps shows a broader area, creating potential ranking opportunities vs. Finder.
Tactical advice: GMB and Local SEO best practices.
Google Maps is the UX/UI increasingly mediating between users and trillions in spending – the dominant gateway to local commerce.
Short Takes
Listen to the latest podcast episode.

Please let us know what you think. Email gsterling@nearmedia.co with suggestions and recommendations.