Does Local Dominate 'Zero-Click' Search?
According to SimilarWeb data, analyzed by Rand Fishkin, nearly two-thirds (65%) of Google searches "ended in the search results without clicking to another web property." The figure is larger for mobile (77.2%) than desktop (46.5%). Zero-click search as a phenomenon has been around for several years. It's a misnomer; the user may be engaging with – and clicking on – Google content (e.g., Travel results, Local Pack, Shopping, Snippets) but just not visiting an underlying website. In August of 2019, zero-click search was just over 50%. That was based on US data from Jumpshot. The SimilarWeb data is global, meaning the phenomenon (or problem) is worldwide.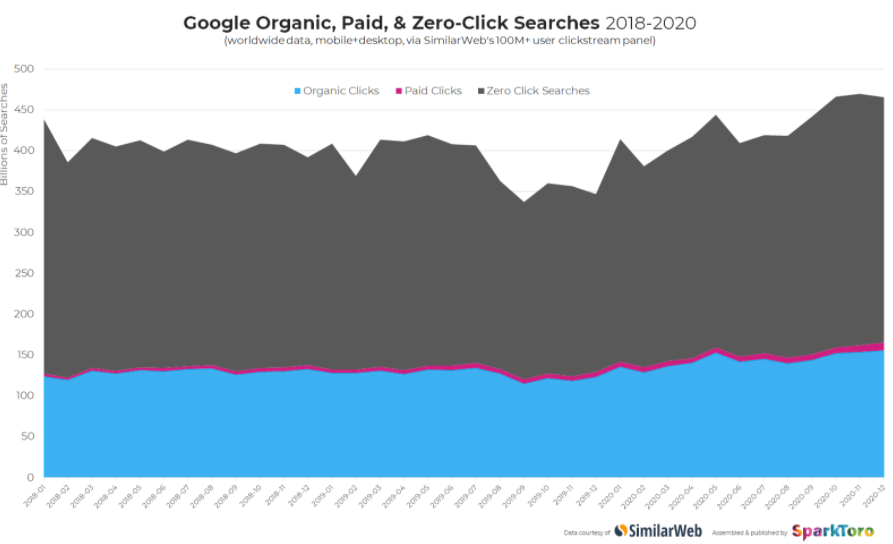 Our take:
Cicilline's 'Guerilla' Approach to Antitrust
Democrat David Cicilline, who's in charge of antitrust legislation in the US House of Representatives, has revealed his strategy to take on big tech companies. Rather than a single, comprehensive bill, he's planning a series of smaller and more narrowly tailored bills – as many as 10 or more – that would, in his words, be harder to defeat by lobbyists for Google, Facebook, Amazon and Apple. He told Axios that in addition to being more difficult for tech companies to combat, he's got "a better chance of finding common ground between Democrats and Republicans" on discrete issues rather than sweeping legislation.
Our take:
Court: 1-Star Competitor Rating Not Defamation
A lawyer in Michigan received a wordless one-star review from a likely "malicious competitor." He sued for defamation and lost (Gursten v. Doe). The court dismissed the claim, saying: "as a matter of law, a one-star wordless review posted on Google Review [sic] is an expression of opinion protected by the First Amendment." The dissent wanted to keep the case alive because people might reasonably believe the review was left by a client and so argued to let a jury decide the case. However, the majority disagreed, in part because "Google's policy does not [explicitly] limit a poster's experience to an attorney-client experience."
Our take:
Short Takes

Please let us know what you think. Email gsterling@nearmedia.co with suggestions and recommendations.