Local Restaurants on Front Lines of Vax Wars
More than 180 million Americans have been fully vaccinated and more than 210 million have received at least a single jab. Beyond this, a majority of people support vaccine mandates. But there remain large pockets of resistance, often on ideological grounds. Vaccine mandates (e.g., NYC and SF) have put local businesses (often restaurants) in the unfortunate position of enforcement. This is highly problematic because SMBs are ill-equipped to deal with hostile and sometimes violent customers. While San Francisco has seen few if any incidents, a recent attack on a hostess at a popular NYC Italian restaurant illustrates the risks. An NYT article documents a range of hostile incidents at restaurants across the US. It points out the people on the front lines are mostly women in their 20s, who are paid on average $25,000 per year.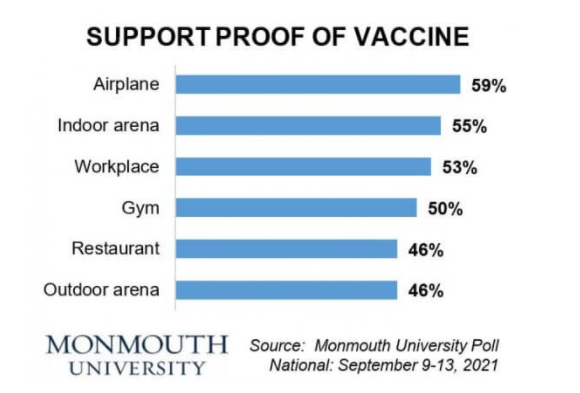 Our take:
Reports of erratic, delusional and violent behavior abound in response to mask mandates or vaccine rules, e.g.: "bad passengers" on planes.
There is something fundamentally flawed about asking small business owners to be the government's vax enforcement mechanism.
Cities can't deploy cops to every business – cops are often themselves resisters – but they can dramatically increase penalties for assault.
Local Search, Lazy Bloggers, Sloppy Stats
Statistics are often thrown around in presentations and blog posts without being checked. An egregious example from the past is the non-existent comScore stat: "by 2020, 50 per cent of all searches will be voice searches." Even after being debunked it still gets cited. And how many listicles, written for SEO, simply repeat data from other blogs, without attribution to original sources? Usually, the original source is completely absent. Here's an example relevant to local: "46% of searches have local intent." Niel Patel cites this and links to SocialMediaToday, featuring an infographic that cites a Chatmeter listicle. Chatmeter links to a Hubspot post, which links back to SocialMediaToday. It goes in a circle, with nobody identifying the original source, which is ultimately hearsay picked up by Barry Schwartz from Twitter. The original source was an agency guy (Nick Wilson) tweeting about a comment someone made at a non-public event he attended at Google.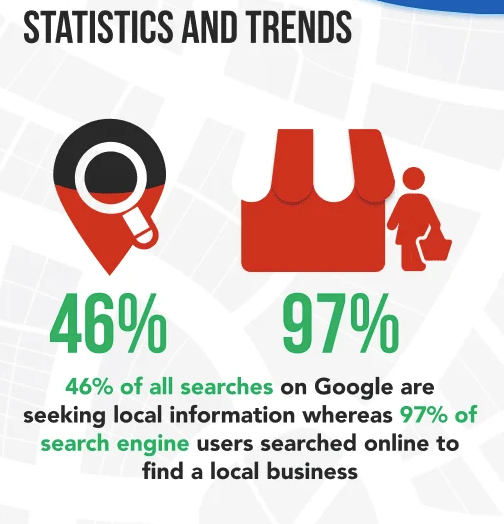 Our take:
People took this 46% number at face value, without trying to understand where it came from or any context – mobile vs. desktop, etc.
Once published a few times, it became truth. Most of the people citing it probably have no idea where it originally comes from.  
This is one example of a larger problem across the industry: sloppy data use. Compared to climate change, ok . . .not such a problem.
Poll: 81% of Americans Want 'Big Tech' Regulated
A new poll (.pdf) conducted for the Future of Tech Commission, reveals a kind of cognitive dissonance among Americans about "big tech." The survey asked whether voters agreed with the statement: "We need to immediately address the biggest tech issues facing society today or we won't be able to reverse the excessive power and influence of big tech companies." Eighty one percent agreed. In addition, 77% wanted "strengthening federal data and technology privacy laws" to be a government priority. Yet, individual companies that comprise "big tech" were mostly viewed favorably: Google (81%), Amazon (74%), Apple (67%), Facebook (53%). Among tech company CEOs, Google's Sundar Pichai was least well-known, while Facebook's Mark Zuckerburg had the highest unfavorable rating. The survey was conducted in July, 2021.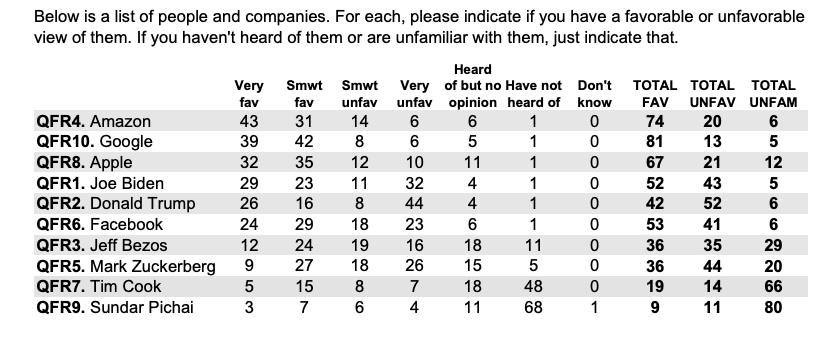 Our take:
This is one poll; however, it illustrates a kind of psychic split in the popular mind: big tech is dangerous but not individual tech brands.
It's curious that Google has higher favorables than Apple (81% to 67%). This must reflect that more people use Google products daily.
The Facebook split (53% favorable, 41% unfavorable) shows the parade of scandals is weighing on its brand. Remarkably, 6% were unfamiliar with Facebook and 5% with Joe Biden (welcome to America).
Recent Analysis
Short Takes
Listen to our latest podcast.

How can we make this better? Email us with suggestions and recommendations.