Paid Search Doubles in Three Years  
Almost since its inception, paid search marketing has been the leading category of digital advertising. It has maintained that position even as other formats have gained popularity (e.g., social, video). According to a new US forecast from eMarketer, paid search will maintain its leadership position for the foreseeable future. The forecast anticipates paid search revenues will grow to $136 billion by 2026, and represent 30% of total media spending. That should benefit Google, although Amazon and, increasingly, Apple are beneficiaries of paid-search spending. Apple's ad business is worth nearly $5 billion today, compared to Amazon's $31 billion. Last year Google captured ~50% of US paid search revenue. It's worth noting that according to the forecast, paid search this year will be worth 2X what it was only three years ago.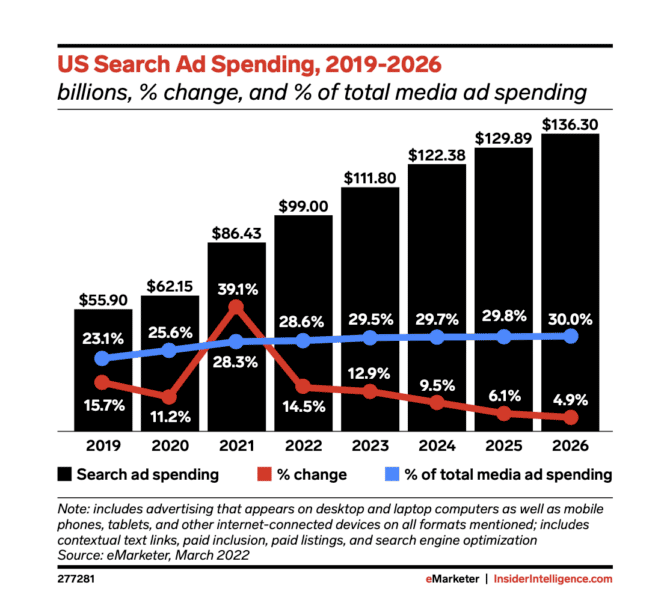 Our take:
Paid search remains popular because it's arguably the most consistently reliable and trackable form of digital advertising.
Paid search still represents roughly 70% of Google's total annual advertising revenue, which last year was $209.5 billion.
Google faces multiple antitrust suits and claims in the US and Europe. However, they don't appear to be focused on search specifically.
Court Drops Speech Bomb
The 5th Circuit Court of Appeals is the most ideologically conservative in the US. That's one take on its ruling in favor of Texas' HB 20, which prevents major social media companies from "censoring" online speech based on "political viewpoint." Passed in response to Trump's deplatforming by Twitter and Facebook, it reflects perceptions on the right that social media are biased against conservatives (not true). In addition to rejecting tech trade groups' First Amendment arguments against the law, the court held that internet platforms are "common carriers," like phone companies, and can be regulated accordingly. Common carriers are required to provide services to the public without discriminating. The law only applies to speech in Texas, although it has national implications. The ruling is in direct conflict with one from the 11th Circuit, which struck down a Florida statute similar to the Texas "anti-censorship" law.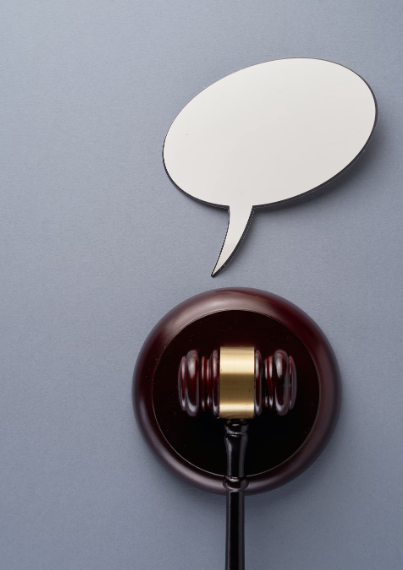 Our take:
The conflict between the 5th and 11th Circuit rulings almost guarantees a SCOTUS hearing, with huge potential fallout for online speech/moderation.
Internet platforms probably shouldn't have arbitrary discretion over content. Yet the statute doesn't define "viewpoint" and creates a potential content moderation nightmare.
The decision opens the door to platforms being unable to moderate extremist content, which could include hate speech or advocacy of violence.
Survey: BOPIS, Curbside to Decline
Get ready for a barrage of holiday shopping surveys and reports. One of the first out is from Ericsson's ad platform Emodo. The report focuses on the impact of inflation and economic uncertainty on anticipated consumer spending. While that will undoubtedly be significant and affect retailer pricing, what's more interesting are the in-store vs. online shopping findings. The survey found people plan to do more in-store shopping this year – consistent with broader shopping trends. And most respondents say they will use BOPIS and curbside pickup less than in the past. Shoppers intending to spend more are also more likely to go into stores. However, all groups cite "affordability" as a primary concern. Shoppers also plan to start shopping later than in previous years, and may rely more on discounting during Cyberweek than in the past.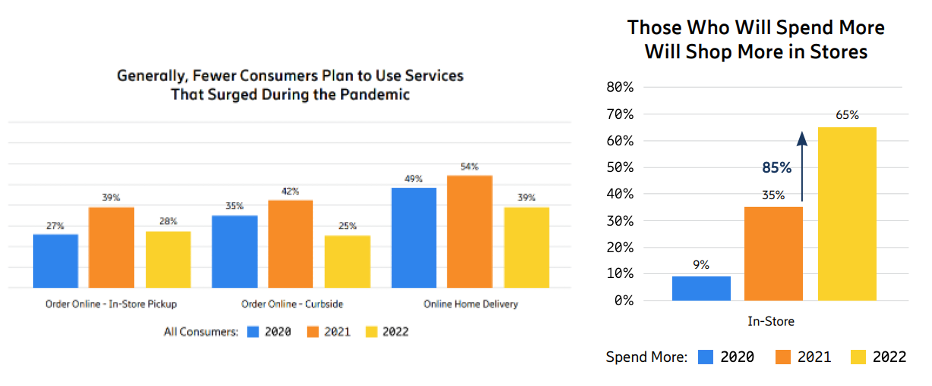 Our take:
Those more financially secure will be buying, but a large segment of the population may significantly rein in holiday spending.
I'm surprised that people said they would use BOPIS/curbside less. But that may be a function of comfort levels around in-store shopping.
Surveys don't always predict behavior. But the implication here is that e-commerce growth will be modest or flat, which is widely anticipated.
Recent Analysis
Short Takes
Listen to our latest podcast.

How can we make this better? Email us with suggestions and recommendations.