Olympics Race to Avoid Financial Disaster
In an ominous sign for the 2021 Olympics, Toyota said it will not air TV commercials during the games. Fear of a tainted Olympics could cause other big sponsors to follow their lead. NBC, however, is reporting robust ad sales for its TV coverage and expects more revenue than for the 2016 games. The broadcaster said it had already exceeded Rio's $1.2 billion advertising haul. A few athletes have already tested positive for COVID, with more undoubtedly to come. The Olympic village will be a potentially massive "superspreader" venue, with thousands from around the world in close quarters, literally. Olympic economics are generally bad for host cities, and with no local spectators it will be worse for Tokyo. The Olympics begin this Friday and run through August 8.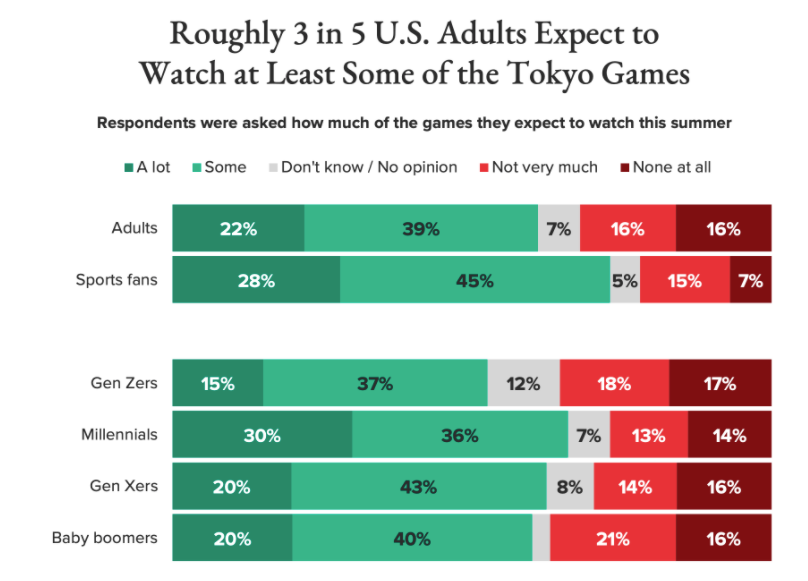 Our take:
A financial wild card is US audience engagement. NBC will do its best to hype the games but Americans might not show up en masse.
While interest in the Olympics has been in decline over time, there are indications (above) a majority will tune in for at least some of the action.
There's a higher degree of risk for advertisers with this year's Olympics. Success will depend on the whether the stories outshine the virus.
Is Apple Privacy Marketing Paying Off?
Apple has been marketing privacy as a differentiator. In particular, the company presents its platforms as more secure and privacy friendly than rivals: Google, Facebook, Amazon and Microsoft, to a lesser degree. The claims may not be true on security: the iPhone was easily hacked by nefarious governments conducting surveillance on journalists. But on privacy the pitch, exemplified by Apple's consumer tracking opt-in rules, may be working. New data from Consumer Intelligence Research Partners shows increasing iPhone loyalty vs. Android. Android loyalty has been in decline and iPhone loyalty has been growing, assuming data accuracy. The most recent quarter shows a 50-50 sales split, down from nearly 70-30 in Android's favor in 2017.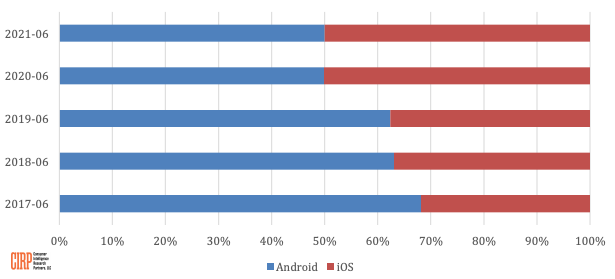 Our take:
Globally, Chinese handset maker Xiaomi was a big winner in Q2. Overall, Android grew much more than iOS, mainly because of handset pricing.
I was unable to find current US or European survey data on whether consumer smartphone buying is being impacted by privacy concerns.  
The CIRP data above, however, suggests that some of Apple's privacy marketing is paying off as one of several inputs into consumer buying.
Delta Variant: Fear and Loathing  
Today, the Dow Jones Industrial Average was off over 700 points on investor fears about the impact the Delta Variant could have on the global economic recovery. Yet most Americans are more concerned about consumer prices than they appear to be about COVID – so far. Ironically (or perhaps not), the unvaccinated are the least likely to be concerned about the variant, although they're the ones likely to get sick. Consumers complaints about big ticket and durable goods prices are now at record highs. But people are still buying because of pent-up demand ("We are going to Hawaii, damnit") and accumulated savings. The question is whether consumers will slow or stop spending in the face of continued inflation or emerging concerns about jobs.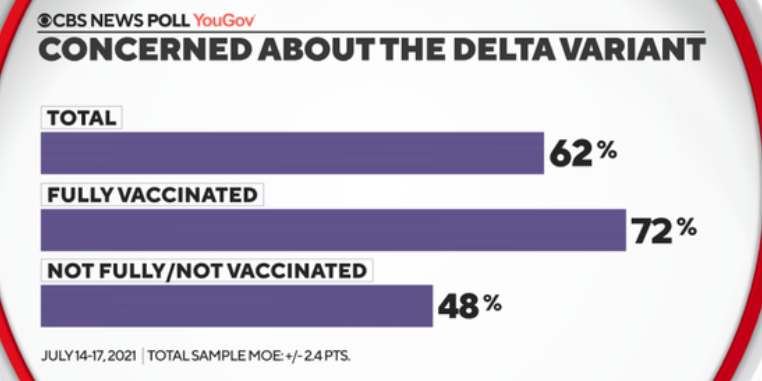 Our take:
So far the variant doesn't appear poised to derail the recovery. However, some counties and cities are returning to indoor masking.  
The Biden Administration blamed Facebook (among others) for vaccine hesitancy. Facebook argued vaccine acceptance among users is up.  
Cases are rising, primarily in the Southeast. It's politically impossible to reimpose lockdowns. The next few months will be telling for the recovery.
Short Takes
Listen to our latest podcast.

How can we make this better? Email us with suggestions and recommendations.