Awaiting the New Yahoo Search
At the recent SMX Next event Senior VP and General Manager of Yahoo Search Brian Provost said that the site's new search experience will launch early next year. Yahoo currently has a 2.6% share of the search market in the US and 1.2% globally. It will be interesting to see what Yahoo does and how the company attempts to differentiate. By analogy, Bing has not gained any meaningful share with its Bing Chat (now Copilot) integration of ChatGPT, despite all the coverage and buzz this year. Like Bing, Yahoo has basically adopted Google's SERP features. It's difficult to imagine what Yahoo might do to create something different but still useful to attract and retain users. One partial approach might be to eliminate or at least reduce the number of ads in the SERP. But Yahoo is owned by private equity so that's unlikely. One of the reasons Yahoo is revamping search is probably to boost search ad revenue. Yahoo CEO Jim Lanzone ran Ask "back in the day." He has a better perspective than most CEOs would on what it takes to compete with Google.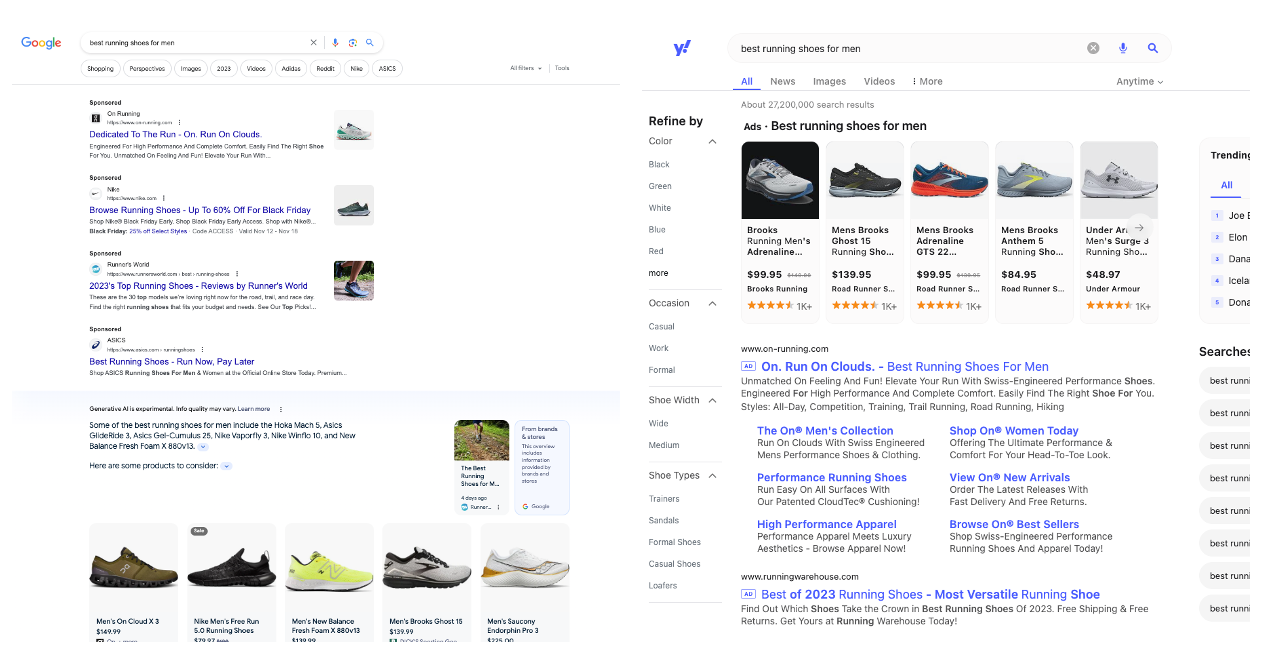 Our take:
Will we see generative AI in the new Yahoo SERP? There's been no indication one way or another. I would guess we will.
Will we see a new design that breaks from the Google-style SERP? I suspect any design differences will be incremental.
Yahoo is probably hoping for a modest usage bump that it can monetize. But there's pent up demand for Google alternatives and an opportunity to reinvent search.
Google's SGE Shopping Push
Product search is an area where Google sees SGE shining and boosting ad revenue. And because of Google's shopping graph, SGE product results are more complete and reliable than other SGE AI snapshots. This week the company announced some new and new(ish) features to help shoppers find gift ideas and move them down the funnel. First there's an expanded SGE that will show top-of-funnel users product ideas. "Search 'great gifts for home cooks,' and you'll now see a wide variety of subcategories to explore ... with options from brands large and small." Google is also adding image creation to shopping search, which will allow people to generate product images based on their queries and then search for actual products that match those images. And finally, Google is expanding its virtual try on feature, where you can see how a clothing item looks on a model you think looks like you. All of these features hope to collapse the funnel and accelerate sales.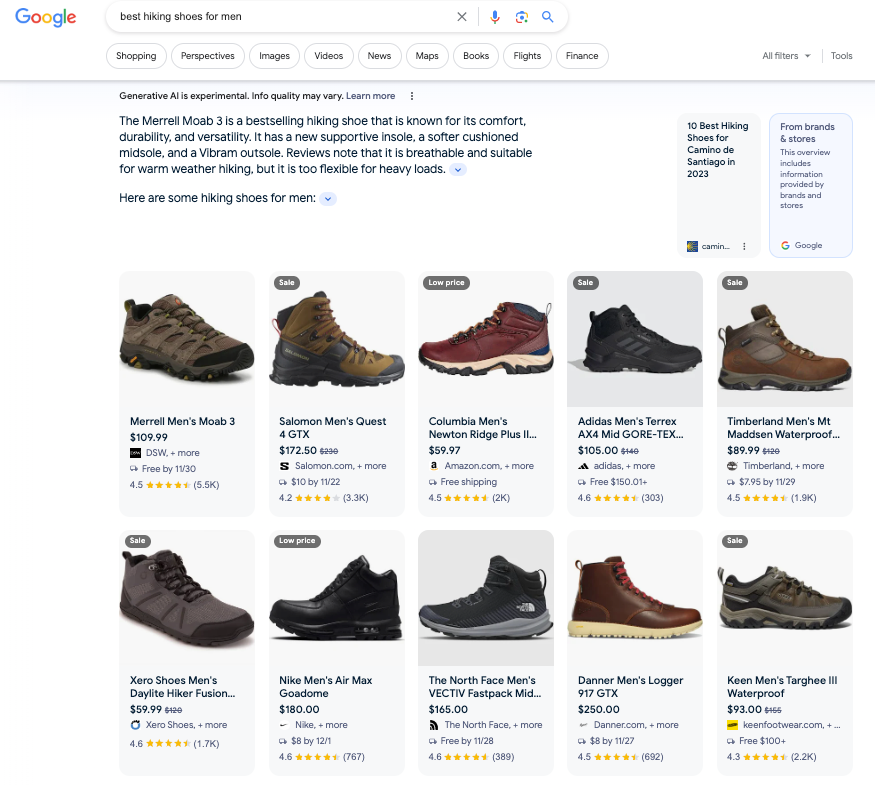 Our take:
From what I can tell Google has yet to add in-stock local inventory badges to products presented in the AI/SGE snapshot. It should.
Once expanded, SGE product results dominate: you get four ads, a huge SGE box, followed by Google shopping results.
Given the above, organic results are pushed way down the SERP. Retailers and product sellers will need to advertise or make it into SGE results.
Amazon Brings BOPIS to Cars
Amazon and Hyundai have announced a new partnership that has three components. Hyundai will use Amazon Web Services as its cloud provider; the company will integrate Alexa (and presumably Alexa-connected services) into its vehicles in 2025 and, most significantly, Hyundai will actually sell cars on Amazon. Amazon wants to sell a wide range of vehicles; Hyundai is simply the first brand available. Local auto dealers will fulfill the purchases; buyers will either have cars delivered or pick them up from a local lot. But the transaction will happen entirely online, including financing. Amazon sees this as a way for local car dealers "to build awareness of their selection and offer convenience to their customers." It's not clear that this will succeed but if it does it may sideline the local dealer rather than "build awareness." Gone will be the upselling opportunities (e.g., extended warranties) and the in-person connection that supports later maintenance, where dealers make substantial revenue. It could reduce local dealers to commodity providers of vehicles, marginalizing the role of dealer and its personnel.
Our take:
Consumers today don't buy cars without online research; the role of the dealer/salesperson has thus already changed. This would be next level.
Many people can't imagine buying a car without driving it first. And that may still happen but people are increasingly comfortable buying cars online.
If this initiative does succeed it could radically transform the way cars are sold and the economics of local dealerships.
Short Takes
Listen to our latest podcast.

How can we make this better? Email us with suggestions and recommendations.