Google Local Goes Vegetarian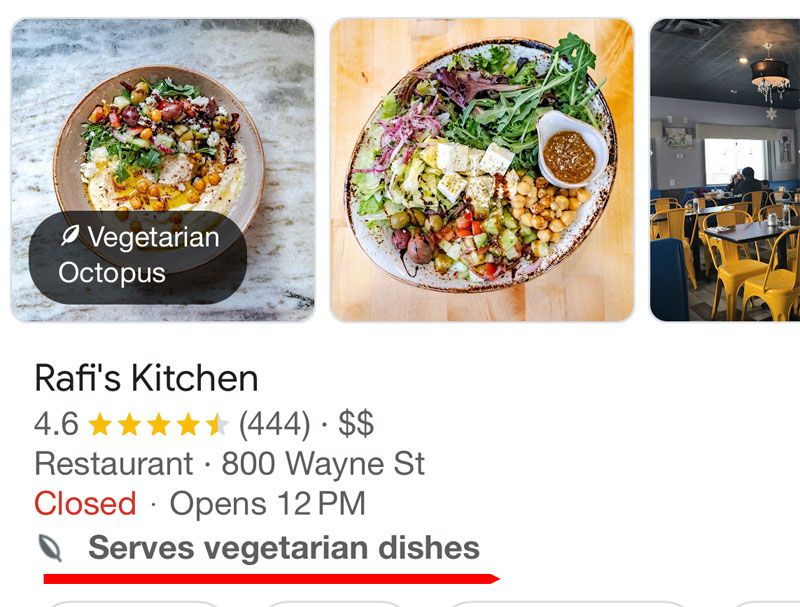 Google is now highlighting vegetarian dishes at restaurants that don't necessarily identify as vegan or vegetarian. Obviously Google is attempting to help non-meat eaters understand the lay of the vegetarian landscape in restaurants they're not familiar with. This would be particularly helpful in rural environments where vegetarian restaurants are less common. In this new treatment, Google provides a Local Pack justification when users are searching for vegetarian offerings and there are no such restaurants nearby. Images of vegetarian dishes (or dishes that Google thinks are vegetarian) are highlighted with a vegetarian symbol in both the Pack carousel and the business profile. When the vegetarian dish image is clicked there is a call to action that give the user the options of ordering, calling or visiting the website. This set of features is currently only available in the mobile browser and not available in Maps or via desktop search.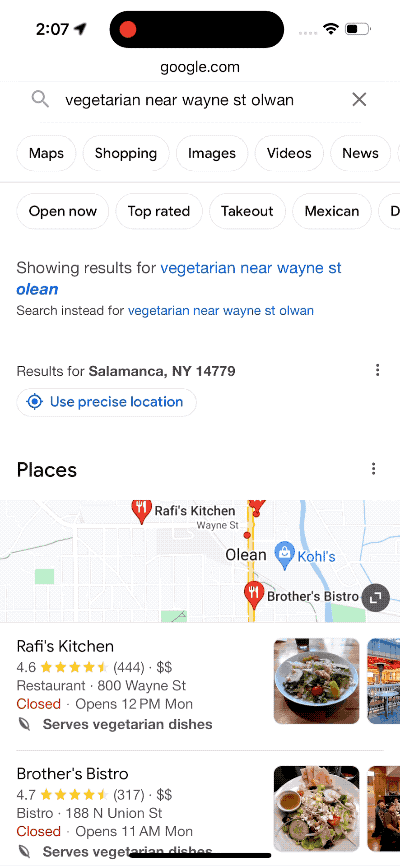 Our take:
Google has long been on the hunt for ever more granular data about local businesses, examples being local products and detailed SAB services. It has been one of their local competitive advantages.
Restaurant menus have been a prime example of this granularity, combining many images into menus via user inputs. AI now adds additional nuance.
Clearly these images are being tagged by AI, as one dish which tagged as "vegetarian octopus" was actually identified on the menu as loaded hummus.
New Focus on Apple Maps
This week Local Falcon, known for its local grid ranking of Google Maps, rolled out a comparable tool for Apple Maps. It works like the company's Google Maps version, and can be set to run a scan automatically at the same time. The set up for the new Apple Maps scan is the same Google Maps; and the reports including share of local voice (average total rank position and average rank position) are the same. While it's unlikely that Apple fiddles with business ranking as often as Google, it's useful to know the visibility and discoverability of your business as the distance from your location increases. Also this week, a large multi-location client reached out to me to complain Apple Maps had nuked their UTM tracking urls, preventing an understanding Apple's impact on web visits. This is not a surprise as Apple has stated tracking URLs are not allowed. Although, when a business does add them, Apple seems to let them stick for a bit before inevitably nuking them. Most businesses want a single reporting tool like Google Analytics and don't really want to go into Apple's local dashboard, but seem willing to put up with it to better understand Apple's traffic impact. It became clear to me in 2014 that Apple Maps was getting consumer uptake when a desperate theme park called because folks were queuing up at their service gate due to an Apple Maps error. Around 2016, I started using Apple Maps regularly, thinking more consumers would follow. Now it appears businesses are beginning to catch on. And products such as Local Falcon are starting to build tools to help them.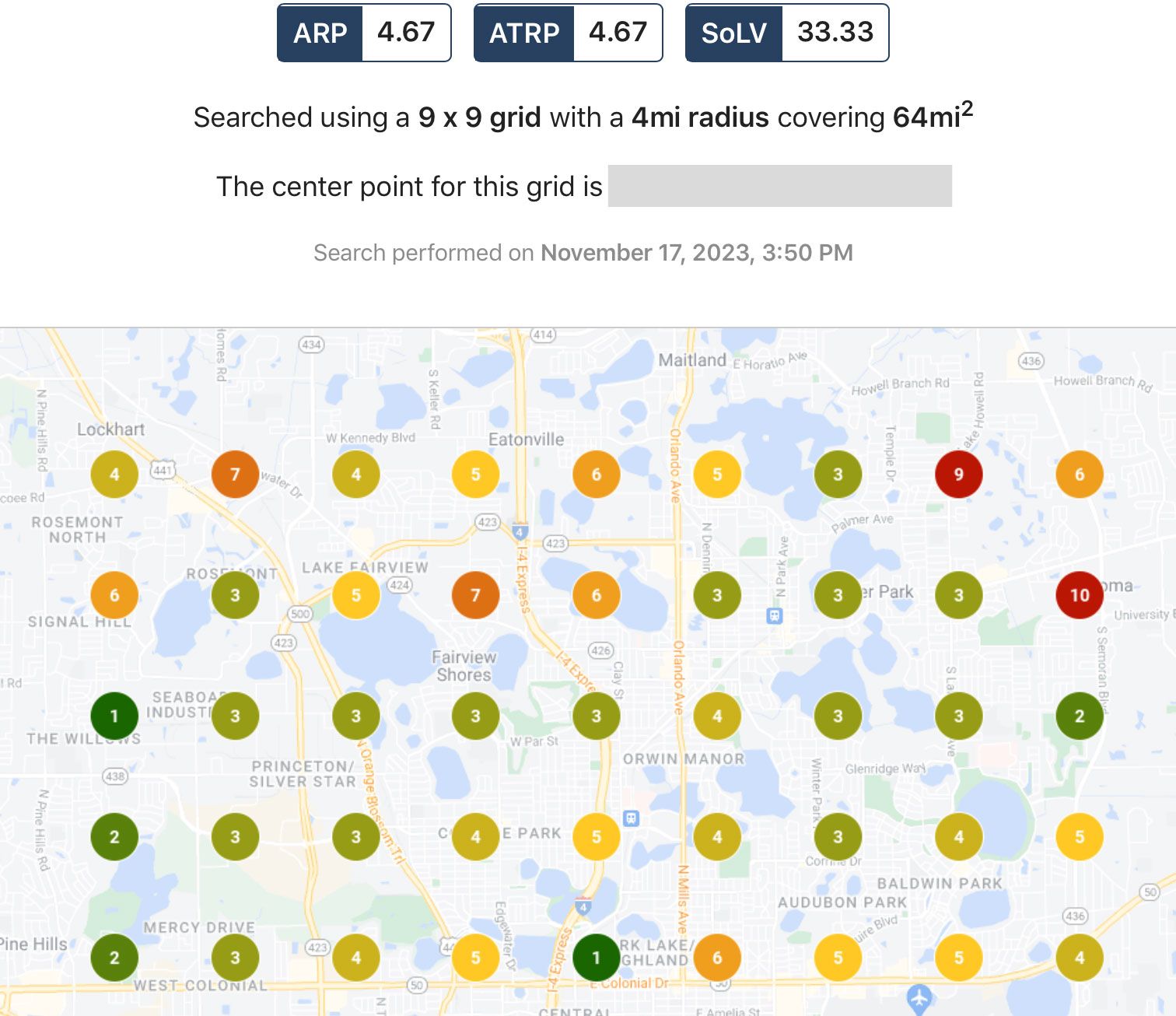 Our take:
Our research indicates Apple Maps is providing somewhere between 5% to 10% of new digital leads for many businesses, often more than Facebook or Yelp.
While businesses that do want track web traffic from Apple Maps in Google Analytics have figured out work arounds, Apple should make it easier.
Most location management platforms (e.g., Uberall) have already integrated Apple Maps reporting. But Local Falcon is the first tool I've seen focused on the tactical SEO side of Apple Maps.
Clearly Apple Maps is starting to achieve mindshare with businesses as a second source for local marketing leads. Tools are starting to follow.
ChatGPT's Review Insights
Most review reporting tools fall short of providing multi-location businesses with the specificity and detail needed to provide both strategic and tactical review advice to each location. I decided to put ChatGPT 4 to the test to see if it could provide these additional insights. I uploaded several thousand reviews (data courtesy of Gatherup) spanning multiple years for ~25 locations and asked it to analyze the file and put all results in a table in accordance with the following prompts:
Calculate average review score and total reviews for each location.
For locations that have lower ratings in the past 12 months than in previous years show the count of reviews for previous years and rating averages for previous years and the past 12 months.
For any location with an overall average review score less than 4.5, calculate how many 5 star reviews each of these locations would need to move their averages to at least 4.5.
Provide any additional insights as to which locations have consistently performed well, which have not and any themes in the low performance group.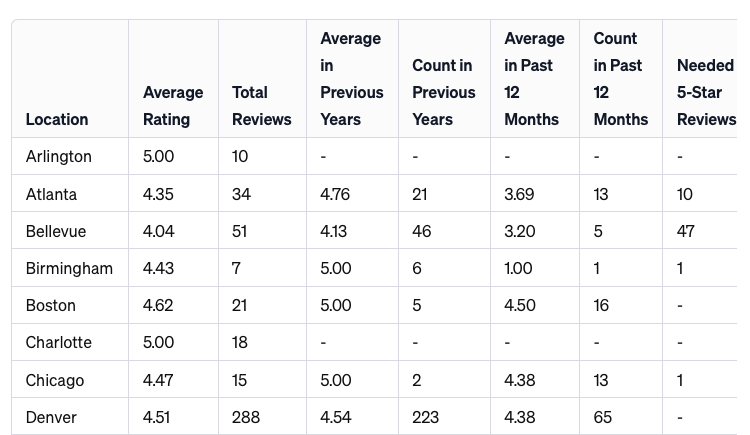 Here are additional insights it offered:
Consistently High Performers: Arlington, Charlotte, Indianapolis, Minneapolis and Pittsburgh maintained high average ratings without significant fluctuations.
Decline in Recent Performance: Locations like Atlanta, Bellevue, Birmingham, Chicago, Denver, Las Vegas, Los Angeles and Seattle have seen a decline in average ratings in the past 12 months compared to previous years.
Significant Improvement Needed: Las Vegas needs a substantial number of additional 5-star reviews (189) to raise its average rating to at least 4.5.
Stable Performance: Boston, San Diego and St. Louis have shown relatively stable performance over the years.
Emerging Concerns: Locations like New York and Phoenix, despite not having a large number of reviews, require attention due to their lower average ratings and the need for improvement. ​​
Our take:
Most SaaS reporting tools, even the best of them, often need additional massaging and this is true with most of the review tools I have looked at.
ChatGPT can fill the gap often present in those tools to provide additional insights. This can replace laborious or complicated Excel efforts.
These capabilities will soon be integrated into most tools and platforms, making this type of custom report much easier. Even then it's likely to remain a value-add opportunity for agencies.
Recent Analysis
Short Takes
Listen to our latest podcast.

How can we make this better? Email us with suggestions and recommendations.