Local SGE's Manic Episode  
Last week SEO Andy Simpson discovered a Local SGE snapshot with two carousel results and a whole lot of thumbnails. The query was "new orleans personal injury lawyer." One carousel was hidden under a link "caret" at the top and the other appeared in the normal (upper right) position. Google seems to be experimenting with the position of the carousel – we've seen carousels at the bottom of the snapshot – and the number of thumbnails. In this search result, there was substantial overlap between the two carousels. The upper right carousel, with a whopping 24 thumbnails, reproduced all of the listings in the body of the snapshot. The second carousel (with 20 thumbnails), under the caret, generally duplicated the top organic search results, although not 1:1 in sequence. All the Local Pack results were present in the Local SGE snapshot. Lots of redundancy here. Google is clearly trying to determine how the design of the snapshot affects clicks.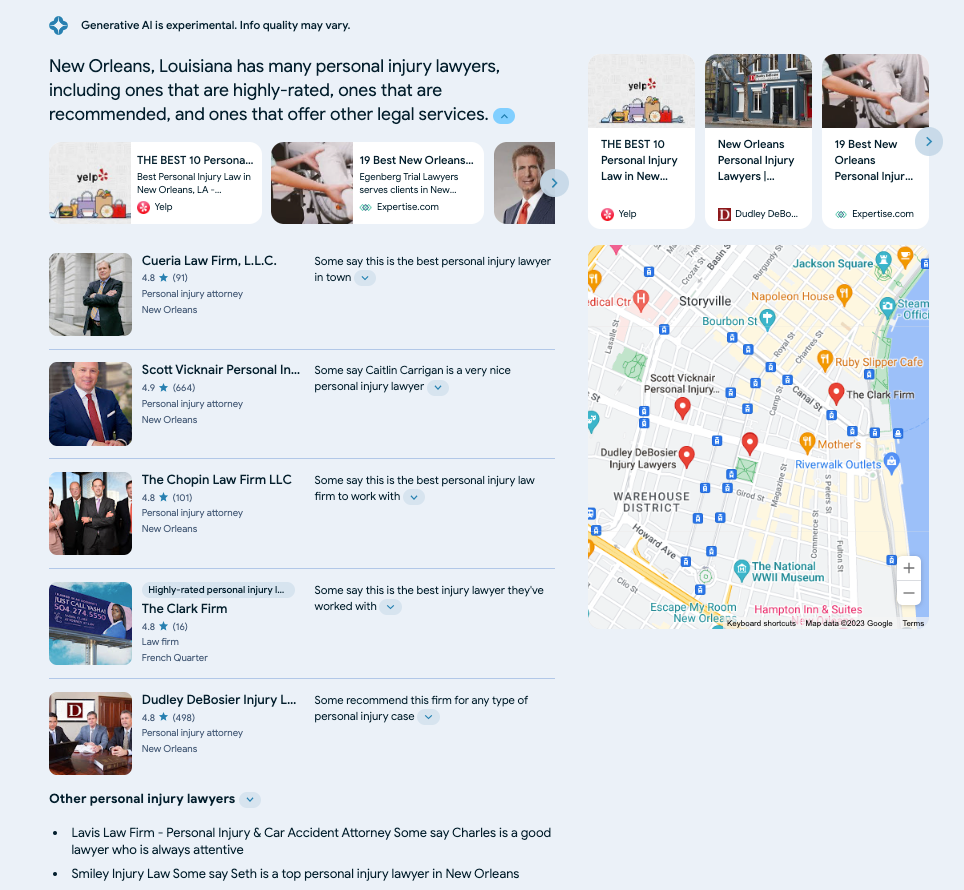 Our take:
Google has started to roll out AI results to people other than those opted-in to labs. SGE will cannibalize some organic traffic (TBD).
The final format and features of the Local SGE Pack appear to be in flux. The degree of redundancy in the local SGE result is strange.
Google CEO Sundar Pichai told Wired he was confident Google would get SGE right – ultimately. He also reiterated there will be ads.
Study: Ratings Inflated on Google vs. Yelp
Yelp has long argued that its reviews are of higher quality than what appears on Google. As support for that position, the company points to an FTC report arguing that Google's "gatekeeper" (monopoly) status is resulting in an inflated ratings distribution, which misrepresents business quality. Suspicious, "low-quality businesses," according to the report, had better ratings on Google vs. Yelp. In the study, a "low quality" or "suspicious" business is one with multiple complaints to consumer protection organizations, mostly the Better Business Bureau (BBB) in this case. The BBB has multiple problems and is not strictly speaking a consumer protection organization. (Its ratings are not truly reflective of actual consumer experiences.) Nonetheless, the report's central claim is that low-quality businesses have inflated or unrepresentative ratings on Google (vs. Yelp) and that Google's reviews themselves are of lower quality than Yelp, primarily because they're shorter and have less text.
Online Ratings Distribution by Platform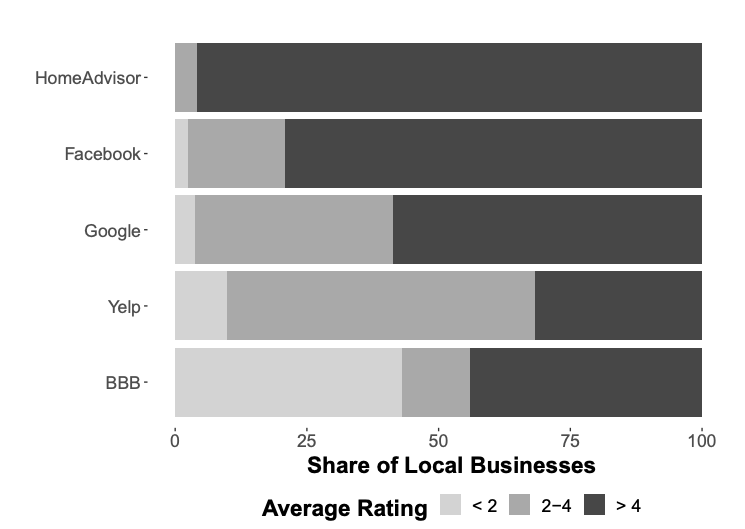 Our take:
Because Google is the dominant local reviews platform, more marketers and fraudsters are trying to game Google reviews.
Yelp is aggressive in policing review fraud but it still exists. However, the percentage of suspicious reviews is lower on Yelp than Google.
Yelp tends to filter positive (not negative) reviews from users without a meaningful review history. This may skew Yelp reviews more negative.
Mother Nature Haters
You probably either saw or read about the Apple "sketch" starring Octavia Spencer as mother nature (below). It was panned by many tech writers as a "dud" and inspired a lot of online ire. Many critics also said it simply "didn't belong" at the iPhone event and was "cringeworthy." Indeed, it was a bit cringeworthy. The segment was intended to highlight Apple's progress toward carbon neutrality. In response, some critics called it greenwashing. Yet the segment accomplished its mission. First, it generated a ton of coverage about Apple's sustainability efforts (some of it negative). But more importantly, it conveyed the impression that Apple was way ahead of its hardware competitors in this area. And that's probably an accurate claim. On social media I also saw positive reactions from Spencer fans and "ordinary people" – women in particular. (Almost all the critical or snarky tech writers were men.)  
Our take:
It wasn't Apple's 1984 Super Bowl ad – called the greatest TV ad ever – but was effective, making people aware of Apple's carbon-neutral drive.
We haven't seen any surveys, but this segment likely resonated with younger audiences, reinforcing their preference for the iPhone.
Notwithstanding the backlash to corporate sustainability efforts, they've become an essential part of marketing to younger consumers.
Recent Analysis
Short Takes
Listen to our latest podcast.

How can we make this better? Email us with suggestions and recommendations.