Local Packs: 36.2% of Queries
Local Packs aren't exactly disappearing but they're not showing up as often either. A week ago a number of reports from Moz, Rank Ranger and Semrush showed a decline in the appearance of Local Packs. Moz reflected the largest decline, a drop of 15 points, from 40% to 25% of search queries. The others reported less drastic drops. Now LocalSEOGuide (LSG), which also tracks Google SERP features, found that "36.2% of tracked queries contained Local Packs" in October. According to the data, that was down from a high of 42.3% in August. May was reportedly the the second highest month with 40%. LSG added that the Local Pack average over 12 months was 37.4%. LSG anticipates this will translate into fewer GBP clicks/traffic. We'll wait to hear from SEOs "on the ground" whether that's actually happening.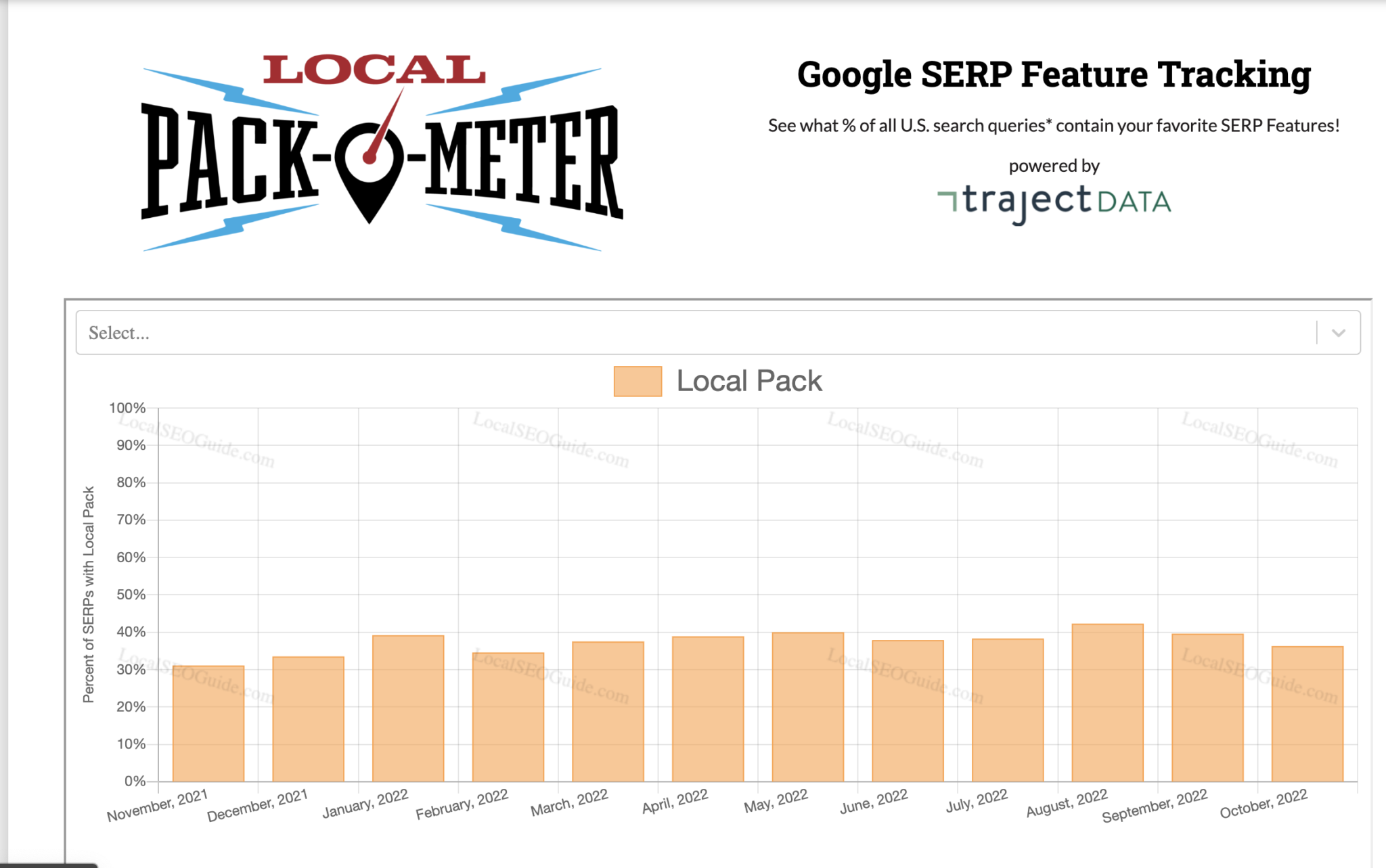 Our take:
Local Packs aren't totally synonymous with local-intent queries. They're Google's guess about searcher intent.
Local Pack visibility was pretty consistent over 12 months. But this points to the importance of general SEO, which influences local rankings.
The Local Pack's future is unclear. EU's no "self-preferencing" DMA takes effect in 2023. The pending AICOA has a similar language.
Study: Multi-Location Brands Fall Short
Multiple studies have shown multi-location brands (MLBs) often fail basic local marketing tests such as responding to reviews. For many MLBs, local-digital marketing remains an "untapped opportunity." A new survey from Uberall again confirms that MLBs often lag or simply fail in adopting local best practices. Uberall polled 459 multi-location marketers in North America and Europe. Multiple industries were represented: banking, insurance, service stations, convenience stores, hotels, restaurants, retail and others. Companies were scored using multiple "marketing maturity" criteria (methodology) reflecting the customer journey, from discovery to loyalty. The average score was 48%, more than 50 points short of a perfect score. Of the five countries in the sample, Canadian businesses were the most mature; Germany's were least mature. Financial services and retail were the most locally mature industries.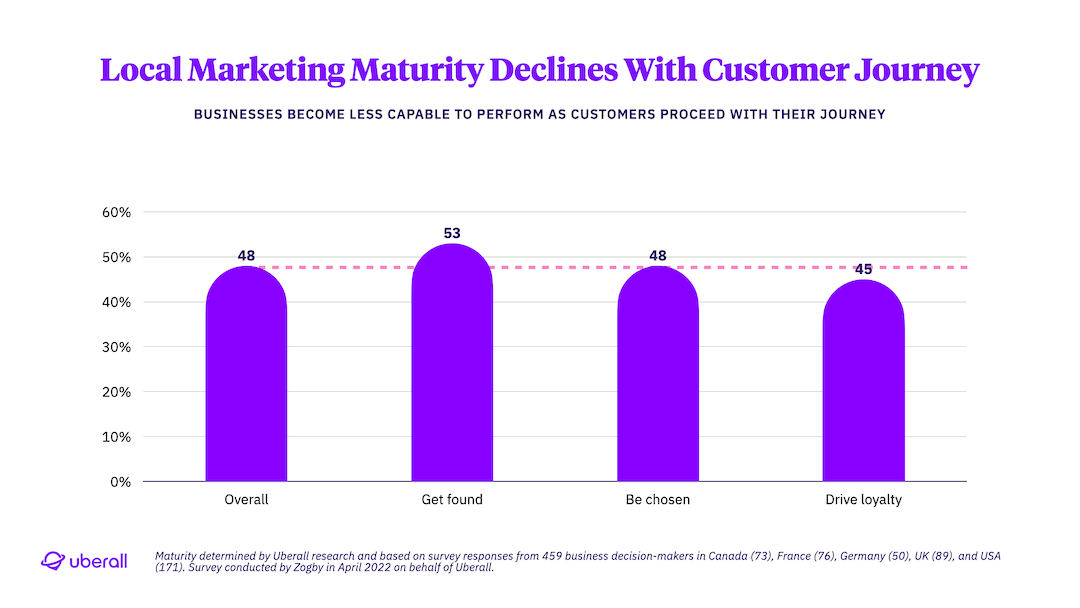 Our take:
There's a general assumption that MLBs have the sophistication and resources to execute well locally. Often they don't.
Brands usually concentrate on national marketing. But the customer mostly interacts with MLBs in local markets – including online.
Franchises are a specific challenge. However, at this point, MLBs should be much better at all this than they are.
TomTom Takes on Google Maps
Netherlands-based TomTom wants to become the foundation of a new mapping platform and ecosystem. It seeks to combine the best of proprietary systems (e.g., Google Maps) and crowdsourced tools such as OpenStreetMap, which have quality issues. The company says it is creating a base map that can be supplemented and used by anyone. "The resulting geolocation database – the largest available today – feeds continuous improvements back to the map, helping it keep up with reality." Data will come from OpenStreetMap, business databases, vehicle sensors and other sources, which will then be validated and standardized by TomTom. TomTom is seeking to grow its own usage and revenue, as well as generate alternatives for developers/B2B maps users.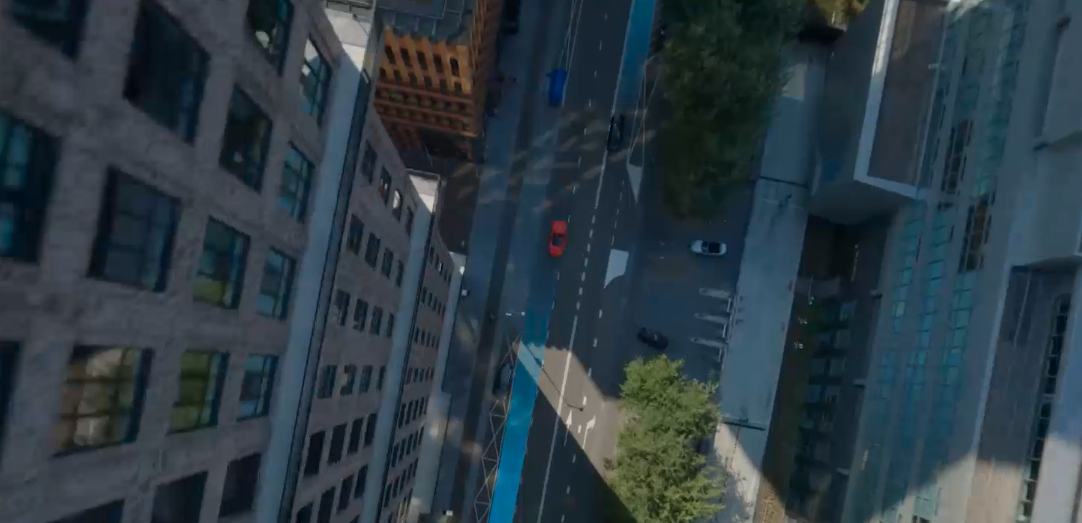 Our take:
HERE is another major mapping player. Previously owned by Nokia, it's now owned by Audi, BMW and Mercedes Benz.
Mapping has continued to advance (AI, AR) though it feels like things have stalled a bit. This may inject some new competition.
Apple Maps uses TomTom. According to comScore, Apple Maps has 76M US users (vs. 125M iPhones) to Google Map's 115M. The gap's smaller than I imagined.
Recent Analysis
Short Takes
Listen to our latest podcast.

How can we make this better? Email us with suggestions and recommendations.