Regulating Google Play: Would It Matter?  
Earlier this week Attorneys general from 36 states and Washington DC filed an antitrust suit over Google Play app store fees and alleged anticompetitive practices surrounding app distribution. The complaint asserts Android developers are compelled to use the Google Play store, thus creating an illegal monopoly. The suit claims, for example, that Google sought to kill Samsung's app store in its infancy. Apple has faced similar claims about its alleged app store monopoly. Google strongly denied the claims in a blog post, contending the suit has no merit and is about "boosting a handful of major app developers who want the benefits of Google Play without paying for it." At the same time, a report from comScore (sponsored by Facebook) points out the top apps on both iOS and Android in the US are from Apple and Google.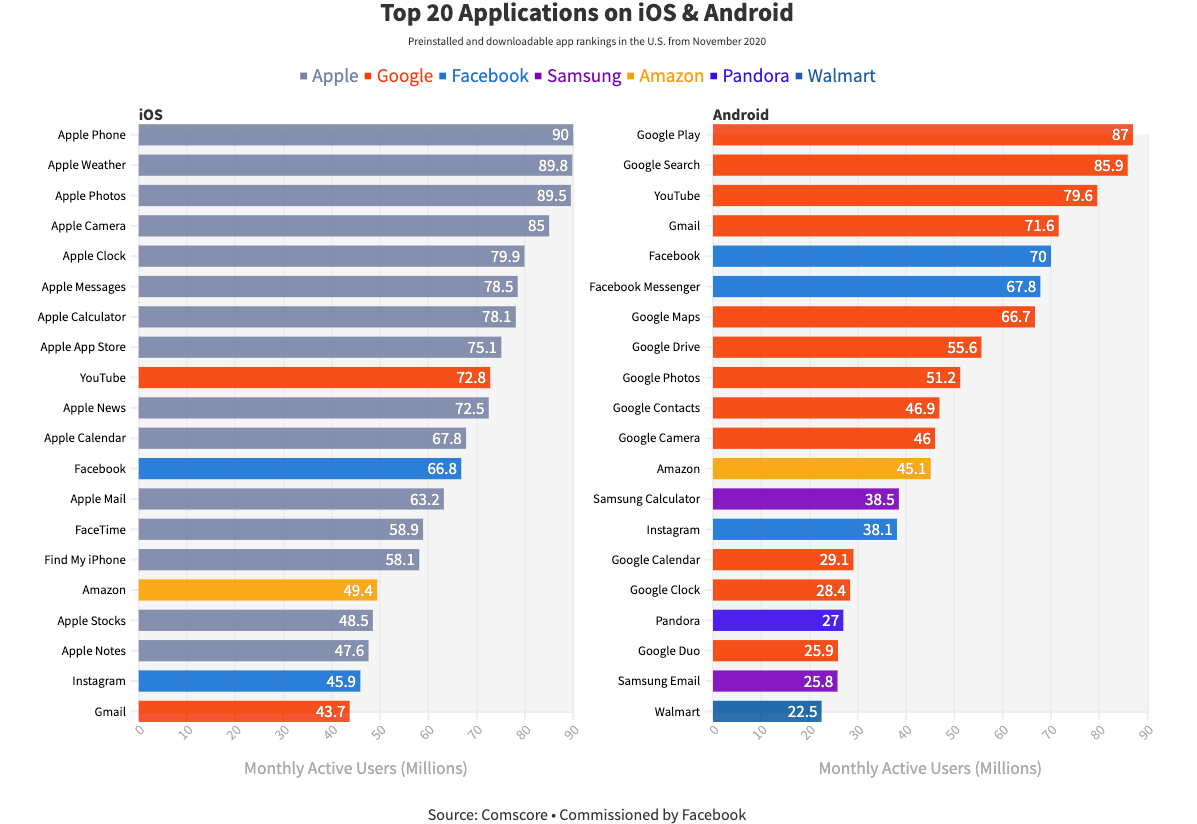 Our take:
There is likely merit to the claim that Google didn't want Samsung to develop a viable, independent app store.
If Google and Apple lost control over their app stores (and default app placements) the question is: would it matter?
Probably not; people would still use what they use. However, Google Maps would probably win share if Apple Maps wasn't the default on iOS.
Restaurants Overwhelmed COVID Fund with Money Asks
The nearly $29 billion Restaurant Revitalization Fund was overwhelmed with funding requests and was effectively out of money two weeks after it formally launched in May. A new report from the Small Business Administration reflects that about 36% of those requests (101K out of 278K applications) were granted. A total of more than $72 billion was sought by distressed operators. The average grant size was $283K. California, New York, Texas, Illinois and Florida were the largest recipients of aid. California had nearly 16K applications accepted for a total of more than $5 billion. At the other end was American Samoa with 1 application for $23,657. Traditional restaurants were not the only aid recipients (see graphic).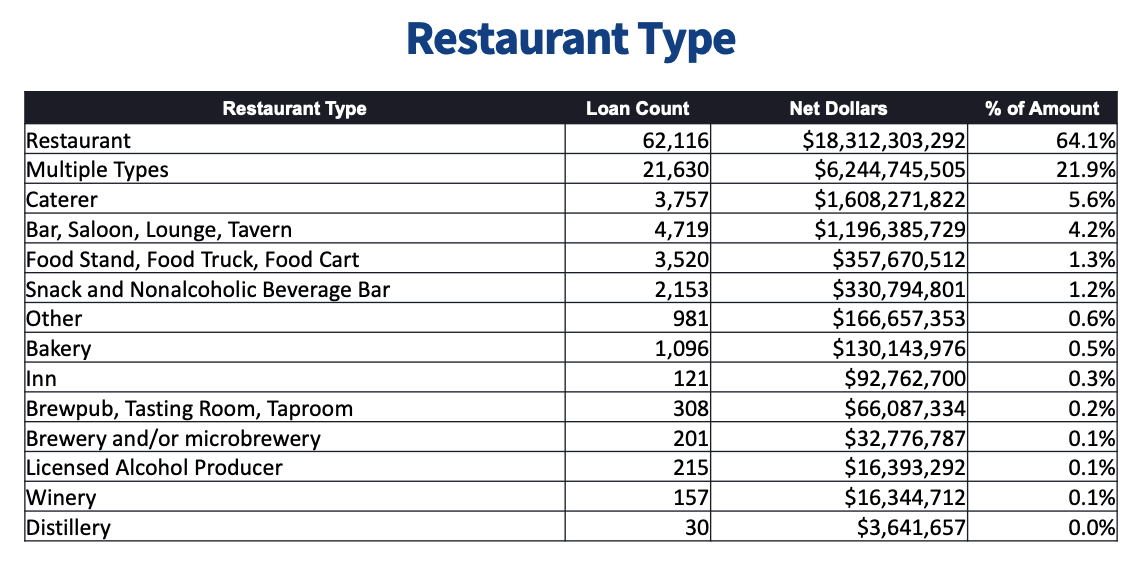 Our take:
The National Restaurant Association said in December that 110,000 restaurants permanently closed in 2020. In 2018 there were 661K.
Restaurants was one of the industries most impacted and arguably most transformed by COVID (contactless payments, online ordering, delivery).
Despite the economy "reopening," many restaurants remain in distress and would suffer again if indoor dining restrictions were reimposed.
Heavy Podcast Listeners Major WOM Influencers
Good news for podcasters and their sponsors: a new study from Engagement Labs finds that "heavy podcast listeners" (HPLs) – averaging one or more hours of podcast listening per day – turn out to be important word-of-mouth (WOM) influencers. According to the research, podcasting attracts more "everyday" WOM influencers than other media, including traditional radio, TV and even social media. There are an estimated 750K podcasts in the US alone, so the market is highly fragmented. But Engagement Labs has ranked the categories that feature "the highest number of influential consumers among heavy podcast listeners": telecom, wine & spirits, beauty and personal care, financial services and travel. Technology (including digital marketing) comes in at number seven.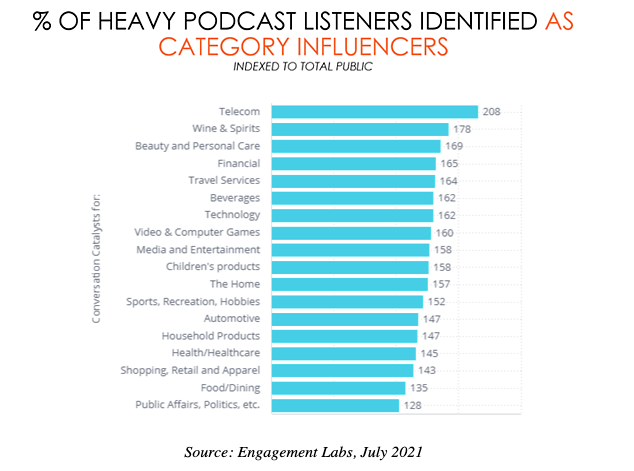 Our take:
The first thing to say here is: listen to our podcast. Sadly, it's not (yet) on the top 50 podcasts of 2020 (by audience size).
Most of the top podcasts are tied to traditional media or media personalities. With hundreds of marketing podcasts, identifying the right ones to pitch or sponsor can be very challenging.
According to a Nielsen study, podcasts generate more than 4x better brand recall than online display ads. But attribution is challenging, though marketers use vanity URLs, surveys or promo codes for tracking.  
Short Takes
Listen to our latest podcast.

How can we make this better? Email us with suggestions and recommendations.