Facebook Says Personalized Ads 'a Lifeline' for SMBs
Facebook has complained that Apple's coming App Tracking Transparency privacy rules will materially impact its revenue. The company has staked out an anti-Apple position as champion of SMBs, who it says will be harmed by Apple's policies. It's now trying to educate business owners and the public about the value of ad targeting (personalization). And today Facebook announced a new promotional campaign ("Good Ideas Deserve to Be Found") and various updates aimed at SMBs, including Ads Manager simplification, extended fee waivers, new features for restaurants and other upgrades and services. Facebook called its targeted advertising "a lifeline" for SMBs during COVID.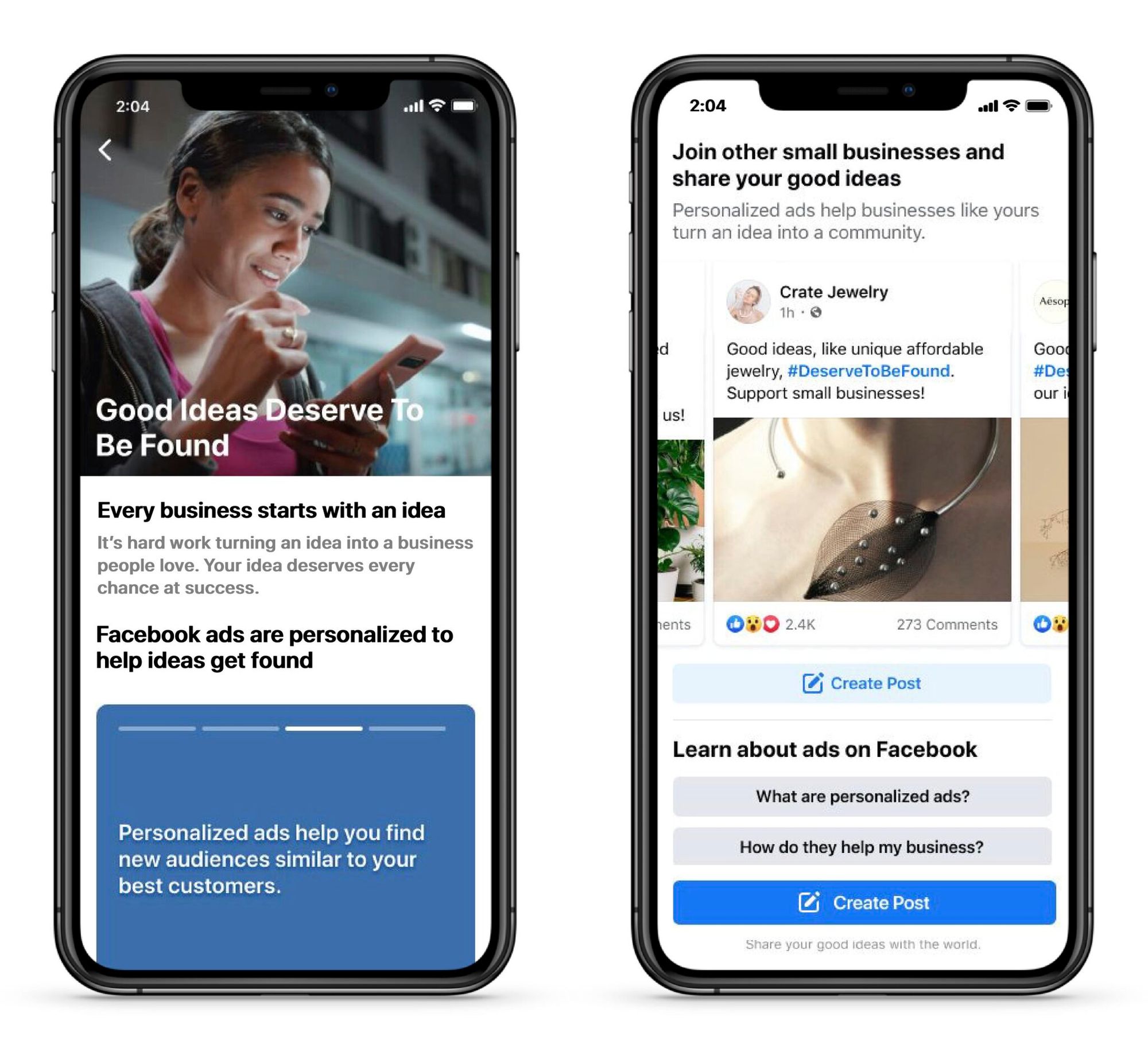 Our take:
It's hard not to dismiss Facebook's argument that Apple's hurting SMBs as a cynical PR ploy. But there's some truth there – some.
While Facebook's credibility is at a low ebb, many people at the company are genuinely working to help SMBs.
Very much like Google, Facebook's SMB positions and announcements contain a mix of motives, some are enlightened – many are not.
Google-Adjacent Sidewalk Kills PDX Smart City
Alphabet-owned Sidewalk Labs describes itself as "an urban innovation company working to make cities more sustainable and affordable for all." The entity inked smart city deals with Toronto and Portland. Part of that involved using mobile-location data to understand citizen movement patterns for improved urban planning. The "smart city within a city" Toronto project came to an end in May 2020. And now the Portland project is dead, apparently over data-privacy related disagreements.
Our take:
Municipalities should be seeking to understand urban movement patterns to improve efficiency and resident quality of life.
Sidewalk Labs' project is important but problematic, because of the Google connection and the trust issues that creates.
Location data is invaluable to cities, but rigorous ethical safeguards are needed. Public trust may not be possible with big tech partnerships.
HSBC to Cut Almost Half Its Office Space
COVID is a bright line between the past and the future. Among the many industries significantly impacted are retail and commercial real estate. The latter is being transformed by the widespread adoption of work from home (WFH) policies. Now, a decision by HSBC to reduce its footprint by 40% or more over time is a harbinger of what's to come for retail banking, commercial real estate and traditional retail.
Our take:
The real-world has lost its allure for those intoxicated by the prospect of lower overhead.
So-called hybrid arrangements, split between WFH and physical offices, will prevail in the near term. The long-term picture is murkier.
With few exceptions most retailers will be strategically closing stores and ramping e-commerce. But to win you need both.
Short Takes

Please let us know what you think. Email gsterling@nearmedia.co with suggestions and recommendations.