The Antitrust Stars Are Aligning  
The antitrust stars are apparently aligned. The US House of Representatives is confident it can produce bipartisan antitrust reform soon. There are three areas where Democrats and Republicans apparently agree. The first is increasing funding for DOJ and FTC enforcement. Another is data portability and interoperability to make it easier for consumers to break up with big tech. The third is shifting the burden of proof to tech companies to show that any planned M&A wouldn't harm competition. The government now carries that burden.
Our take:
Democrats and Republicans have different motives for reform, but both sides agree on the need for reform.
The one area of some debate is the burden-shifting idea. The other two are pretty modest reforms.
Any new legislation must be effective yet measured so that there aren't major, unintended consequences. Governments often get it wrong.
Walmart Cookshop: Online Video, Offline Shopping
Walmart has taken a page from QVC, with an interesting offline grocery shopping twist. The company just launched "Walmart Cookshop" in partnership with video producer Eko (in which Walmart has a $250M stake). The cooking site features celebrities and celebrity chefs in instructional cooking videos. The videos are interactive; ingredients can be changed and then added to a shopping cart for pickup at a local Walmart. Walmart says its beta test yielded CTRs of nearly 9% vs. the industry e-commerce benchmark of 2%.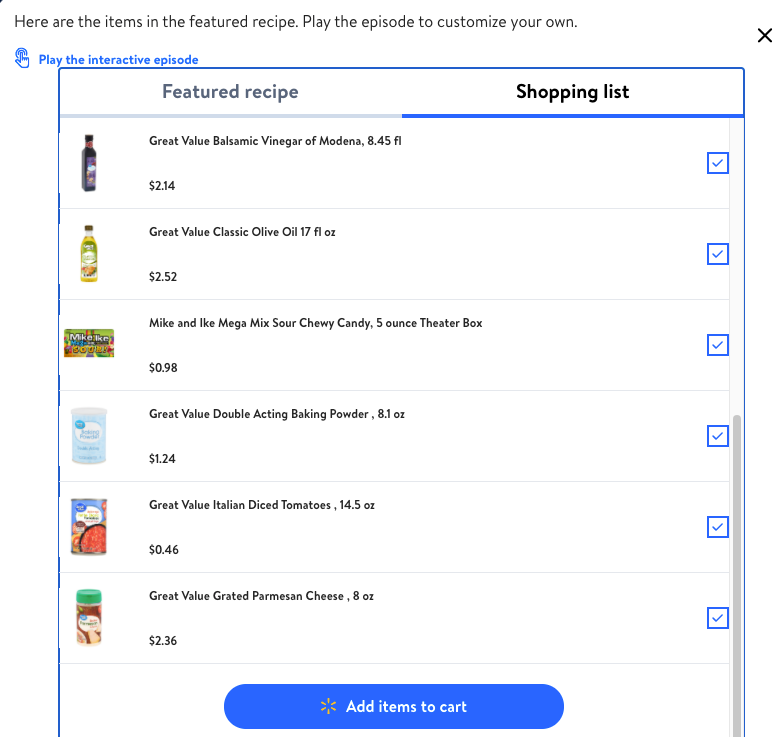 Our take:
Walmart is one of the most innovative retailers in the market; this is a very clever instance of online-to-offline shopping.
Walmart has seen high double-digit growth for its online grocery business, overtaking Amazon last year as the top online grocery seller.
There's no reason SMBs couldn't emulate this model, albeit with e-commerce fulfillment (via Shopify).
Sephora Bets Big on Return of Foot Traffic
In contrast to its peers that are contracting and closing stores, French-owned beauty retailer Sephora said it will open more than 250 new physical locations in 2021. The company explained there will be 60 new stand-alone stores and 200 "store-within-a-store" locations within Kohl's department stores. Sephora currently operates 452 US stores. Sephora's chief competitor Ulta announced last year that it was opening 100 "mini-stores" within Target in 2021.
Our take:
The announcement stands in contrast to the "pivot to e-commerce" approach being taken by others, notably Best Buy.
Beauty, as a category, has strongly embraced AR to approximate the IRL experience of in-store makeup testing.  
Mini stores may become a growing hedge, giving retail brands a physical presence without the cost of a traditional store.
Short Takes

Please let us know what you think. Email gsterling@nearmedia.co with suggestions and recommendations.