Shiny New Object: Augmented Reality Glasses  
Global smartphone sales were down 12.5% in 2020. Apple was the top smartphone maker in Q4 and number 2 in 2020 after Samsung, which saw a 15% sales decline. The market has reached peak smartphone, leaving many to look for what's next. Wearables is the logical answer. More than that: augmented reality (AR) glasses or headsets – analysts are hoping. Apple's glasses are rumored to cost $3K. Facebook, Samsung, Microsoft, Amazon and Google are also working on AR-powered eyewear. But getting it right is tricky.  
Our take:
Comfort, aesthetics and cost are success factors. A $3K pair of glasses is going to be a really tough sell. (Google Glass was about half that.)
But more than cost, creating a viable non-goofy form factor is critical and remains to be seen. Google Glass was awkward looking at best.
AR glasses, absent a breakthrough, are probably not the successor to the smartphone – at least not in the short term.
New Business Applications Jump 73% in January
In a surprise, US government data show there were more than 492,000 new business applications filed in January. A significant percentage of these are new small businesses. The filings represent a 73% year-over-year increase and 42% sequential growth. Overall there were roughly 4.3 million new business applications filed in 2020, compared to 3.5 million in 2019. In total, there were 31 million small businesses in 2019 according to the US SBA.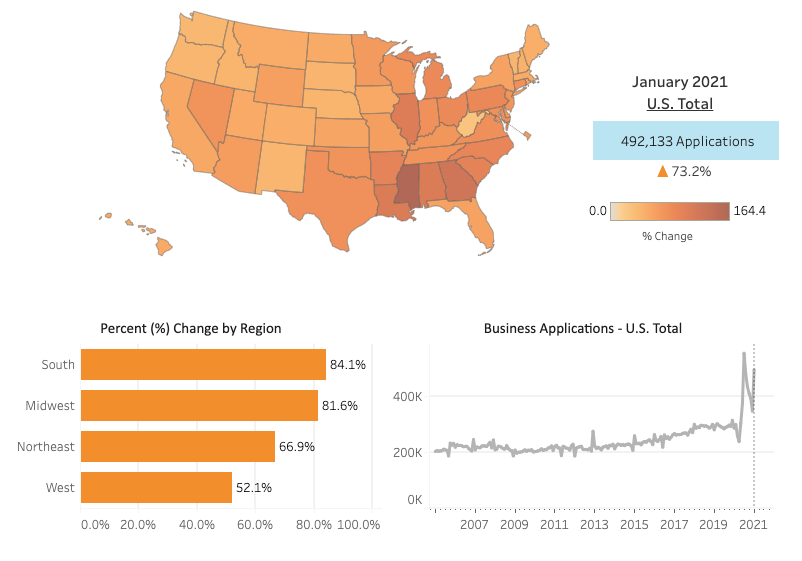 Our take:
This spike is in contrast to the "SMBs in distress" narrative – not to be dismissed – that has been dominant during COVID.
Even as many SMBs are failing, there are an increasing number being created; 2020 was a better year than 2019 for new business formation.
Business formation is a time of opportunity for SaaS vendors, as SMBs seek to get established – especially (now) online.
VRBO Outspent AirBnB 10:1 in 2020 – Did It Help?
According to MediaRadar, Airbnb cut marketing spend radically in 2020 as consumer spending on travel collapsed. The company then spent less than $1 million on marketing per quarter. Rival VRBO's spend fluctuated but it was dramatically larger than AirBnB's. In Q4, VRBO spent $19 million to less than $800K for AirBnB. But did it do anything? The traffic data are mixed.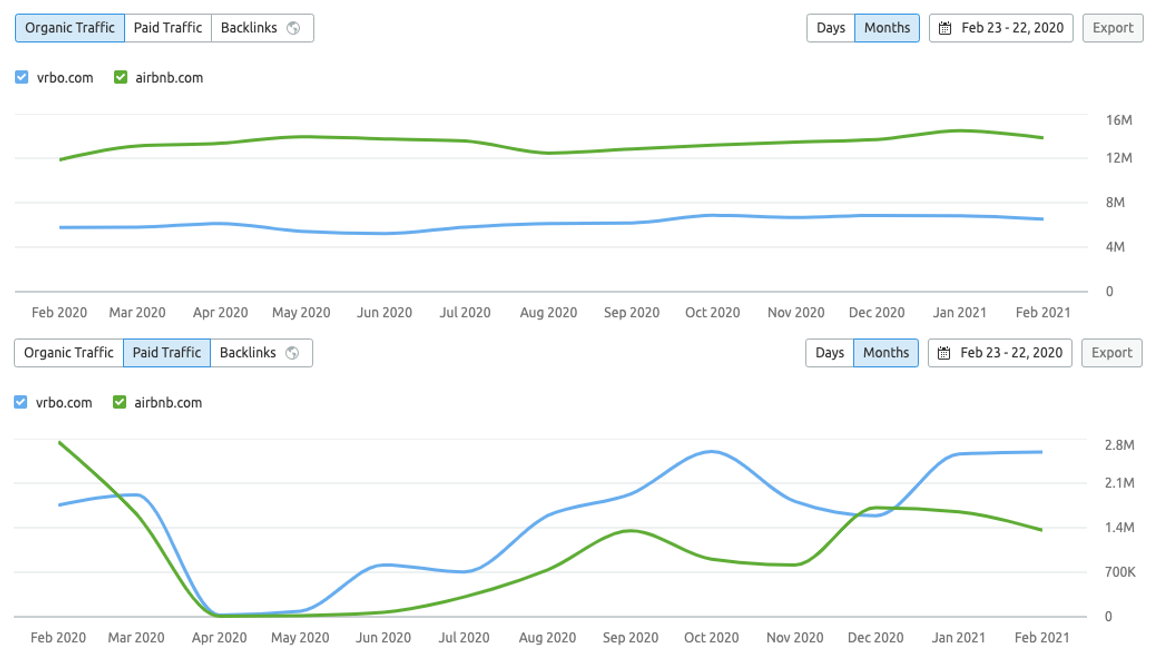 Our take:
AirBnB had more than 2X the organic traffic of VRBO in 2020; VRBO's paid search spend drove more traffic, especially in early 2021.
Expedia, which owns VRBO, concentrated on brand marketing in anticipation of a travel-demand uptick, said VRBO performed well in Q4.
Did VRBO improve its brand position vs. AirBnB; did the $19M generate a meaningful ROI? It bought room nights but didn't seem to help the brand.
Short Takes

Please let us know what you think. Email gsterling@nearmedia.co with suggestions and recommendations.