Brand Beats Performance Marketing
Whether or not we're in a recession, many marketers are acting like it. Tech companies are laying people off and marketing budgets are tightening. However, a new "Rules of Recession-Proofing" report from Analytic Partners (lead-form) argues that "cutting marketing budgets is a recipe for long-term failure, not success." Based on "hundreds of billions in marketing spend," the report advises marketers to use a media mix that balances brand and performance marketing. "Brand messaging outperforms performance messaging 80% of the time," the report explains, adding that "30% of Search clicks are fueled by other marketing channels." Channels with the best overall ROI value are video, social and linear TV. Paid search and non-social display have short-term effects but don't deliver long term ROI. When it comes to video, the report emphasizes that ad-creative improvements will deliver more value than a pure focus on "elements like targeting, placement and timing."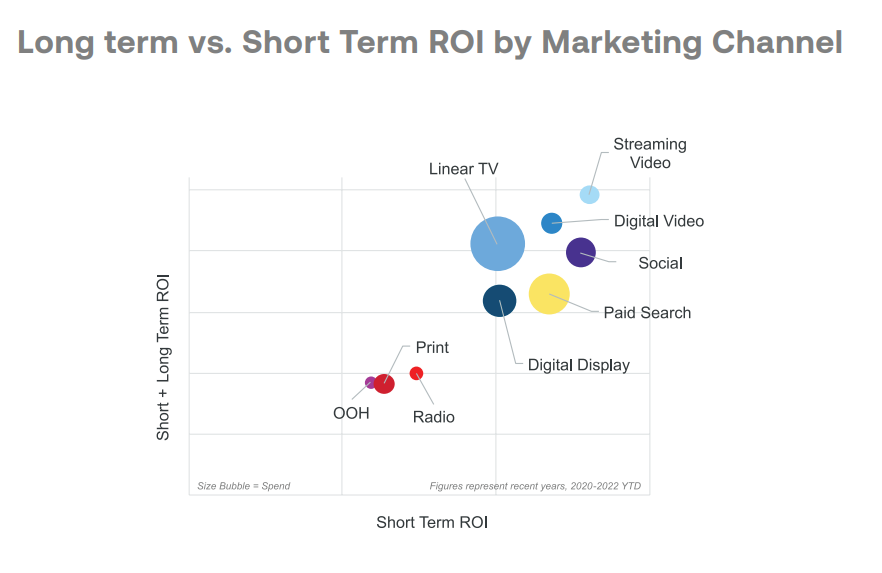 Our take:
Perhaps most interesting, Analytic Partners says "contextual targeting is 1.2x to 2.5x more effective than other types of targeting." This should be welcome news because of where privacy is taking online advertising.
On one level most CMOs advocate a version of this balanced approach. In reality, during "lean times," brand campaigns are often jettisoned.  
Long the beneficiary of last-click attribution, Google itself has now embraced data-driven attribution (multi-channel) as its "default" model.
LSAs Got 99 Problems
With apologies to Jay-Z, LSAs got 99 problems... Actually they've got four primary problems according to Leonard Raleigh, an SEO who manages Local Services Ads for lawyers. He has primarily encountered them in California but they exist in other areas as well. Raleigh elaborates: 1) spammy locations, 2) fake reviews, 3) fake business names, 4) duplicate ads. He sees lots of virtual offices used to support LSAs, not allowed for GBP. Fake reviews have widely infiltrated LSAs. And fake business names apparently abound. "If you look at LSAs in California, you'll begin seeing the same faces over and over again with different law firm names." Finally, multiple ads from the same firms are appearing (see image). Raleigh advocates a number of sensible solutions: address verification, spam reporting/complaint forms and creation of a help forum for LSAs. Google needs to take action on this.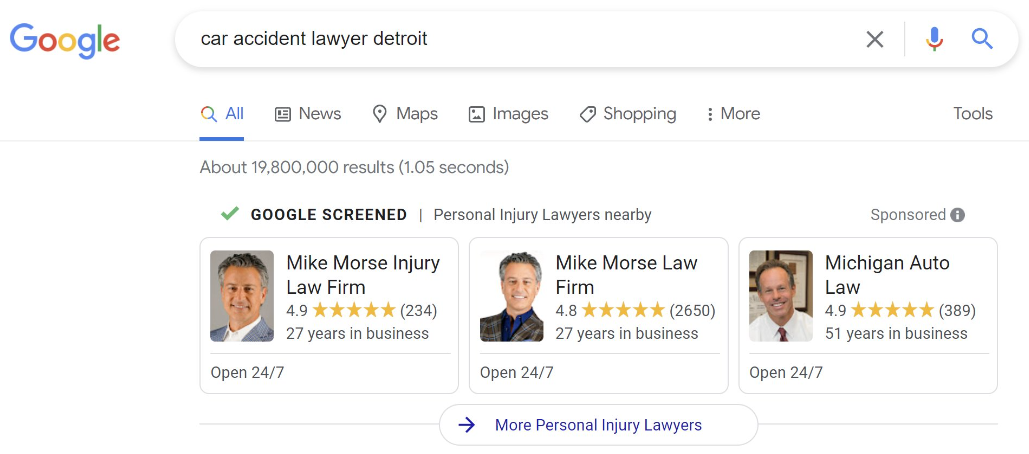 Our take:
Google says it's taking the spam "reports seriously and are continuing to work on this."
Most LSAs have aggregate reviews of 4.5+. Reviews are a ranking signal, as they are for organic search. That's prompting more review fraud.
If Google doesn't clean things up the FTC could get involved, because the Google Screened/Guaranteed badges arguably become "deceptive."
Mobile, Desktop SERPs Diverge
In a third blog post in a series on e-commerce SERP features, Kevin Indig looks at whether and how desktop and mobile SERPs differ. While we might intuitively understand that mobile and desktop SERPs are obviously different, Indig concludes that those differences are often significant and are continuing to evolve. Here are some of his findings. Number of results: 63.4% of mobile SERPs feature 10 results, almost 2x vs. the desktop (which don't always show 10). Mobile results are almost 2x more likely to feature Product Listing Ads than the desktop (somewhat counterintuitive). Map packs: while the numbers are close, Google actually shows more Local Packs on the desktop. Image carousels: 63.5% of desktop search results show an Image Carousel but only 23.7% of mobile results. He also says, "The more search results Google shows, the more ads we see."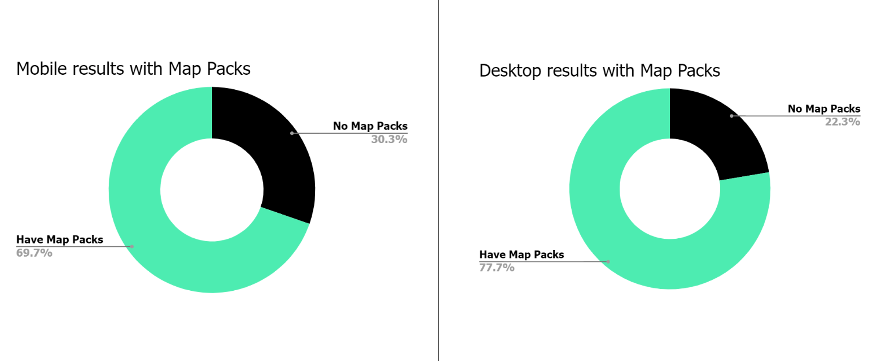 Our take:
These variations and their evolution are likely the result of observed differences in user behavior.
Indig believes most marketers aren't paying close enough attention. "Staying on top of them is a competitive advantage."
Optimizations (and ads) for mobile and desktop are going to be different. Increasingly, one size doesn't fit all. Know your audience.
Recent Analysis
Short Takes
Listen to our latest podcast.

How can we make this better? Email us with suggestions and recommendations.