Coming Soon: The Bank of Walmart
Walmart just hired two senior Goldman Sachs bankers; could "The Bank of Walmart" be far behind? New FDIC rules permit non-financial firms to effectively become banks through so-called industrial loan charters. Walmart said it wants to offer customers "affordable financial products" and monetize its own data (read: customers). This is part of the company's larger foray into fintech, through its partnership with Ribbit Capital announced in January. Walmart said then that it wants to "deliver tech-driven financial experiences" to its customers and employees.
Our take:
A bank of Walmart would have a massive base of potential customers. Loyalty for national banks is low.
Walmart has 150+ million customers and more than 5,300 locations in the US. Compare Wells Fargo with just over 5,400 branches.
Walmart's move, as well as others in fintech, argue big disruption is ahead for financial services in the next decade.
Curbside, BOPIS Most Popular Retail Innovations
A new survey finds that curbside pickup was the most popular B2C adaptation to COVID in 2020. It's also the number one action still to be rolled out in 2021. Buy-online-pick-up-in-store (BOPIS) was tied for second in 2020 changes and 2021 intended actions. The multi-location brand survey comes from Brandify. The surveyed brands were from retail, automotive, grocery, restaurants, home improvement and real estate. Brands said the majority of customers responded positively to the changes and that many would become permanent.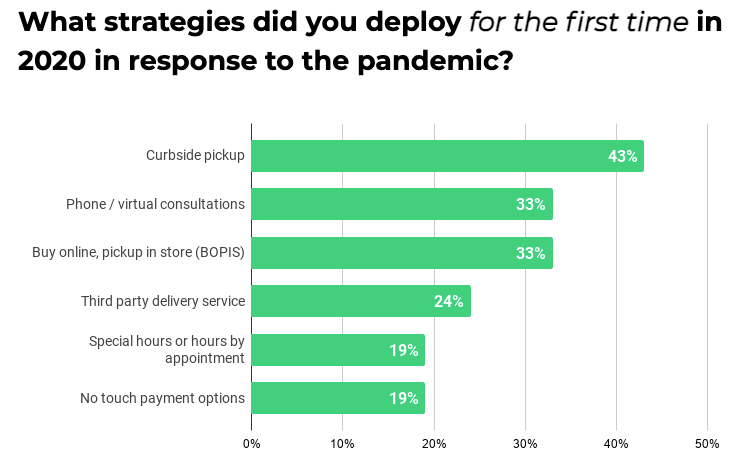 Our take:
The survey sample size wasn't disclosed and appears small, though the brands represent "several thousand" store or business locations.
Survey data from 2020 repeatedly shows the degree to which convenience is driving consumer decision-making.  
There are no surprises here but it reinforces how digital and offline are now joined at the hip. Brands withdraw these services at their own peril.
Best Buy 'Pivots to E-commerce,' Industry Preview
Best Buy has had great success with online-to-offline sales and order fulfillment in 2020. Now the company is starting to shrink its store footprint and reduce headcount. The company said last week that it laid off 5K of its roughly 100K workers and is seeking more part-timers. The company has roughly 1K stores in the US, with 450 leases up for renewal over the next couple of years. Best Buy expects 40% of its sales in 2021 to come from e-commerce compared with under 20% two years ago.
Our take:
As part of the strategic shift, Best Buy will reduce the size of the sales floor and devote more store space to online-order fulfillment.
In Q2 2020, roughly half of Best Buy's online orders were being picked up in stores or curbside.
These moves preview actions that will be industrywide. But even as stores close, they're becoming an integral part of e-commerce.
Short Takes

Please let us know what you think. Email gsterling@nearmedia.co with suggestions and recommendations.