Apple Taps into Pay
Apple just introduced a way to turn the iPhone into a point-of-sale (POS) terminal for merchants. Called Tap to Pay, the tool will enable businesses to accept contactless payments without additional hardware (i.e., Square dongle). Apple will not become a payment processor (at least not now). It will rely instead on third parties, such as Stripe, to play that role. Stripe will in turn make Tap to Pay available to its developer ecosystem. Tap to Pay requires an iPhone XS or later to work. It will also support competing Android-based payment systems such as Google Pay. Tap to Pay is a by-product of Apple buying Canadian-based Mobeewave in 2020. The deal was reportedly worth about $100 million.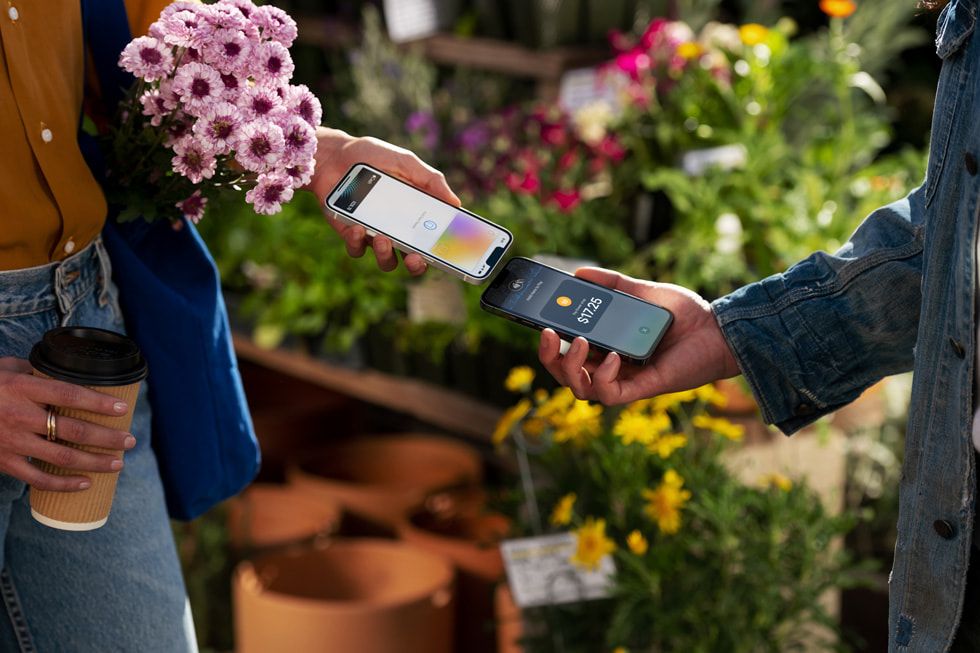 Our take:
Will this affect Square's (and other POS vendors') SMB businesses? Probably, somewhat. But the Square/Block value proposition is now much bigger.
This will further Apple's digital wallet leadership. Longer term, it could start to disrupt or siphon bank interchange feeds from credit card transactions.
It could also impact P2P payments (e.g. Venmo). And it would enable novel payment and checkout scenarios for in-store retail and restaurants.
Report: 65% of Docs Have No Reviews
Ratings and reviews are the third most important consideration for patients, after insurance and location. That makes sense and is a finding from a recent health care user survey from Reputation and YouGov. There aren't many surprises here: most review activity is happening on Google, despite a range of other semi-visible directories in the health care arena (e.g., ZocDoc, HealthGrades, WebMD). Nearly 75% of patients read reviews before choosing doctors or facilities. And people want at least a four-star rating. About 50% of health-care consumers read 10 reviews or more before making a decision. Women look for different things than men: gender of the doctor and extended hours, for example. Most interesting perhaps: 65% of doctors "had accumulated zero reviews in 2020." The survey sample was roughly 1,200 US adults.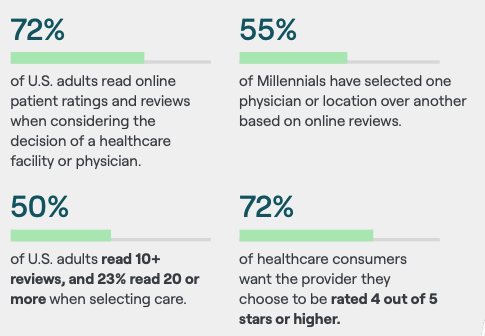 Our take:
The fact that most doctors don't have reviews (vs. consumer expectations) is a problem for patient acquisition. However, insurance networks mitigate that.
There's cultural resistance and perhaps ethical issues complicating review solicitation in the medical field. Lawyers dealt with it so can/should doctors.
The Uberall-Transparency Co. review fraud study found the following percentages of fake reviews: dermatologists (9.2%), cosmetic surgeons (8.4%), dentists (8.3%), pharmacists (1.4%).
Labor Still Short for SMB Employers
New Alignable data shows labor shortages are still a major problem for small businesses in the US. Based on a poll (n=6K SMBs), the study found that about 60% of SMBs overall continue to have problems finding workers. It's more acute in some industries. For example, senior care and assisted living is the industry having the most difficulty staffing its facilities, with 92% of respondents complaining of shortages. Eighty percent of salons, 66% of restaurants, 59% of retailers and 49% of lodging businesses are also having trouble finding workers. Minority- and women-owned businesses are having an even harder time than their peers. Alignable identifies a correlation between failure to fully staff up and lost revenue: "industries suffering from labor shortages also experienced recovery reversals -- with some being quite severe."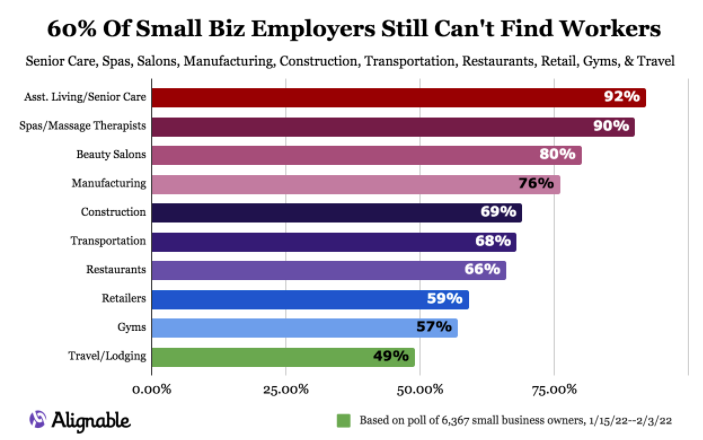 Our take:
Hiring has long been one of the primary SMB challenges. It has become more acute with COVID and "the great resignation."
Worker shortages means business owners need to raise salaries/benefits, which can translate into more customer inflation.
Hiring inefficiency: The people are out there, it's just existing tools and systems are not well suited to the needs of SMBs or workers.
Recent Analysis
Short Takes
Listen to our latest podcast.

How can we make this better? Email us with suggestions and recommendations.