Amazon Style: The Future of the Store
As you've heard, Amazon is opening a new retail store in LA: [Amazon] Style. It's a clothing store that tightly integrates digital technology into the store experience. Many retailers have dabbled in this, with in-store app experiences, QR codes, AR and mobile checkout. Amazon Style will push this further and help define a next-generation retail experience. Based on the video and information in the Amazon blog post, Style appears to be thoughtfully designed. The store will sell clothes but also function as a showroom for online ordering. Personalization and expedited checkout will feature prominently. "Amazon Style offers more selection than a traditional store of its size—more than double the number of styles—without requiring customers to sift through racks to find the right color, size, and fit."
Our take:
Amazon Style appears to offer a much deeper integration of digital and offline experiences than we've seen to date with other retailers.
Mobile will be central to the store experience and personalization. Users will also be able to purchase scanned in-store items online, later.
It's not clear yet whether Amazon Style will succeed with shoppers, but it will help define the future of apparel retail, if only as a proof of concept.
Facebook Ad Spend Migrates to Android
A new report on Q3 social media ad spending from Tinuiti (lead-gen) finds that Facebook remains as popular with marketers as ever. However, the study documents how ad spending has shifted from iOS to Android following the Apple iOS 14.5 Apple's AppTrackingTransparency  (ATT) rollout last year. More than 90% of Facebook impressions are on mobile devices. In Q3, overall impressions on Facebook fell 13%, while spend grew 29% and CPMs were up 47%, finds Tinuiti. Instagram generally performed better, with impressions, spending and CPMs all up. Android-related ad spending grew "86% year over year in September compared to 12% growth for iPhones." However, iPhone-based impressions remained stable YoY. One of the major impacts of ATT is that Facebook can't as accurately report post-click behavior and transactions. This is especially true on the Facebook Audience Network, which has been much more impacted than Facebook itself.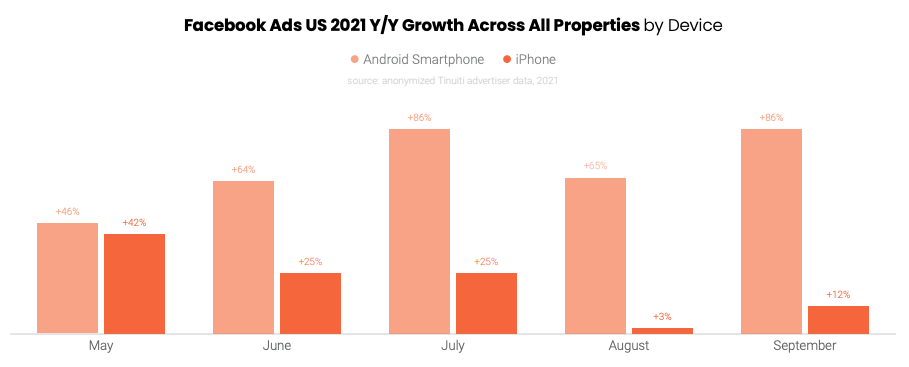 Our take:
Instagram leads Facebook for ad spend and impressions on iOS.
Only about 14% of US users have opt-ed in to app tracking on the iPhone. But a relaxation of ATT by Apple has allowed Facebook to continue tracking iOS users.
Antitrust PR, Lobbying Go into Overdrive
Multiple bills are now in Congressional committees seeking to punish or restrain the power of the big tech companies. Most of them will fail. However today, the Senate Judiciary Committee, in a bipartisan vote, advanced "The American Innovation and Choice Online Act" to the Senate floor. Among other things, it prevents "self-preferencing" vs. competitors' products (think: Google Maps, Shopping at the top of the SERP). Before it can pass the Senate, let alone the House, it will probably require revisions. Yet it now has a decent shot to become law. The targeted companies have intensified their lobbying, with Apple and Google CEOs Tim Cook and Sundar Pichai now personally involved. Google is also enlisting, as Facebook has before it, SMBs to pressure on legislators to opposes "controversial bills." And in a recent blog post Google showcased multiple arguments against antitrust reform: harming consumers/SMBs, hurting US tech leadership and negatively impacting privacy/security.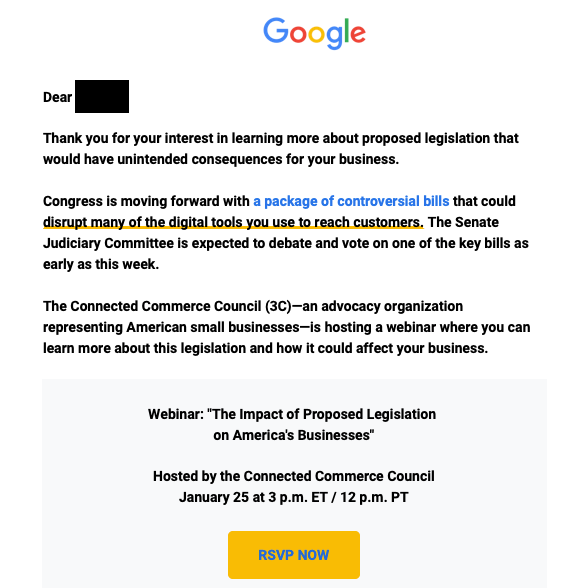 Our take:
The window to pass antitrust reform and related legislation is closing. It will happen this year or not at all.
Interestingly, Microsoft is not in the regulatory crosshairs. While Google's arguments are entirely self-serving they may also have some merit.
Reform is needed, but competition is the ultimate remedy. Thus any legislation should advance competition rather than be punitive.
Short Takes
Listen to our latest podcast.

How can we make this better? Email us with suggestions and recommendations.