After nearly 3 years of uninterrupted output and 133 podcasts, Near Media will be taking a short hiatus through November 1. We'll resume publishing on November 3.
Will Generative AI Kill SEO?
Search and SEO have been in a state of constant change since the 1990s. However, this moment feels bigger and more seismic, with the advent of OpenAI and "conversational" search. The phrases "answers not links" and "zero-click search" take on new meaning in a world where AI may push traditional website results further to the margins – or down the page. Nobody knows yet exactly how disruptive AI will be to classic search. But Mike King elegantly and scientifically speculates in a lengthy article, taking on the technical side of Google SGE while trying to assess its "threat level" to site traffic by way of anticipated search behavior changes. (The article is well worth reading.) A less technical and roughly parallel article in The Conversation argues that generative AI will significantly damage the SEO industry: "As the quality of AI-generated answers improve, users will have less incentive to browse through search result listings." It predicts an unavoidable impact on SEO and search ad revenues. This is yet another version of the "SEO is dead" argument that appears every few years. Yet it's hard to shake the idea that, while SEO surely isn't dead, it could be dramatically affected by AI capabilities and changing search behaviors.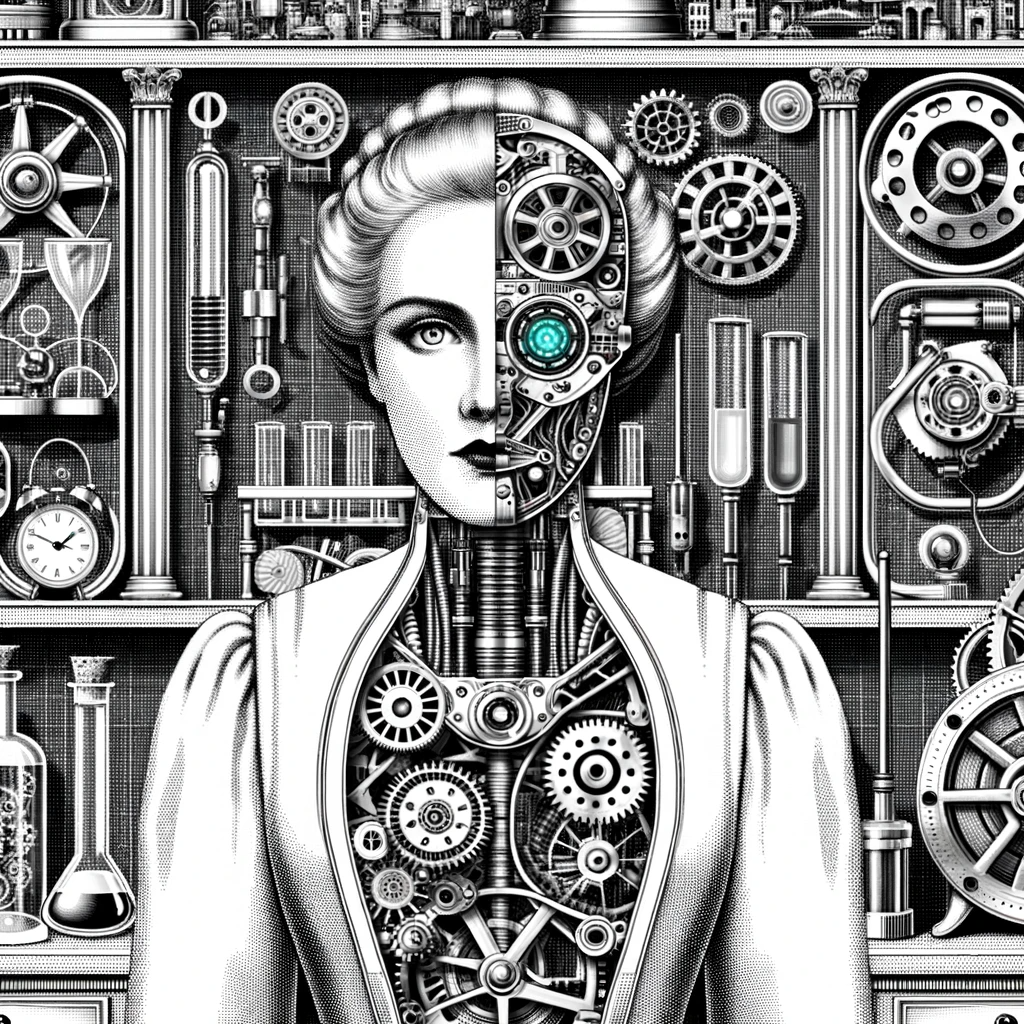 Our take:
A big question right now is: will Google's moves with SGE and Bard pre-empt defections to challengers: BingGPT, ChatGPT, etc.?
We at Near Media don't all agree on this point; however, I do think that AI will disrupt Google in some meaningful way eventually.
I see it in my own behavior. Roughly 20% to 30% of my own "search activity," that would have gone to Google, is now over at ChatGPT.
Report: 20% Have Faked Reviews
A new consumer benchmarking report looks at how people use search, product reviews and other online resources while shopping – online and off. Reviews feature prominently in the report as a source of trust. Most interesting among the review-specific findings is the stat: 20% of shoppers have written a fake review of a "product they have never purchased or owned." The most common reason is "to support a friend's business." Other reasons include expressing opposition to a company, a previous bad experience (unrelated to the product), desire to help a competitor and satire/comedy. This behavior is more common among younger users (34%) but it extends across age groups. The survey of 1,500 "online shoppers" in North America claims to be representative of the general population. I'm skeptical that the numbers can be extrapolated. But if so, it's pretty staggering. The most common source of review fraud is business owners trying to improve their own visibility and conversions with fake reviews (in various forms). Friends and family writing false positive reviews is in that bucket.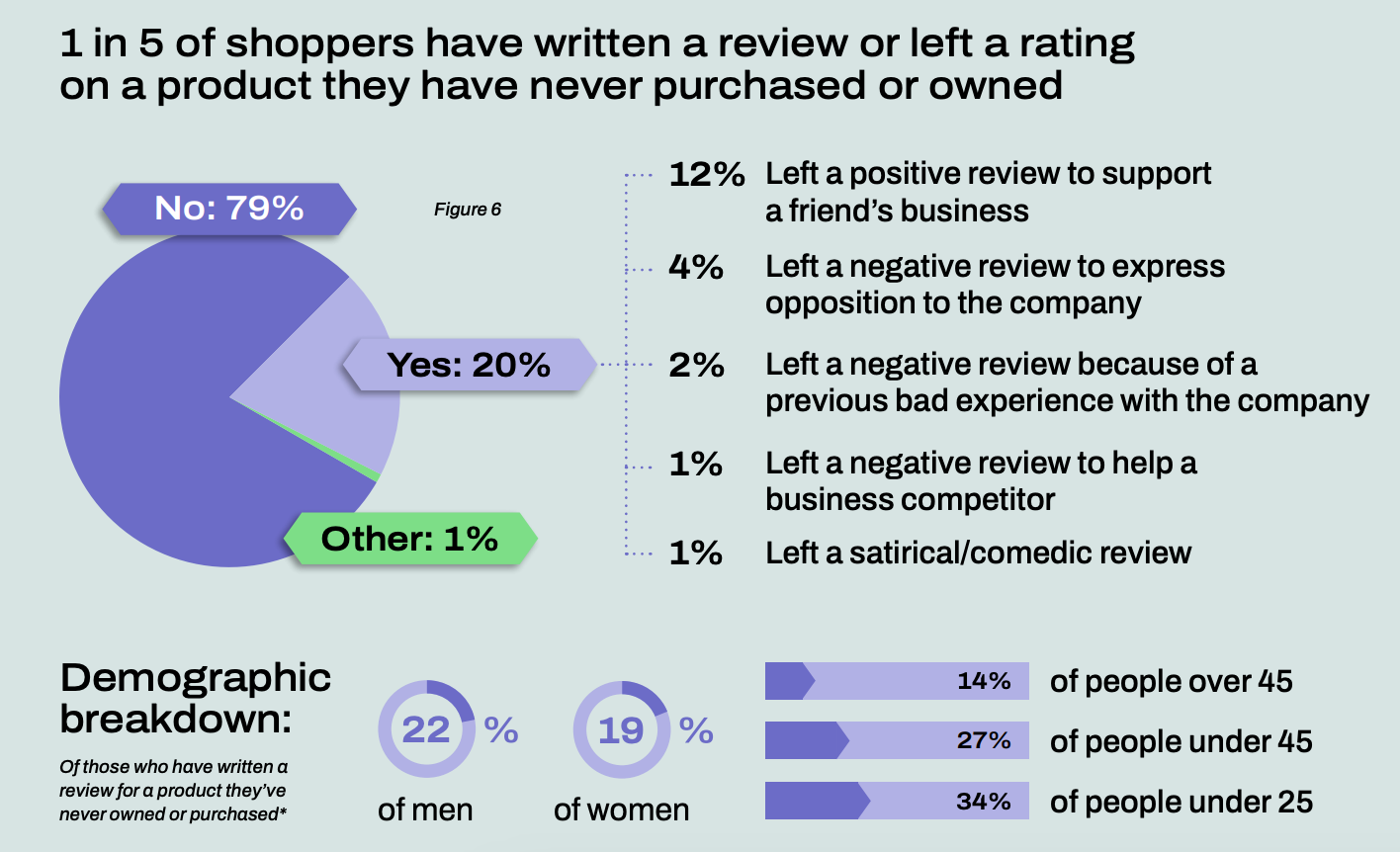 Our take:
BrighLocal's most recent consumer survey says: "95% of consumers left an online review in 2022, or would at least consider leaving one."
What that practically means is the vast majority of online users participate in the reviews ecosystem with varying degrees of frequency.
There are ~300M US internet users. If we can extrapolate, the 20% number would mean ~60 million people have written at least one fake review.
Midjourney Reigns Supreme
AI is the fastest growing software category, by new product growth. That's according to a new "state of software" report from B2B software reviews marketplace G2. The company says it has cataloged 1,078 total AI vendors and more than 1,200 AI powered software tools and products in roughly the past 12 months. The fastest growing sub-category of AI is "synthetic media," which includes AI-generated video, images, text or voice. AI-writing tools are second, followed by text-to-speech (which pre-dates "AI") and chatbots. Among specific AI tool providers, Midjourney is ranked number one (most visited), followed by OpenAI's ChatGPT and DALL-E. Google and Microsoft offerings aren't on the list, presumably because they're not independent software products. The G2 report breaks out other software categories in similar fashion. Yet AI will soon be a feature of all of them; there won't be a separate "AI software" category because it will be infused in nearly all software applications in one form or another.
Fastest Growing AI Software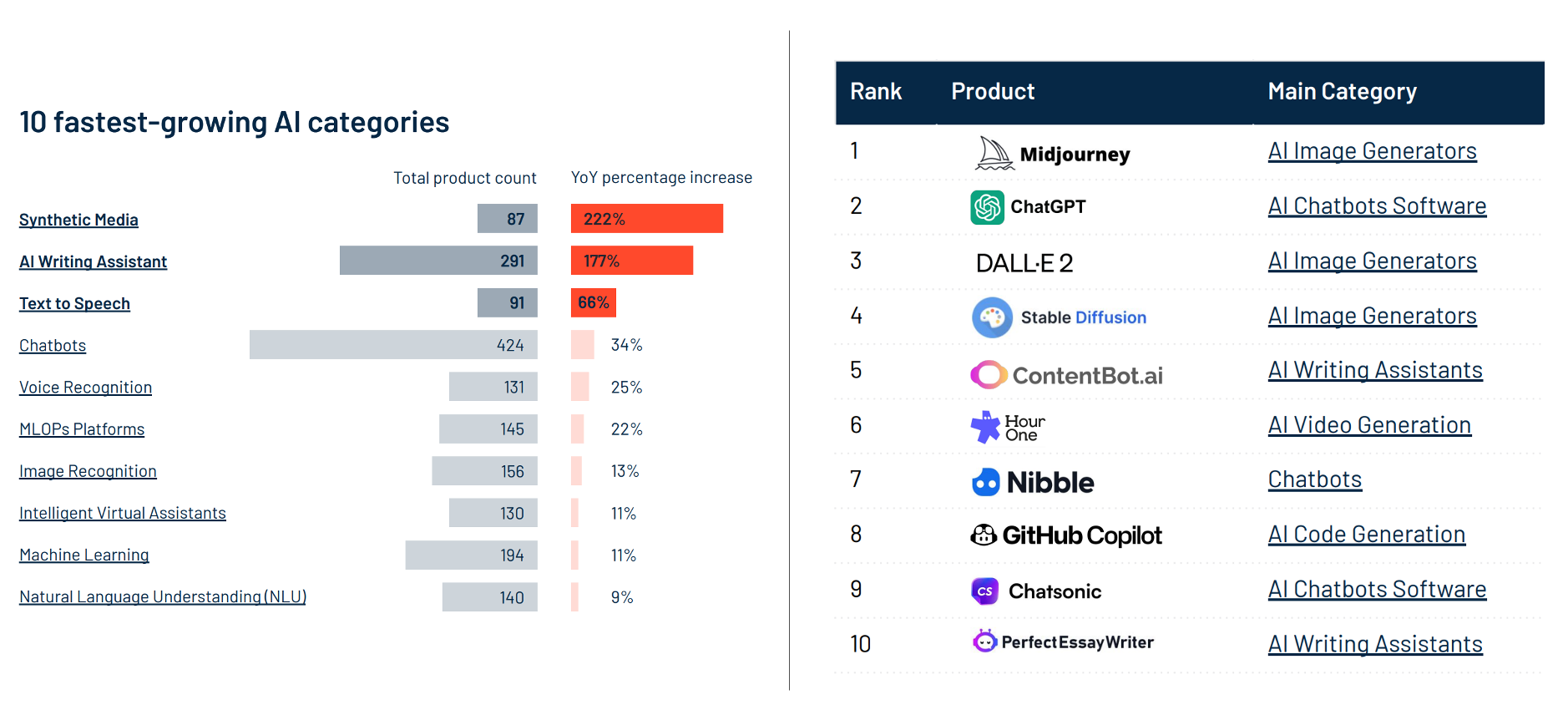 Our take:
There's no question AI tools are being adopted like crazy, up and down the the B2B food chain. Despite the feeding frenzy, we can't yet asses their full impact.
Will AI primarily affect the B2B software landscape or will consumers equally be using AI in their search, retail and vertical activities and inquiries?
The two biggest B2B opportunities are time/productivity gains and simplification – making challenging software easier to use.
Recent Analysis
Short Takes
Listen to our latest podcast.

How can we make this better? Email us with suggestions and recommendations.