New Google Ads: In-Store Goals, Video, AR
Google I/O led with local and announced numerous changes, updates and improvements to search. Yesterday's Google Marketing Live was a kind of parallel event for Ads. But there were too many announcements to discuss here. Of specific interest, Google is updating Performance Max to support in-store sales goals/optimization. New "burst campaigns" will "help meet in-store goals during shorter seasonal events." Google also announced video ads in the Discover feed, which is partly based on search activity; so these are kind of backdoor video ads in search. New interactive/swipeable Shopping ads in apparel SERPs will be even more "visual." And Google is integrating more 3D models into mobile SERPs, which directly take the user to a "view in your space" AR experience. You can watch the full GML keynote below.
Our take:
Just as ML/AI are advancing organic search and enabling things like visual search, Google said "AI-driven advertising is our future."
As search becomes increasingly visual that's being echoed on the Ads side, with new formats, more video and more visually engaging ad units.
Google's Jerry Dischler: "We're transforming the SERP into an endless stream of visual ideas." Would have been heretical at early Google.
Niantic's Real-World Metaverse
Niantic, the company that brought you Pokémon Go and other AR games, held its first "Lightship Summit" this week. Niantic is evolving from an AR-based game developer into a platform for other developers. There were two significant announcements: Niantic's Visual Positioning System (VPS) and Campfire, "a real-world social network." VPS allows AR experiences to be anchored to precise physical locations. It's available for 30K places in San Francisco, LA, Seattle, New York, London and Tokyo. These are "a collection of publicly accessible places that include parks, paths, landmarks, local businesses and more." Campfire is a location-based social network designed to help create audiences for developers on Niantic's platform. "Campfire taps your Niantic account's list of friends to show their locations on a map if they opt in, along with nearby in-game experiences. You can organize and RSVP to real-life meetups for these experiences."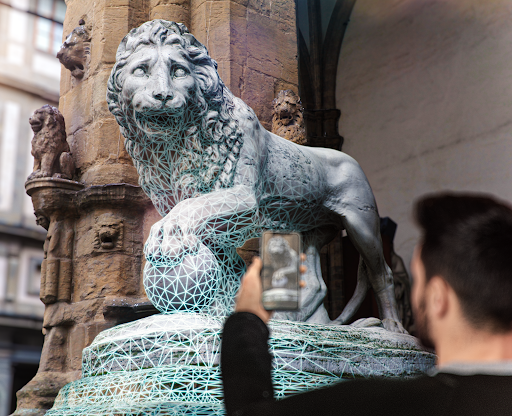 Our take:
Niantic is building "a 3D map of the world." The company is also enabling AR development for the web, not just apps.
Campfire is very interesting and has the potential become a successful social network in its own right. The offline dimension would be unique.
Niantic is creating critical infrastructure that will accelerate AR deployments. AR will thus leap ahead of VR in mainstream adoption.  
Survey: What New Tech Will Stick?  
Tech insiders tend to fixate on "what's next" and "shiny new objects." But what do "ordinary users" think of crypto, AI or the metaverse? A new YouGov survey (n=1,000 US adults) asked four questions about 16 "emerging technologies": 1) have you heard of it?, 2) will it become widespread?, 3) will it be good for society? and 4) should government invest in it? The most recognized technologies (in order) were: self-driving cars, 3D printing, VR, AI and crypto. DAOs and brain-machine interfaces were the least well-known. Respondents said 3D printing, VR, AI, artificial organs were most likely to become widespread. Most socially beneficial were: 3D printing, artificial organs, quantum computing. Least beneficial were NFTs, metaverse and cryptocurrency. The survey doesn't define these technologies or ask about respondents' actual experiences with them, just whether they had "heard of them."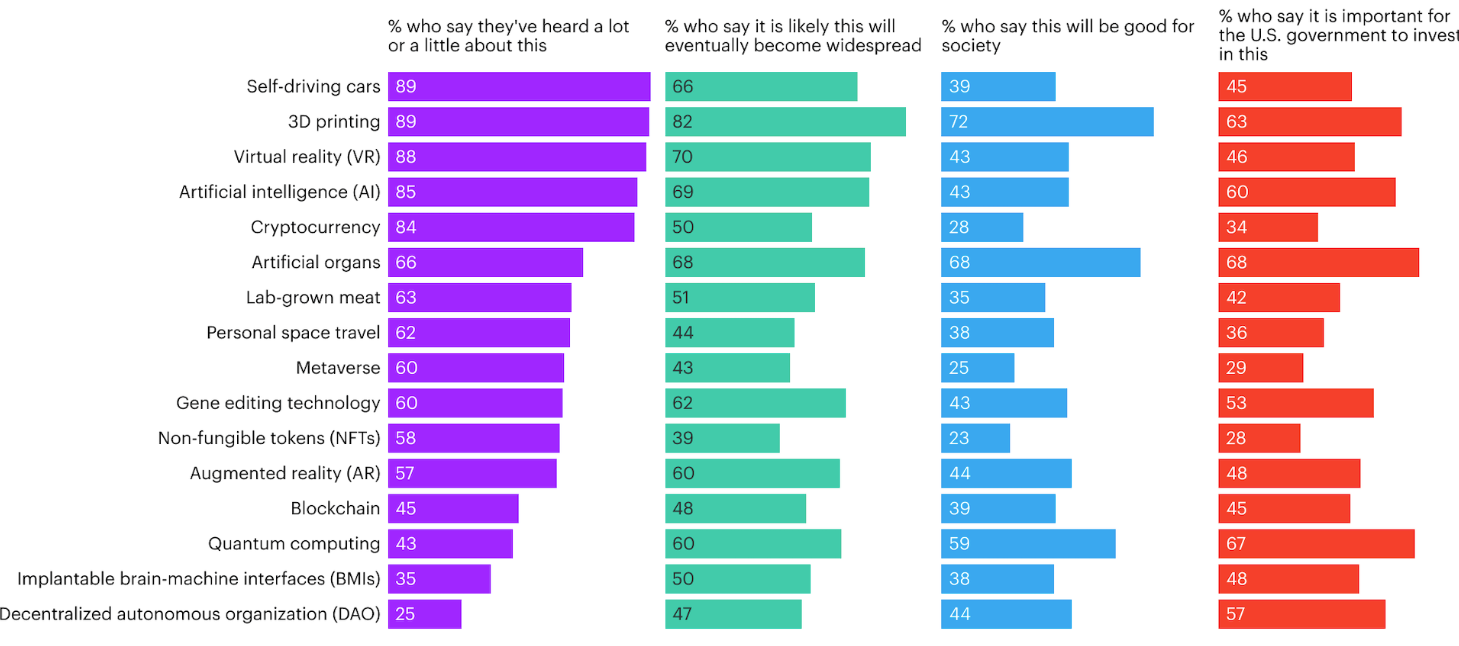 Our take:
In one sense, this survey means nothing. But it's interesting to gauge public perceptions. While it's not 100%, they can influence behavior.
The biggest gaps between expected adoption and social good were seen with self-driving cars, VR and AI. People had heard of these but didn't see their social benefits being commensurate with their hype.
There's an interesting gap in awareness among related technologies: VR (88%), the metaverse (60%) and AR (57%). Yet AR and VR were seen much more positively vs. the metaverse.
Recent Analysis
Short Takes
Listen to our latest podcast.

How can we make this better? Email us with suggestions and recommendations.