Local and Organic Drive 73% of Page Views
If you didn't already know, the two most effective digital channels are organic SEO and local (Google Local Pack), according to new findings from Milestone Research (form). Together they're responsible for 73% of page views across a range of business categories. The study examined 500 locally oriented business websites (e.g., hotels, restaurants) and looked at millions of sessions and page views over 18 months. Beyond organic SEO and local, other channels tracked were: links/referrals, paid search and social. Social was a very small contributor, but referrals and paid search delivered almost 18% of traffic. Local and organic search were also responsible for 70% of revenue, with local growing from 21% to 28% during the study period. Local also had higher engagement and conversions than organic, though organic had higher overall volume.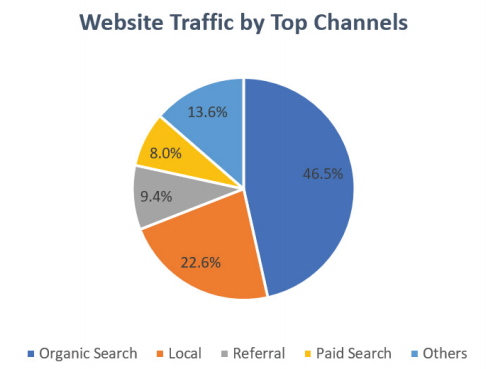 Our take:
The report found local traffic was now above pre-pandemic levels, suggesting more people are using the internet more often for local information.  
It also argues that local search and general SEO are underfunded vs. other channels when compared to the ROI they deliver.
Among traffic sources, local clicks offer the greatest value because these users have the highest purchase intent vs. other channels/users.
NYC Mandates 'Vaccine Passport' for Indoor Activities
New York City became the first major city to require people at indoor locations to show proof of vaccination, starting September 13. The first business categories are restaurants, gyms and entertainment venues (e.g., theaters). Following NYC's lead, San Francisco may do something similar. There are several ways New Yorkers can provide vaccination evidence – essentially a "vaccine passport" – which collectively fall under the "Key to NYC Pass" program. Unvaccinated individuals will not be allowed into these indoor environments. It's likely that the vaccination rule will extend to other business categories, including retail. NYC Mayor de Blasio said owners who fail to comply or are lax in enforcing the new rules will face fines.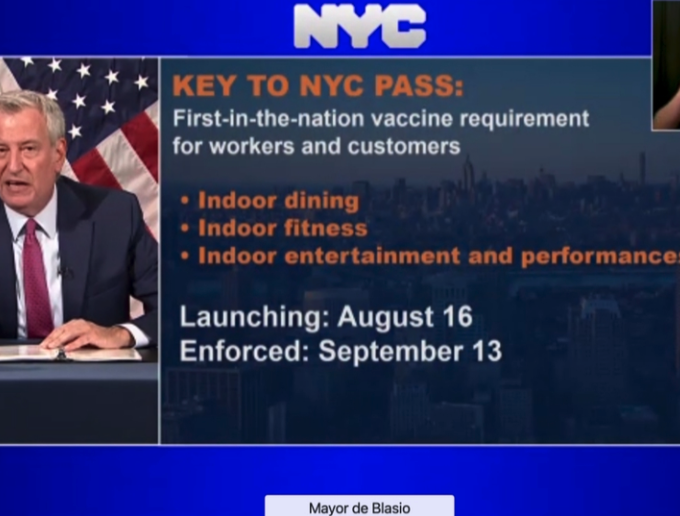 Our take:
The NYC rule comes amid rising COVID infections, fueled by the Delta variant. It also reflects recognition that voluntary vaccinations have plateaued.
Proof of vaccination will probably only become law in a few major cities because of political vaccine resistance in many states.
Enforcement is again left to individual businesses, which will put some in a tough spot because of confrontations and subterfuge.
Survey: Only 22% Shop Online, Offline 'Equally'
As more buying moves online, trust is a key variable to long-term e-commerce success. That's one of the conclusions of a survey based Morning Consult report recently released. Data privacy/security, reliability and value for the price are the top three trust factors for shoppers of both physical retail and online stores. Responsive customer service is next. Among other findings, the survey tracked how shopping patterns have recently changed. Before the pandemic, 69% of American consumers shopped "mostly in person." Today that number has dropped to 52% (17 points). The online-only audience has grown too, from 13% to 24% and the "both, equally" audience grew from 16% to 22%. These figures change by vertical and demographic segment.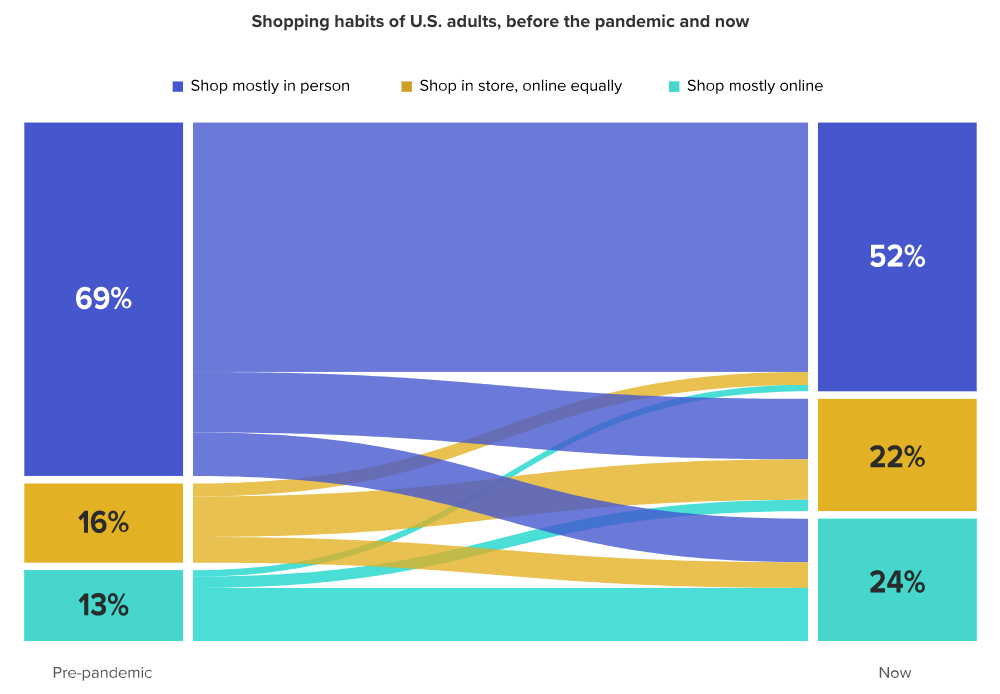 Our take:
I'm struck by the relatively small percentage that said they shop both online and offline equally. The term "equally" may be the problem.
The number of people who shop both online and offline should be the largest group – like a bell curve. Some lean offline or online. But "both" should be 80%+ (other surveys show this).
As part of its conclusion, the report recommends investing in key areas that will help build trust (e.g., data protection and customer service).  
Short Takes
Listen to our latest podcast.

How can we make this better? Email us with suggestions and recommendations.