The (New) Ethics of Targeting and Tracking
For 20+ years, digital marketers essentially captured as much data as they could about consumer behavior and identities, as quietly as possible – so as not to alarm or alienate customers. Terms revealing the types and potential uses of data are typically buried or surrounded by confusing legalese. Hence the privacy backlash we're in now. But bad behavior persists. A case-in-point: Instacart partner Stripe captured Instacart user data without actual user knowledge or consent. Plaintiffs sued and lost because Instacart was found to have made sufficient disclosures – sufficient to insulate Stripe, its partner, from liability.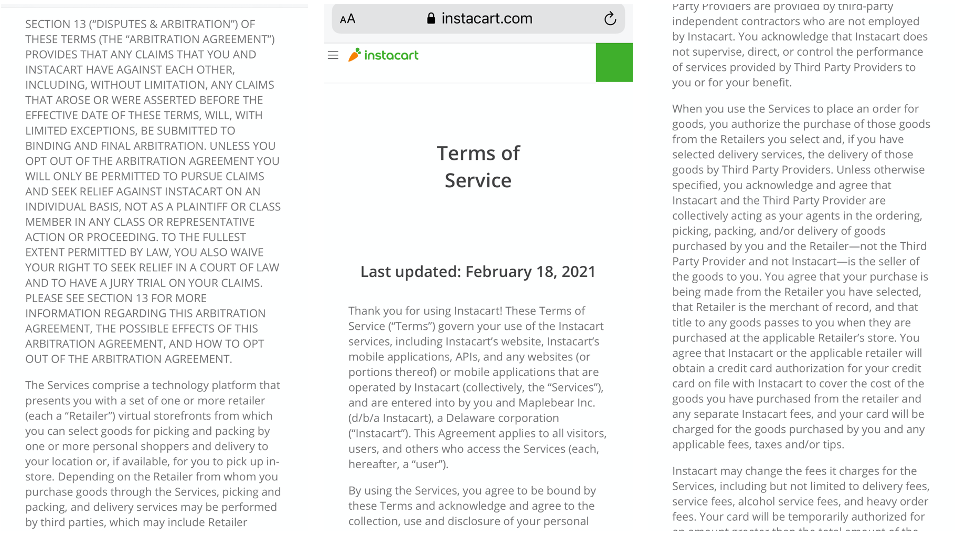 Our take:
Instacart's terms on a mobile phone span many screens and 21 clauses. Only a tiny minority will click "terms" let alone read and understand them.
One of many surveys, Deloitte found in 2017: "91% [of consumers] willingly accept legal terms and conditions without reading them before installing apps."
There should either be an opt-in (i.e., Apple ATT) or clear disclosures and a simple opt out. Everything else is unethical – and should be illegal.
In-Store Shopping: Quicker Trips, More Planning
Recent consumer survey data from Ubimo finds that in-store shopping frequency is increasing and exceeds pandemic shopping trips, which makes sense (Delta notwithstanding). Nearly all shoppers (95%) are leaving their homes at least once a week to go to the store (grocery, pharmacy), with most shoppers making two to four or more trips per week (graphic below). Ubimo also found that same-store loyalty had increased post-pandemic, with younger shoppers showing greater loyalty than in the past. But people are also making quicker, more efficient trips that include increased pre-planning. The research then talks about the need to use media (specifically OOH) to influence those trips before they happen.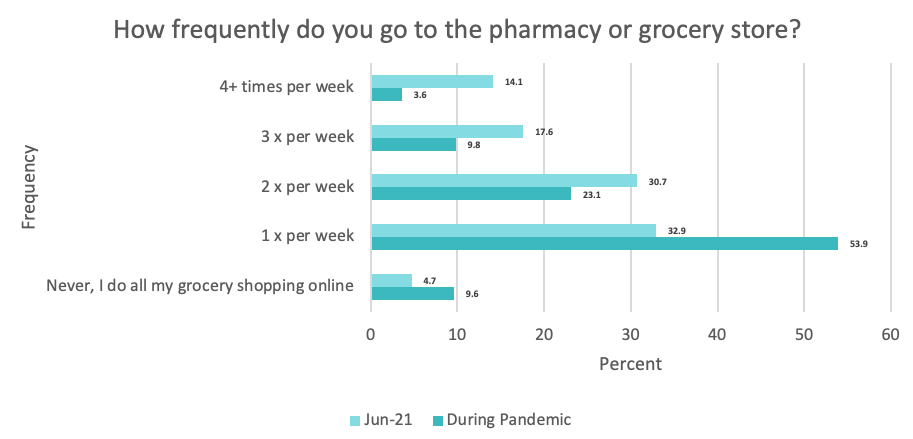 Our take:
This research is intended to support OOH though still interesting. Consumers have always used the internet before making offline purchases.
Now it's happening more frequently and for lower-value purchases. Shoppers often do this research without a specific channel in mind.
Unanswered question: whether in-store merchandising will be less effective now, given these more single-minded shoppers.
Will Delta Kill Conferences in 2021?
We thought and hoped that live events were finally back. Yet the Delta Variant has other ideas. There are a range of in-person tech events coming up in the second half of 2021. I'm supposed to attend some of them and was looking forward to going and reconnecting with people. Like others, I'm not sure now. While Delta probably won't kill live events entirely – there's so much pent up demand for in-person networking (and virtual event burnout) – it will dampen IRL attendance. To gauge sentiment, I asked people on Twitter and (mostly) LinkedIn whether they were still planning to attend scheduled events. With just under 150 responses (so far), the numbers are split evenly across categories, though two-thirds are "probably not" or leaning no.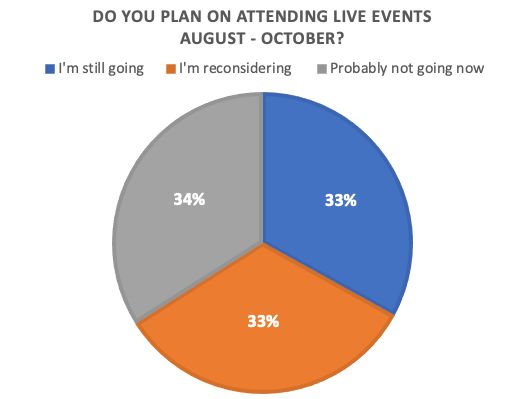 Our take:
This is a non-scientific poll with a small sample and should be read cautiously. However, it reflects ambivalence people now have about in-person events.
The thought of sitting in a windowless hotel ballroom in a mask is not pleasing. And audience Q&A mumbling is like something out of Charle Brown.
We all assumed "it was over" at least for the vaccinated. Instead, we're sliding back into previous pandemic routines and precautions (e.g., indoor masking).  
Short Takes
Listen to our latest podcast.

How can we make this better? Email us with suggestions and recommendations.