Google Testing 'Find Results' on Yelp in Local SERP
Early last year Google implemented a new local SERP in Europe, featuring a carousel that pointed to other directories and local search sites as a way to find additional results for the same search. This was part of Google's effort to comply with EU antitrust decisions. A similar screen was recently spotted in the US. Triggered by the query "Dallas movers," it features Yelp, Groupon and Craigslist among others. It's clearly a test and we couldn't reproduce it.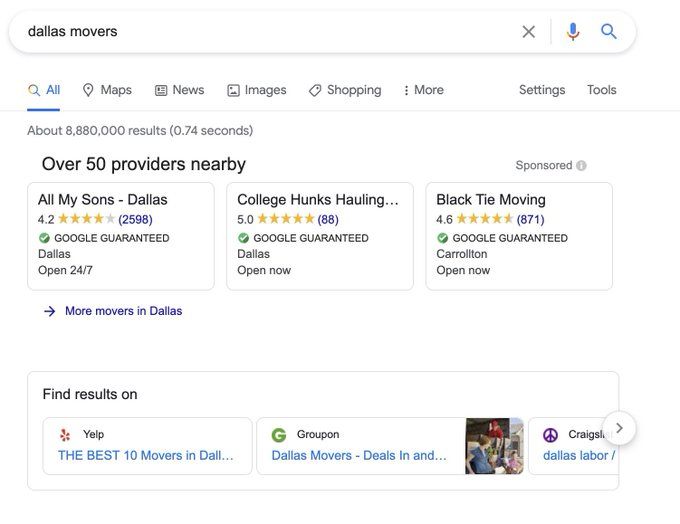 Our take:
Google is likely trying to get in front of antitrust litigation with this test so it can showcase this SERP as a possible "remedy."
We're not aware of how this "find results on" carousel has performed in Europe for the featured sites. Eligibility criteria were never revealed.
The carousel shows between 2 and 5 sites based on the category. Regardless, it's unlikely to satisfy Google critics.
States Starting to Regulate Big Tech
North Dakota's state legislature is considering a bill that would prevent Apple and Google from taking a 30% cut of app-related sales. This represents many billions in annual revenue to both companies. North Dakota hopes it will attract developers. Other states, including New York, Florida, Maryland, Connecticut and Indiana are considering a range of new laws that would tax tech revenues or regulate content on the major platforms. Other than Commerce Clause case law potentially, there's no federal law that obviously pre-empts or prevents this.
Our take:
Proposed state regulations partly seek to address issues the federal government has neglected (see privacy) and are partly opportunistic, as in North Dakota.
Big tech companies will now be forced to lobby on a range of issues in multiple states simultaneously. There will also be lots of litigation.
Expect more states to be emboldened and follow suit, creating a regulatory and compliance mess for big tech companies.  
Google Fined in France for Misleading Hotel Ratings
Google was fined €1.1 million ($1.34 million) after a French regulatory investigation found Google's local hotel star ratings were potentially misleading to consumers. Google used its own ratings in lieu of official hotel star rankings. This was determined to be a deceptive business practice. Five stars on Google didn't mean a five star hotel in the formal sense. The company has since implemented the official French hotel ratings classifications.
Our take:
Depending on how jaded you are, Google's move was either naive or arrogant.
In larger context: EU regulators are trying to exercise much more control over more aspects of big tech's operations and content.
For reviews, this is only the beginning of regulation given the prevalence of questionable reviews on Google and other review sites.
Short Takes
Please let us know what you think. Email gsterling@nearmedia.co with suggestions and recommendations.