Poll Finds Digital Ad Burnout from Screen Overload
Are people paying less attention to digital advertising? A new survey from Harris for OAAA, the out-of-home (OOH) trade association, argues they are. Three-fourths (75%) of consumers said they're increasingly "tuning out" digital advertising, due to "excessive time" on screens. At the same time, they're noticing OOH messaging more. This was most pronounced in cities, where 34% of residents said their purchase decisions are influenced by OOH ads. There were other survey findings but these are the big takeaways.
Our take:
One must be skeptical of these findings because they're self-serving, but "banner blindness" has been and continues to be a real thing.
Digital and traditional media are ultimately complementary, unless your budget won't allow it.
OOH is a strong awareness medium and smartphone location data now makes it directly measurable as a performance medium as well.
Brand Loyalty Is Down – Or Is It Up?  
Pundits and consultants such as McKinsey and Deloitte, among others, argue COVID-19 disrupted consumer loyalties and motivated people to try new brands. A new survey from Yotpo argues exactly the opposite: COVID has strengthened brand loyalty. The company polled nearly 4,000 adults in three countries. While loyalty was flat for the majority, it actually increased for 26%. The survey also found the number of brands to which consumers were loyal had increased. People were more likely to be loyal to brands aligned with their values and were willing to pay more for products from favored brands.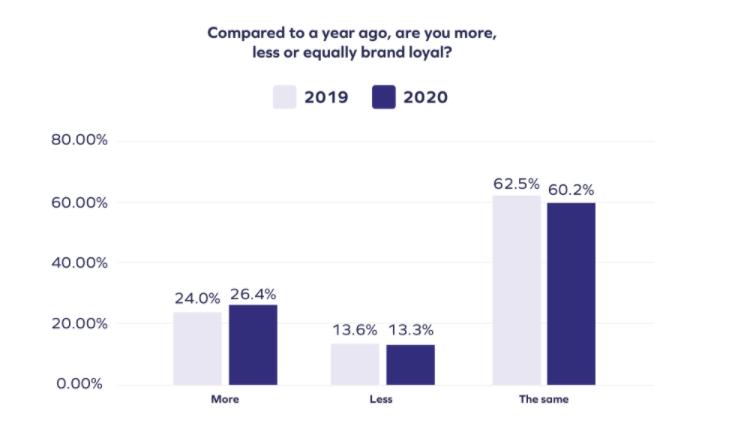 Our take:
It's tough to reconcile these finding with the COVID "brand disruption" narrative, which is based on numerous surveys from multiple sources.
Surveys can be a blunt instrument and often fail to capture nuance or real world behavior. But the question in the graphic is pretty clean.
What we can say is this: brand loyalty still exists but its rules and requirements are rapidly evolving. More on that later.
Wearables As the Successor to Smartphones
According to this analysis, the Apple Watch now resides on more than 100 million wrists. Roughly 10% of the installed iPhone base has one; in the US it's 35%. But the Apple Watch's adoption is accelerating and there really isn't any meaningful competitor. The larger question is whether wearables will take over from smartphones. Cost, comfort, style and function are key variables. Next up: a new generation of smart glasses being developed by Apple and Facebook after an initial round of goofy failures.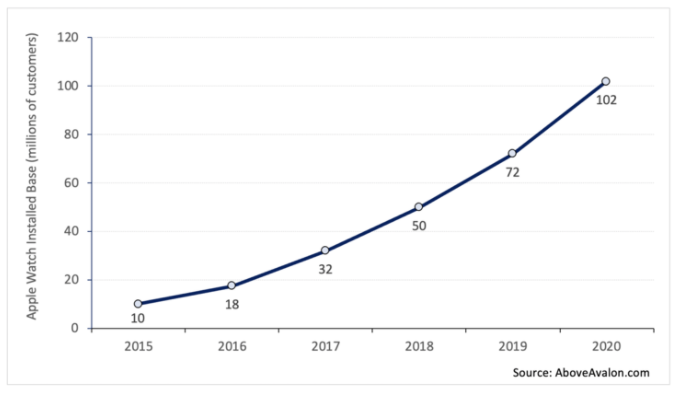 Our take:
Apple doesn't break out Watch sales, but it's part of a category that includes AirPods, which posted $13 billion in holiday quarter revenue.
Google and others stumbled in their initial "smart glasses" attempts. Lessons were learned but getting it right is hard.
The smartphone era is already giving way to a mix of internet access points that include virtual assistants, smart-home appliances, in-car and wearables.  
Short Takes
Please let us know what you think. Email gsterling@nearmedia.co with suggestions and recommendations.