Google's SGE's Pack and Classic Local Pack often overlap but not 100%; Bard is usually an outlier for the same queries.
AI Snapshots exist for most local queries, though there's mobile and desktop inconsistency. Users must often "Generate" them however.
The SGE UI may change. But unless Google declines to roll it out, SGE will likely impact user behavior in a big way.
It's still very early for Google's new SGE-inflected search results. But, assuming no radical changes, it's a good bet that the "Search Generative Experience" is going to change the way users interact with SERPs. Local and products may be two of the most affected segments.
Indeed, SGE is potentially the single most dramatic change in the SERP I can remember in more 20 years of Google watching. Marketers and SEOs with access have been busy tweeting and posting about what they've discovered and what they think it means for the future of rankings.
What follows are observations and some conjecture – mostly about the SGE desktop experience. This will be the first of several articles on how AI is changing the search experience. Hopefully we'll soon have some user research that shows how people are actually interacting with the new results. This article is intended as an informal survey; I don't try to reverse engineer SGE Pack rankings.
Speaking of which, I'm going to mostly call the "AI Snapshot" (the AI result at the top of the SERP) the "SGE Pack" in a local context. I'll refer to the traditional 3-Pack as the "Classic Pack" and the horizontal scrolling carousel in the upper right of the Snapshot as the "Local Carousel" or just "Carousel."
'Best Electrician San Francisco'
For some local queries, Google automatically generates an AI Snapshot/SGE Pack; in other cases it requires users to manually click a "Generate" button. For some queries (e.g., "financial advisors Los Angeles") there's no AI option at all.
Mike Blumenthal found several local categories without AI results on mobile (i.e., plumber, locksmith, moving companies near me). However, on the desktop, I did get an AI option in these categories. It's not clear why Google might choose not to offer an AI option for mobile when it exists on the desktop. I also expected Google to be more hesitant to show AI in YMYL categories but that didn't turn out to be true.
In terms of "best electrician San Francisco," the query doesn't generate an automatic SGE result. It gives users the option to generate one. It will be interesting to see how often and where Google makes AI optional and how often users go ahead an ask for the AI result. This could turn out to be category dependent, based on the user feedback Google is collecting.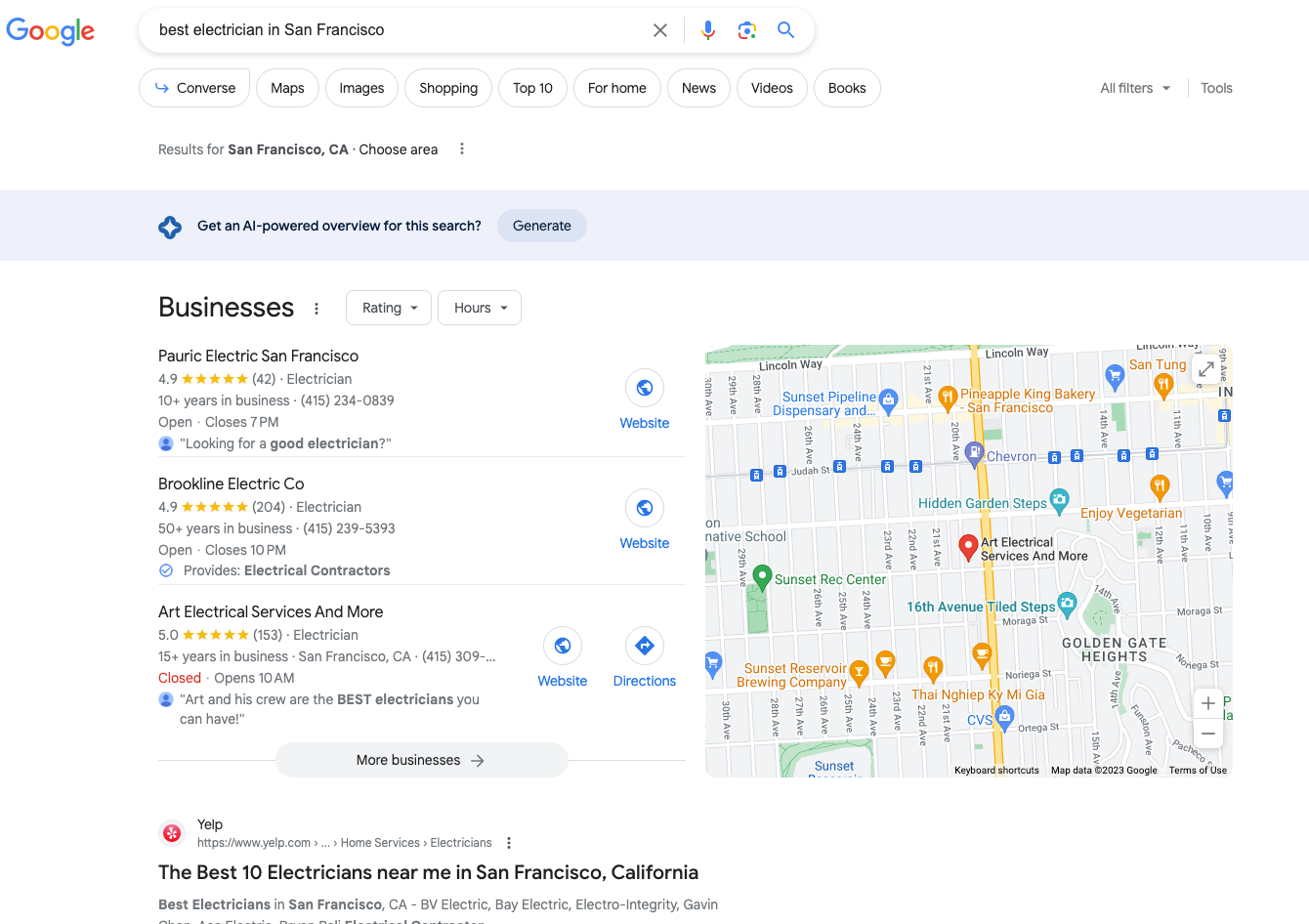 Comparing the traditional/classic and AI results for "best electrician," two out of three Classic Pack listings appear in the SGE Pack. As Joy Hawkins and Mike Blumenthal have noted, the SGE Pack also appears to pull from a somewhat wider geographic area, though perhaps not always. Using the same query, Bard offers up seven results (now with images). Only two overlap with the SGE Pack, but there's zero overlap here with the Classic Pack.
In Bard there's often an overlap with the SGE Pack, less often with the Classic Pack. There's generally more alignment between the SGE and Classic Packs, with two or all three Classic listings showing in the SGE Pack. It appears Bard is on one side, the Classic Pack on the other, with SGE in the middle of the Venn diagram.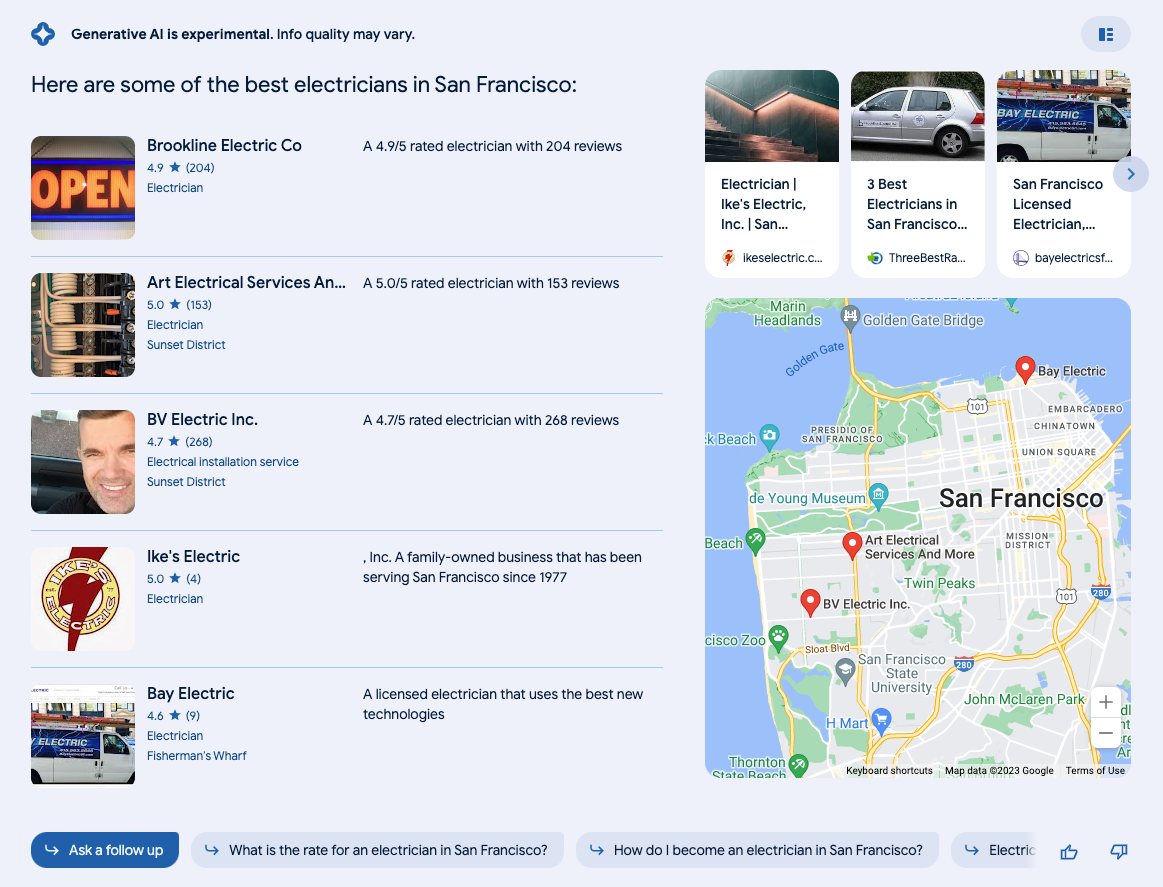 'Best Sushi NYC'
A quintessential local search is "best pizza" or "best sushi" – so, of course. Best sushi NYC automatically produces an SGE Pack with five results, two in common with the Classic Pack. Again, the area reflected in the SGE map is somewhat broader than in the Classic Pack.
In the Local Carousel, there are 14 listings (the number varies depending on the query). Nine are directory sites but five are the same listings from the SGE Pack – in the same order, just left to right instead of vertical.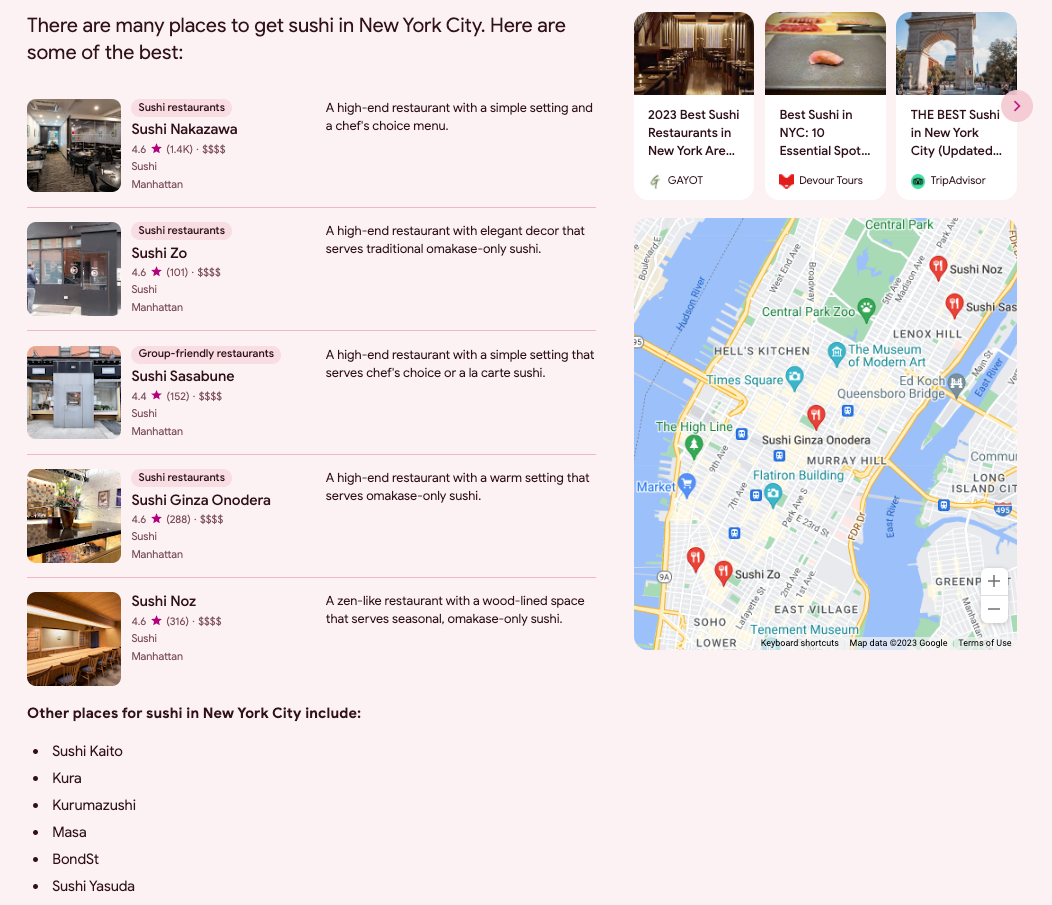 Clicking on a link in the vertical list opens up a local knowledge panel within the SGE Pack. However, clicking on a link for the same listing in the Carousel generates a direct navigation result in a new Google SERP, usually with another AI Snapshot present.
In this case, Bard shares two results in common with the SGE Pack, although one is from the less visible "other places" list at the bottom. It has one listing in common with the Classic Pack.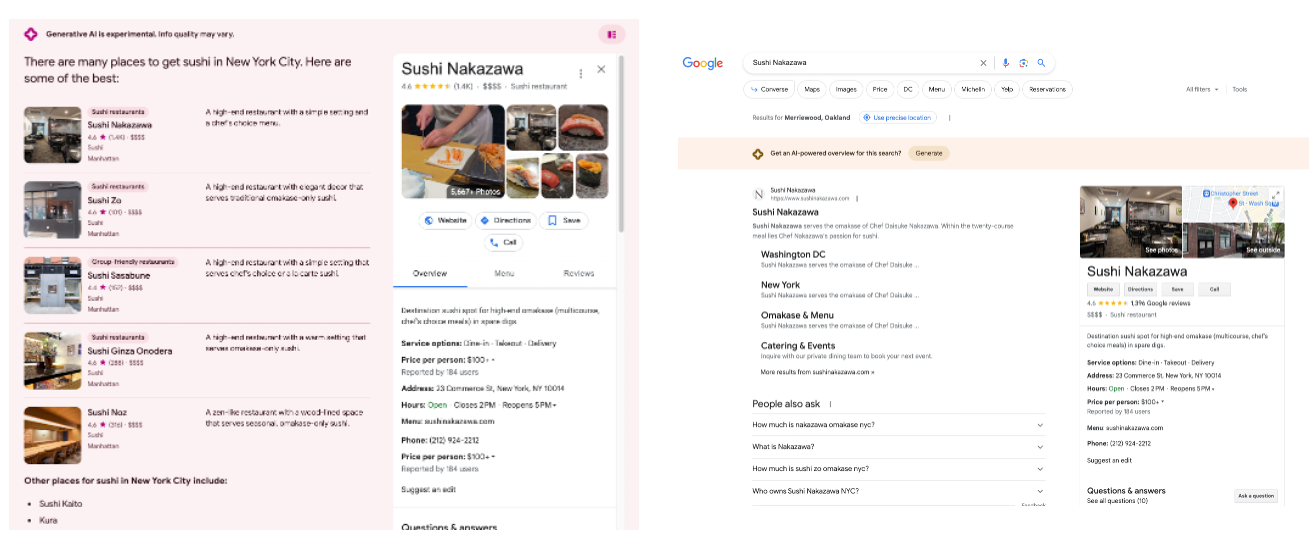 'Hyundai Dealers Near Seattle'
Hyundai dealers near Seattle also required a manual click to generate the AI Snapshot. It produced an SGE Pack with four results. All also appear in the Carousel along with eight directory listings, for a total of 12. All three listings in the Classic Pack appear in the SGE Pack in this case.
Bard shares three (out of four) listings with the SGE Pack and has two out of three in common with the Classic Pack. A query with this much overlap in SGE, the Classic Pack and Bard appears pretty rare so far.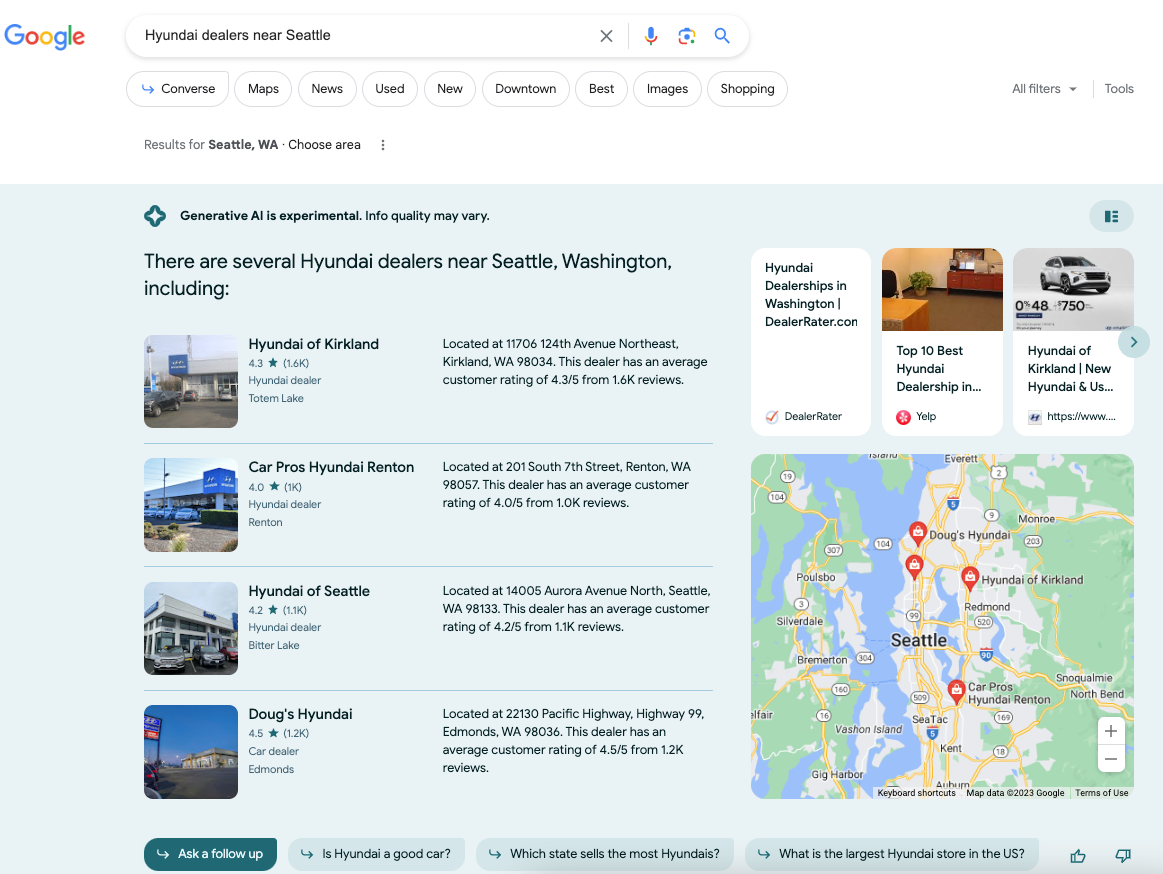 'Best Cordless Drill for Home Use'
This is one of those searches that might carry local intent or might be agnostic: the user appears willing to buy online or offline, based on price or availability. Regardless, Google treats this query differently if it has a location modifier. The SGE results for "best cordless drill for home use" vs. "best cordless drill for home use 94118" are really different.
In the non-local version, the AI snapshot is generated automatically. When the post-code is added, however, the user must click to generate the SGE result. In the non-local result the AI Snapshot is full of product listings (10 total) with images, price information and descriptive blurbs. There's also text with buying considerations, which indicates Google thinks this is a top-of-funnel research query.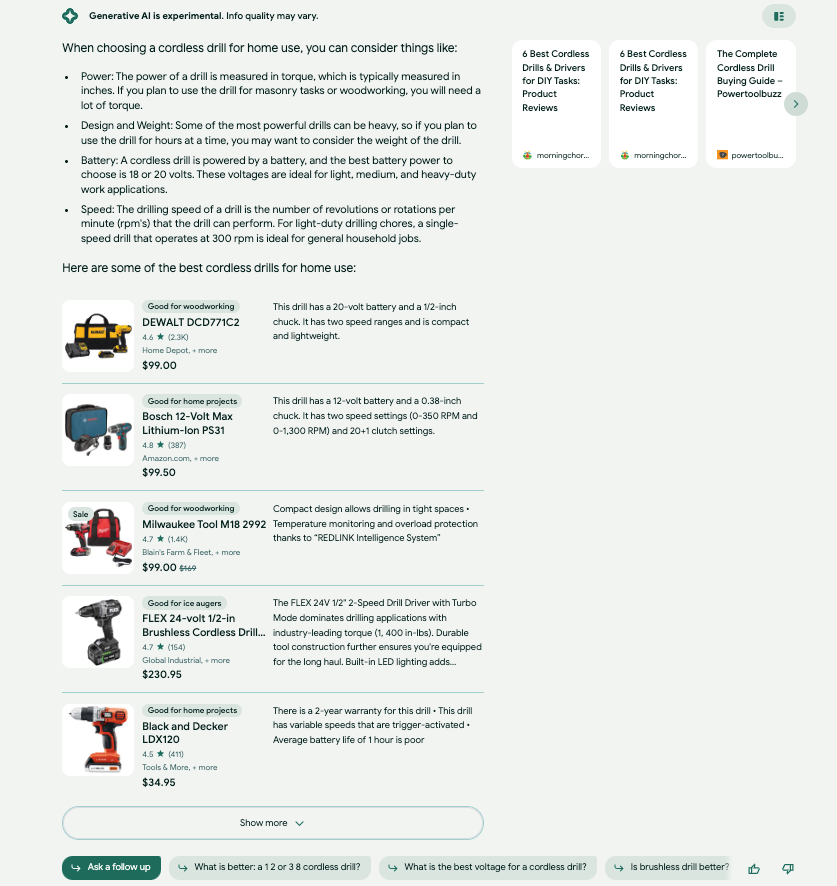 The local version only presents an abbreviated list of products (drills), though five more than in the non-local query. None of the Carousel links match in the two sets of results. Most of the ads, shown above the Snapshot in both cases, are from the same advertisers. In the local query, many also indicate real-time inventory availability, reflecting Google's assumption that local users are closer to a purchase.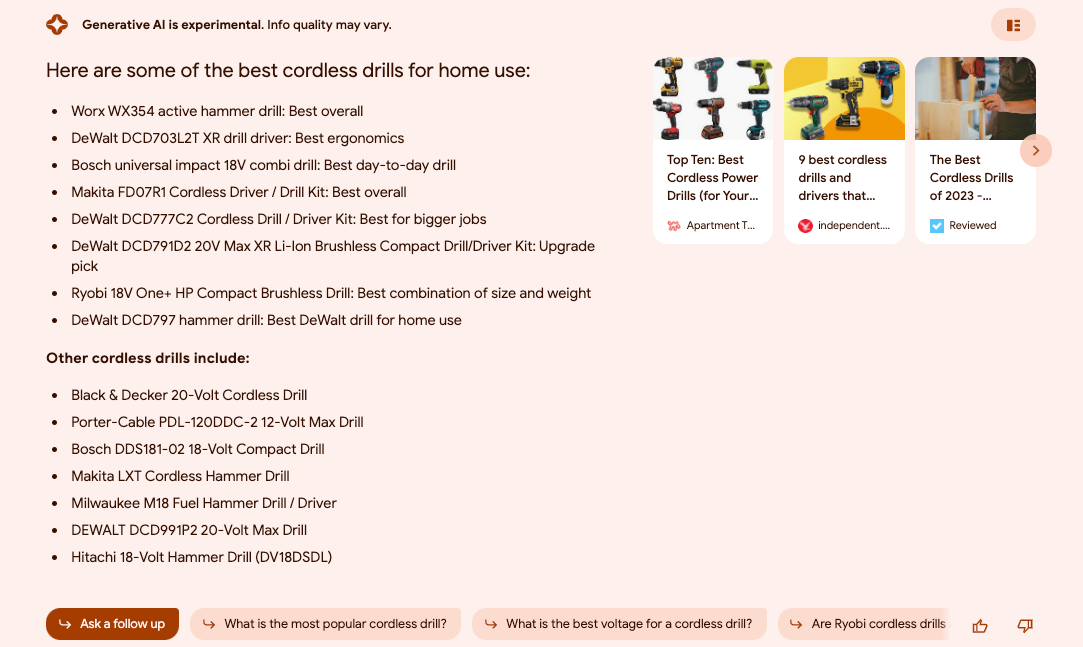 'Best Value Hotels London'
The SGE Pack for this query has only one shared listing with the Classic Pack but that shared listing appears in the "other" section at the bottom of the SGE Pack. Bard has two listings in common with the SGE Pack for this search, and one shared with the Classic Pack.
The Carousel has 13 listings, including all five of the SGE Pack's hotel listings.
In this case, the SGE result doesn't visually dominate the Classic Pack, which appears immediately below it. The Classic Pack has prominent pricing (in green) and highlighted deal badges. The hotels 3-Pack stands out visually more than the SGE Pack, although it's subordinate on the page. In addition, filters at the top of the Classic Pack make it more engaging and useful, which may be because it's a revenue-generating product for Google.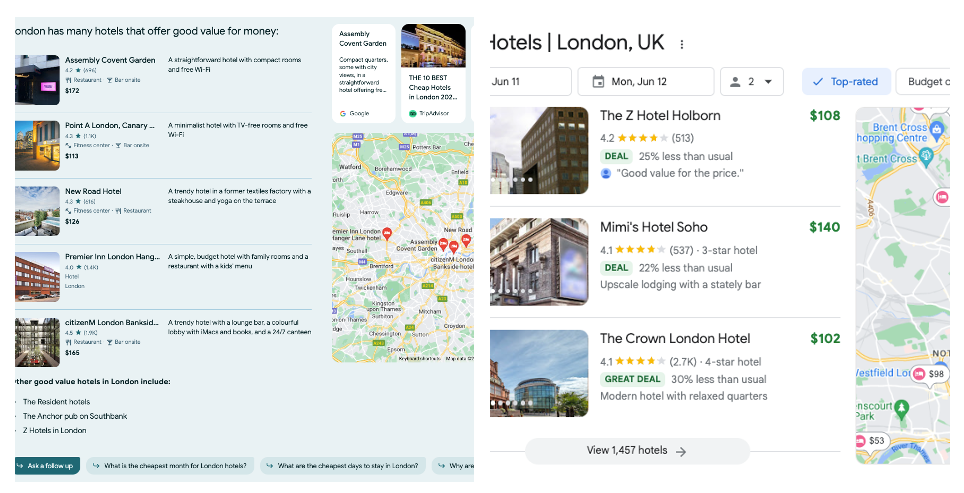 Manual vs. Auto-Generate
How often do users need to manually click "Generate" to get an AI Snapshot? My informal answer is that in about 50% of local searches I performed Google made AI optional, asking the user to "Generate." The rationale isn't clear. One could speculate that more sensitive or YMYLy categories might require the user to generate the AI result.
But that doesn't appear to be true. For example, "best dermatologist near me" served up an automatic SGE Pack but "best estates and trusts attorney near me" did not. What's the difference? Maybe it has to do with Google's confidence in the answer.
In hospitality (hotels, restaurants), Google routinely auto-generated an AI Snapshot. But it didn't do so for "best music venues in San Francisco." Why not? Plumbers and Locksmiths near me required a "Generate" click, while "garage door repair near me" auto-generated an AI Snapshot. What's the distinction?

Some Preliminary Conclusions
Google is experimenting with SGE and collecting lots of user feedback on:
The right number of listings in the SGE Pack (by category)
Ideal number of links in the Carousel
The right mix of directories and listings in the Carousel
Engagement with the Carousel
How often users click "Generate"
Click behavior in the SGE Pack
SGE engagement in commercial and non-commercial searches
Impact of SGE results on scrolling and organic clicks
AI Snapshot impact on ad clicks
SGE generally dominates the page and pushes everything else down – except ads. This leads me to believe more brands and retailers will decide to buy paid search ads or increase their spend for greater visibility. Traditional SEO becomes more somewhat more uncertain, at least until we know more.
There appears to be no clear rhyme or reason to predict when Google is going to automatically show an AI Snapshot vs. present the "Generate" button. I'm sure there's a rationale; it's just not apparent.
SGE is quite slow. The regular SERP appears long before the AI Snapshot, which can take up to four or five seconds to load in some cases. This will probably improve over time. But it might become a deterrent to clicking "Generate" if it continues.
Aesthetically, I like SGE so far but we have to ask: is it actually useful? It's novel and visually interesting for sure, but does it deliver better information or a better experience? We can legitimately debate that point.
Perhaps, over time, it will do a better job on complex queries. In a local context it does seem to present somewhat more information with less clutter, without the need to click back and forth on multiple results to get an answer.
Mike raised the question, "Is it a sure thing?" In other words, will Google actually launch SGE to the broader public? Probably yes is the answer. The persistence of competitors will force it, which is what compelled Google to build SGE in the first place.