People Not Using ChatGPT to 'Search'
When ChatGPT launched it was immediately seen as a "Google killer." However, that has not come to pass. In fact, ChatGPT's traffic, while substantial, is declining, down from its May 2023 peak. That's according to a Datos-SparkToro analysis of ChatGPT visits and prompts. ChatGPT is emerging as mostly a B2B tool for professionals, programmers and marketers, with education a very strong use case as well. SparkToro's analysis of user prompts shows that "programming assistance" is the dominant single usage category of ChatGPT (29%), with sales & marketing and content creation combining for 34% (though not all content is for marketing). The graphic below reflects the most common "user tasks" according to the analysis. Nearly 70% appear to be B2B/work-related. There may be a few categories where people are using ChatGPT for queries and research they might otherwise do on Google but the majority aren't using it as a Google substitute.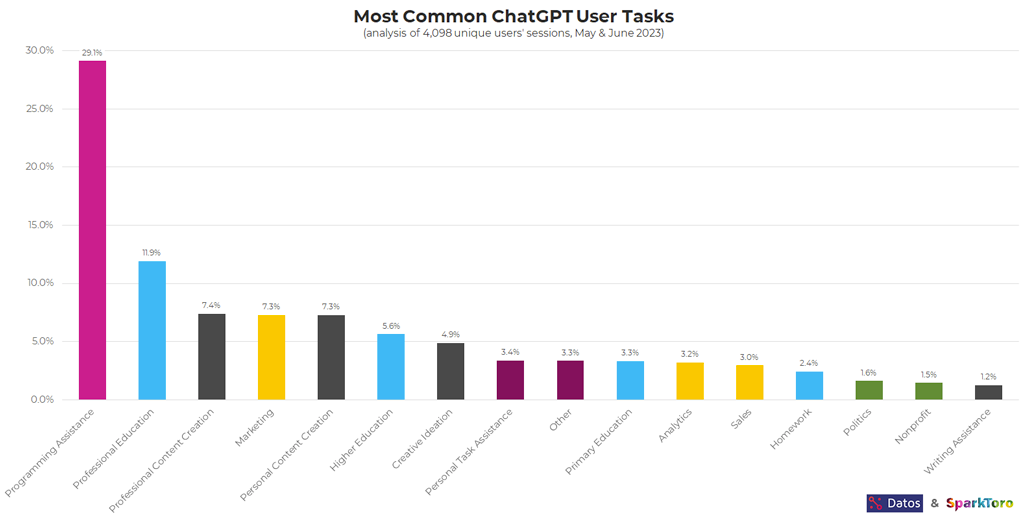 Our take:
ChatGPT and AI more generally are being widely adopted as productivity tools in the workplace. But consumers aren't using them to search.
So far, vertical sites that integrated ChatGPT as "an assistant" (e.g., Expedia) haven't seen meaningful usage gains – or we'd be hearing about them.
I still believe there's a powerful AI search-Google alternative use case but it may not materialize because of inertia/habitual Google usage.
Users Love Reviews, Don't Read Them
User reviews are more trusted than other sources of online information, including search results, social media, influencers and ads. It's no surprise then that reviews are the top influence on conversions, according to the Local Search Ranking Factors. We've also seen this first hand at Near Media in our direct user research in the legal and medical categories. Consistently, reviews exercise an outsized influence on consumer decision-making. But the majority of people are looking almost exclusively at star ratings; they're not reading review text. In the medical vertical we saw that roughly two-thirds of users, who mentioned that reviews were important, did not read them. The flip side, of course, is that about a third were reading reviews (often negative reviews) with varying degrees of attention. Few businesses respond to reviews (our findings: <10%) but for review readers it's important. However, the majority are only looking at ratings and review volumes.
Medical vertical: value reviews vs. read them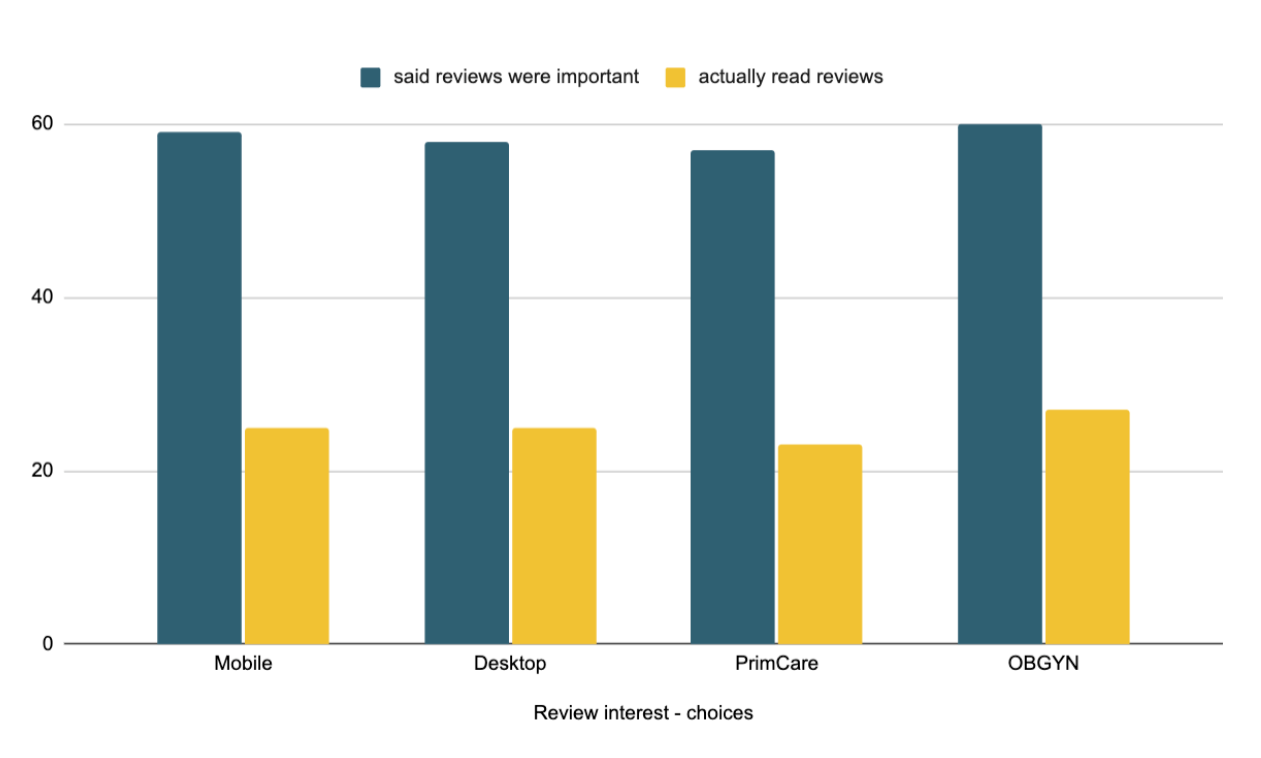 Our take:
Despite the above, it's important to respond to negative reviews in a timely way. AI can help for multi-location brands.
The platforms know most people aren't reading reviews, hence the emergence of AI-review summarization.
We presented this and other data at this week's Local SEO for Good event (BrightLocal). You can access the whole presentation there.
Gen Z: We Search TikTok, Like Ads
The first item above talks about how the AI search threat to Google appears to be dissipating. But what about TikTok? It surprisingly emerged last year, as a Gen Z Google alternative. Subsequently, TikTok itself has tried to capitalize on the idea that it's a search engine, most recently rolling out search ads. Research from Tinuiti (n=5,000 adults) confirms that younger users are indeed searching on TikTok, in some categories, almost as much as Google. The chart below reflects self-reported behavior (in-store search about products): 43% searched Google, while 32% searched TikTok and 25% scanned QR codes. While these behaviors are not mutually exclusive, in this question they were. The survey also found that Gen Z users are less ad-sensitive and more likely to allow tracking and targeting than older users. Thirty-six percent of Gen Z respondents would "allow tracking [to] receive more relevant ads."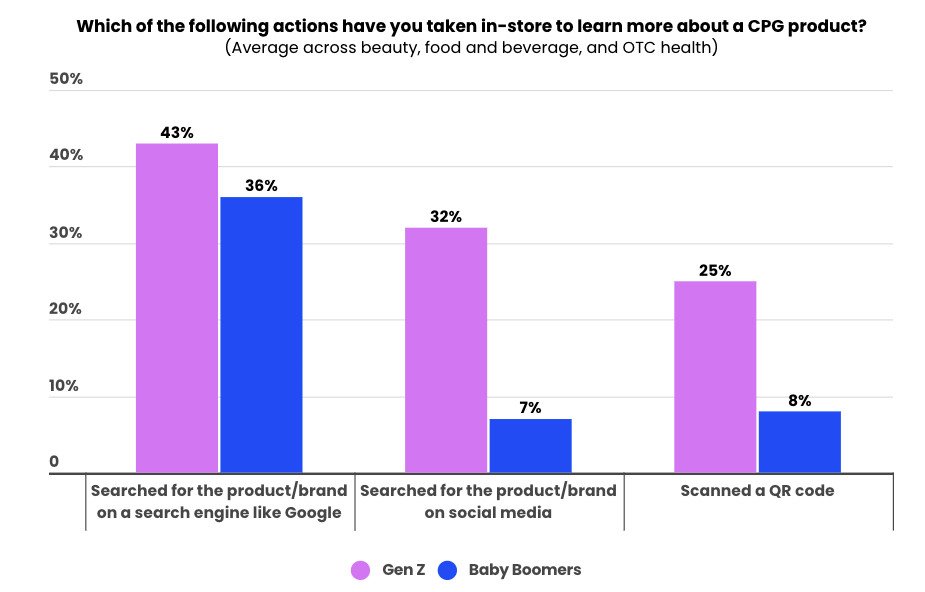 Our take:
The "migration" of younger users to TikTok as a search engine reflects dissatisfaction with Google to varying degrees.
Google's emphasis on images/video, its creation of a Perspectives filter (social content) and other actions are an attempt to retain younger users.
TikTok has valuable content but also lots of dreck. It may be more "authentic" but not necessarily more efficient than Google.
Recent Analysis
ICYMI: Google Shifting GBP Support to 'Brand Ambassadors' aka Gig Workers?, by Mike Blumenthal.
Short Takes
Listen to our latest podcast.

How can we make this better? Email us with suggestions and recommendations.