Report: Local Pack Winners 60X More Visible
SOCi released its fourth annual Localized Marketing Benchmarking Report this week. (Disclosure: I helped create the first one.) The document reports on 291 national brands with locations (naming names). It evaluates roughly 100 "performance signals" on Google, Facebook and Yelp (organic). The mostly franchise brands come from multiple industries: Automotive, Business Services, Financial Services, Fitness, Home Services, Hotels & Travel, Restaurants, Retail and others. Scoring is based on local search visibility, social engagement and reputation management. Places Scout provided the underlying data. Some topline results: 1) local search winners "achieve 60X the 3-Pack visibility of the lowest performers," 2) reputation leaders average 4.3 stars vs. 3.5 stars for the lowest performers, and 3) the average social leader posted 12.5 times per month vs. two times for the lowest scorers.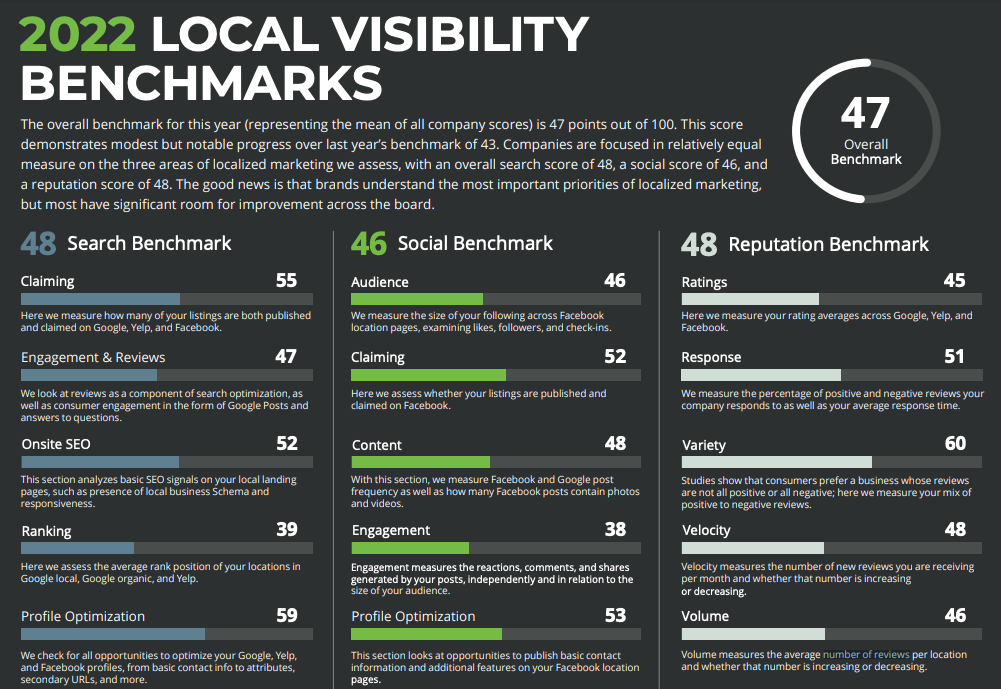 Our take:
It's a dense and detailed report – a kind of complement to the Local Search Ranking Factors – and includes a range of explicit and implied best practices.
The report doesn't discuss brand value but it's implied: better performance in search, social and reputation increases awareness and trust, which boosts future performance and overall brand value.
While SOCi is using the report to build awareness for itself, agencies and in-house SEOs might also be able to use the data to make the case for more local spending and resources.
Amazon: Buy (or Die) with  Prime
One of the ways that Amazon has become so dominant is through the combination of its Prime loyalty program (fast, free shipping) and its marketplace of third party sellers. Consumers don't know this but the majority of goods on Amazon (60%+) now come from third parties (roughly 6 million). With a new program called "Buy with Prime," Amazon is seeking to extend its reach to an even broader audience of sellers. The program extends Prime shipping benefits, payments and fulfillment to third party merchant websites. Simple to integrate, the program provides another (prominent) checkout option in the shopping cart (see video for UX). The consumer signs into their Amazon account and uses the preferred credit card on file. Amazon then handles fulfillment. The program is invitation only right now. Shopify, your move.
Our take:
FedEx and UPS are definitely threatened by this, depending on how widely adopted. Consumers trust Amazon and will choose this option (Prime members) in 10 out of 10 cases where it exists.  
Here's yet another incentive to renew Prime or sign-up if you're not already part of the program. Fast, free shipping is consumers' top e-commerce request.
There are antitrust implications. And while some merchants may be ambivalent, many (especially SMBs and DTC companies), will welcome it.
B2B Early Adopters vs. Stalwarts
Research and content provider Epic Presence offers some useful insights into B2B software buying. Based on a survey of 226 buyers (company sizes not disclosed), the company found that the buying process lasts about five months from recognition of a need, but most of the action takes place within a roughly two-month period. There are two kinds of buyers: early adopters (37%) and stalwarts (63%). The former are proactive, while the latter "are not interested in anything until what they have is so broken that it is affecting revenue." Epic Presence further explains, "These two mindsets exist outside of personas." The short list is typically between four and six competitors, which are sourced chiefly from word of mouth via co-workers and colleagues. Once a product is short-listed, potential buyers do some combination of the following: 1) talk to a rep, 2) review vendor content, 3) look at reviews and 4) start a free trial.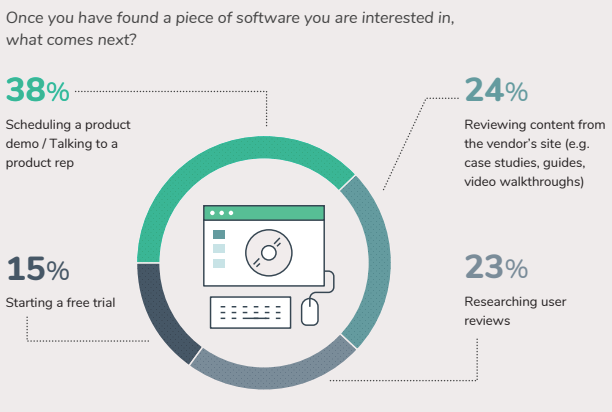 Our take:
As companies move toward product-led growth, these findings argue the sales/product rep. still has a meaningful role to play.
Separate report: B2B buyers will consume 3 to 5 pieces of content before speaking to a sales rep, although ~30% will use more than five.
Another SMB-centric software buyer survey found that there's really no dominant content category or channel for buyers (you have to do it all).
Short Takes
Listen to our latest podcast.

How can we make this better? Email us with suggestions and recommendations.